/ /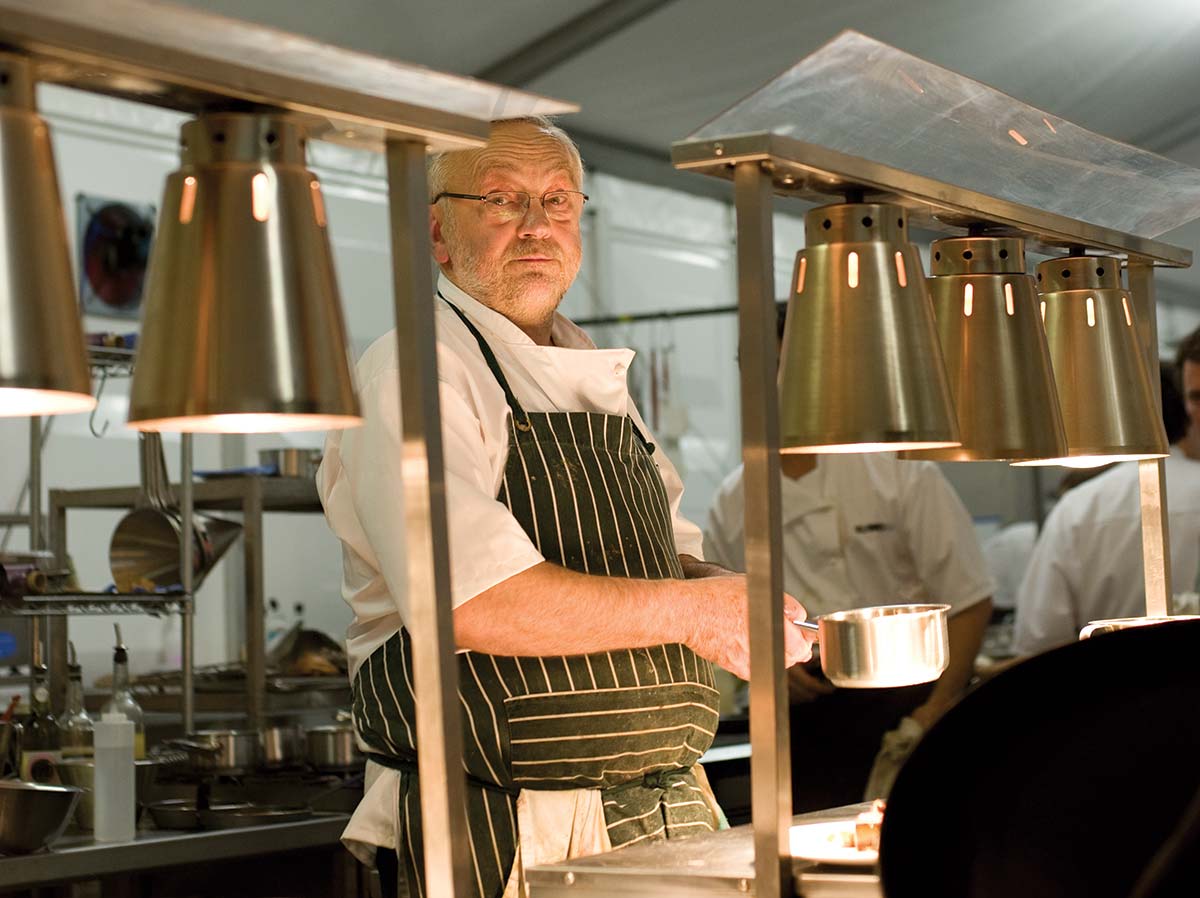 Today Edinburgh's Michelin-starred, Scottish produce championing chef Tom Kitchin takes his place back in the kitchen with the legendary Pierre Koffmann at Selfridges fifth floor pop-up restaurant, as part of the London Restaurant Festival.
Kitchin did his time in the kitchen of La Tante Claire back when he was  a young  up and coming chef – a period he describes in his new cookbook 'From nature to plate' as "one of the hardest, most gruelling things I have ever experienced, but at the same time it was the best school I could have attended."
We've all heard about how tough Koffmann's kitchen at the iconic, three Michelin-starred London restaurant was, and Kitchin, who states in the book that he once nearly walked out after the Frenchman threw a bucket of potato peelings – water and all at him – continues: "Many times during my years with Koffmann I felt completely and utterly exhausted and broken, but I honestly believe that had I not done those years with him I would not be the chef I am today."
But Kitchin kept on grafting, proving himself to Koffmann, and eventually striking up a very close relationship that would be the most formative of his career.  When I caught up with the chef at his eponymous restaurant on the Leith waterfront in Edinburgh recently, he told us that he couldn't wait to be reunited with his mentor, describing Koffmann as a "father figure."
"I'm looking forward to it," he told me. "We have a very good relationship. I was with him for 5 years as a young lad and we're still in touch. We talk on the phone a couple of times a week and he comes up now and then. All the cutlery and tableware used to open The Kitchin was bought off Koffmann from its resting place in a warehouse in Wimbledon at a friendly rate.
"He's a really big person in my life and to go back and represent my restaurant at La Tante Claire is a really big honour and to get back in the kitchen with him will be great. Not only that, but they'll be Eric [Chavot] and Helena [Puolakka] and Tom Aikens and all these old legends there which will be great."
And what about the dynamic in the kitchen? "It will be different because we're all grown up now – we're our own chefs and our own people and when we worked under him we were very much his soldiers under his watchful eye – now we've developed into our own chefs in our own right. The restaurant really should be a celebration of what was La Tante Claire because it stopped so suddenly, because there's a whole generation of chefs, critics and foodies who missed it – and they just hear about the pig's trotter, the soufflé pistache and all these dishes that people have tried to replicate but couldn't.
"There's a whole era who have missed that. They don't really understand what his food was – the simplicity of it, but also its complexity.  He was an incredibly drilled master – he knew exactly what he wanted and if you didn't deliver, he'd give you a hard time. He had this immense presence – you'd know you were in the presence of a great man and his knowledge and enjoyment of food is something else.  There are very few people who possess that and you can learn so much from just observing that."
High demand has led to Koffmann's pop-up (originally only intended for the duration of the festival) to be extended to a month. There is only lunch availability left, if you want to bok a table call 020-7318-7778 or email restaurantontheroof@selfridges.co.uk.
For more information on London Restaurant Festival visit: www.visitlondon.com/londonrestaurantfestival