/ /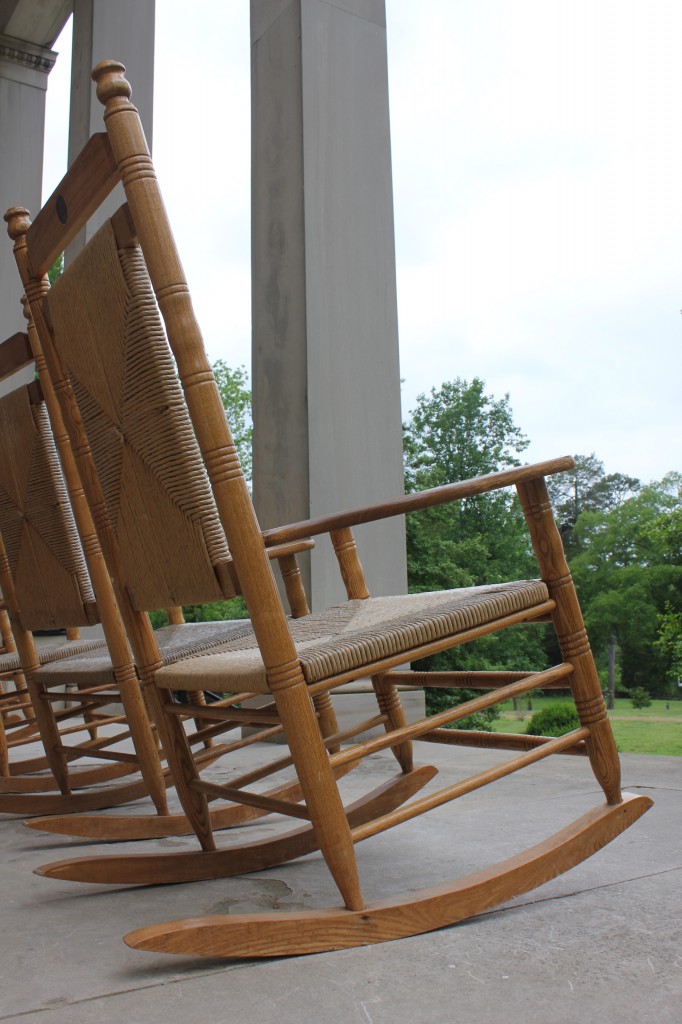 Sometimes when I mentioned to people that I was going on holiday to Nashville their eyes would glaze over. "Why would you go to Nashville? It's known as 'Nash Vegas,'" said the girl I met while eating some surprisingly good sushi at Charlotte airport during the wait for my connecting plane. People think it's all country music and moonshine – and yes, there is a lot of that, but in the last few years Nashville has been reinventing itself, becoming known not just for its country music heritage, but for its brilliant garage rock bands – and for a new breed of food and drink places, that, when added to the Southern institutions already here, situate this Tennessee city as one of the most exciting places to eat in the US.
As readers of this blog might have noticed, I've become increasingly interested in American cuisine over the past couple of years, spending some time in New York, Chicago and Los Angeles and starting a French Dip sandwich stall in Brixton. When the chance came up to visit the South – home to some of the most interesting and distinctive of American cooking (as recently seen on menus from New York to London), it was just too good to miss. I had the added advantage of travelling with a friend who is from here, and whose parents kindly guided us through some of the must-visit places.
I'm going to be writing about Nashville for the Guardian so I won't give everything away here, but here's a post about two of the most remarkable places we've been so far.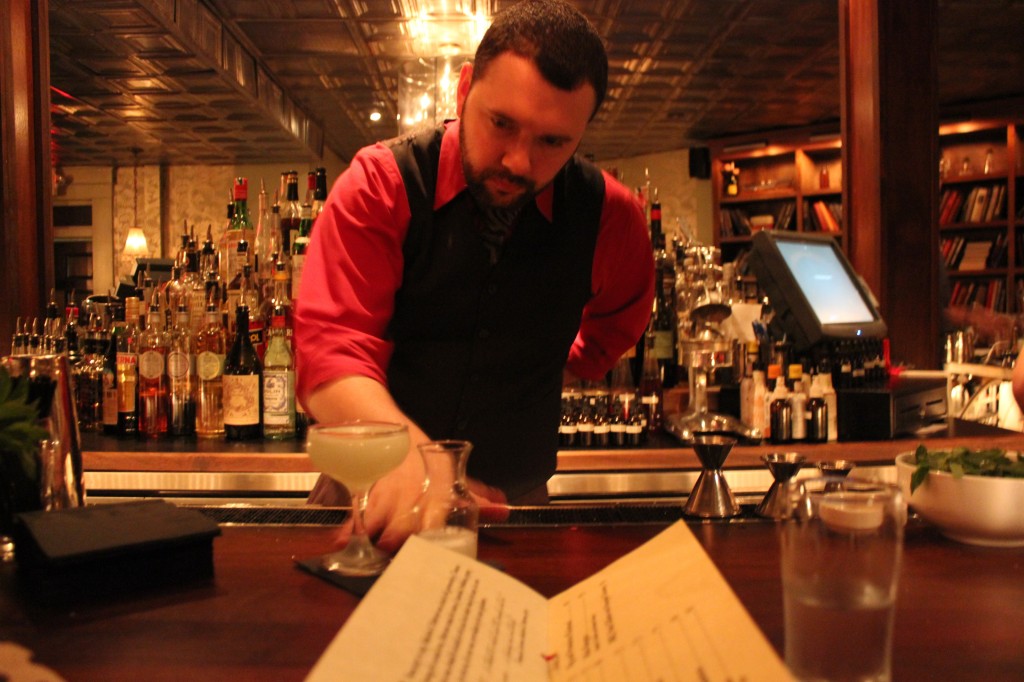 Patterson House is a pre-Prohibition era style cocktail bar in a 17th century property in the Vanderbilt area of the city. It's all dim lighting, dark wood, leather banquettes, antique metal ceiling tiles and very good cocktails – in the manner of places like The Varnish in LA or London's Worship Street Whistling Shop. I go for a sharp and simple gimlet  – while the knowledgeable barman whips up a spicy, sour, fruity virgin creation for my friend who's the designated driver.
Patterson House is part of the trailblazing Strategic Hospitality group of local venues, co-founded by local entrepreneur brothers Ben and Max Goldberg, and we also had seats at their new-ish restaurant which has quickly become the hottest culinary spot in town – The Catbird Seat – conveniently situated just upstairs.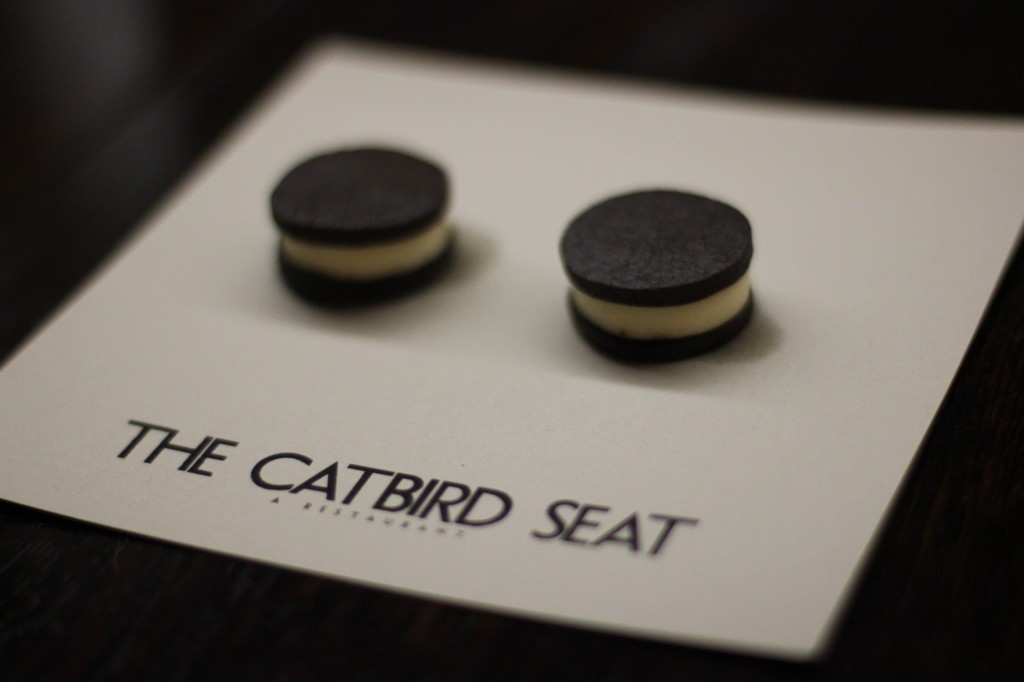 The Catbird Seat is a chef's table of restaurant with a total of 30 seats wrapped around the open kitchen where the two chefs – Erik Anderson and Josh Habiger, and their two sous work together to create and serve delicious seven course tasting menus. Erik and Josh met at the temple to Modernist gastronomy that is Alinea in Chicago (which you can read about here), and between them have worked at some of the world's top restaurants, including Noma, The Fat Duck and The French Laundry. But rather than opening something in the fine dining mould of their former employers, with fawning front of house or 30-cook kitchens, the chefs came up with a plan to collaborate on a restaurant that would give them the chance to, as Josh puts it "cut out the middle man" and cook, serve and chat to the diners during service. Since it opened at the tail-end of last year, the restaurant has received a slew of accolades, including being named among America's top ten new restaurants by American GQ, semi-finalling for a James Beard new restaurant award, with Josh and Erik being named Food & Wine magazine's Best New Chefs 2012.
Weirdly, it turns out that Erik was working at Noma the same time that I visited last year – so it may well be that I had unknowingly already been cooked for by him.
The food was a procession of brilliantly conceived courses, each with a few ingredients on the plate – put together with such relaxed flair by the chefs – who seemingly dance around each other finishing each other's dishes – that you wouldn't guess at the technical complexity behind them. The meal starts with some Southern-inspired 'snacks' – a beautiful oyster with oyster and yuzu puree, a corn bread cooked in duck fat and a piece of chile flavoured chicken skin – a riff on the famous Nashville hot chicken.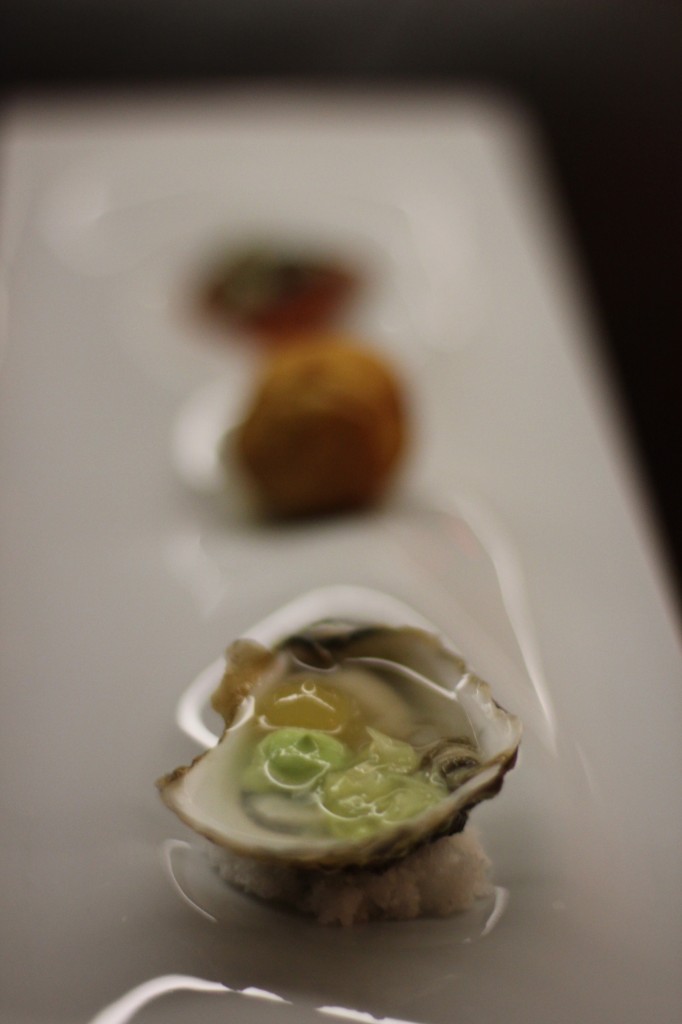 Each course was matched to an alcoholic beverage, beautifully chosen by the sommelier Jane, who the chefs knew from Chicago and who has a playful penchant for creating her own carbonated concoctions – such as this sake mixed with maple syrup delight.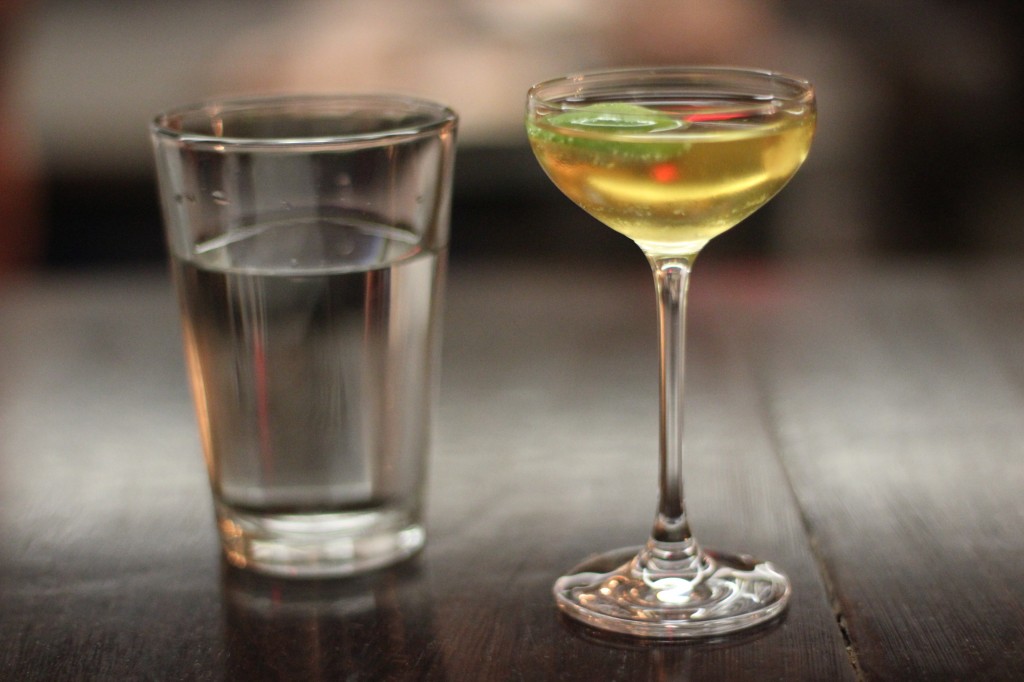 Steak tartare was an elegant, nuanced take on the robust French classic, with chive flowers, 'caper butts', horse radish cream and Arctic char roe.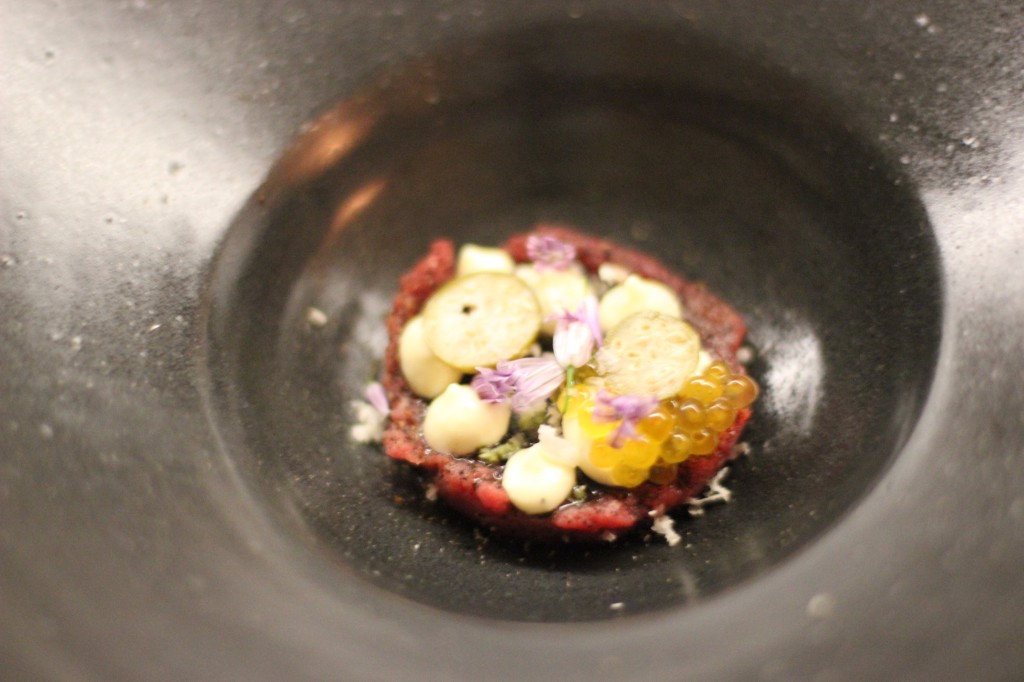 A dish of braised and grilled pork belly came with pickled carrots, violet foam and a cold soup of ramps (local wild leeks), watercress and lavender – the rich, salty, fatty meat melting into the fresh, smooth green soup – the whole thing lifted by the light, floral violet foam.
This was one of my favourite dishes – a beautifully cooked piece of wood pigeon with white asparagus tips and hay-infused, caramelised yoghurt. The bird was served with the arm still on and the fat had been beautifully rendered into a golden crisp, with the pinky red, deep meat inside brilliantly offset by the woody, piquant yoghurt. According to Erik it was inspired by the tradition of cooking squab pigeon in hay, mixed with his Scandi influences.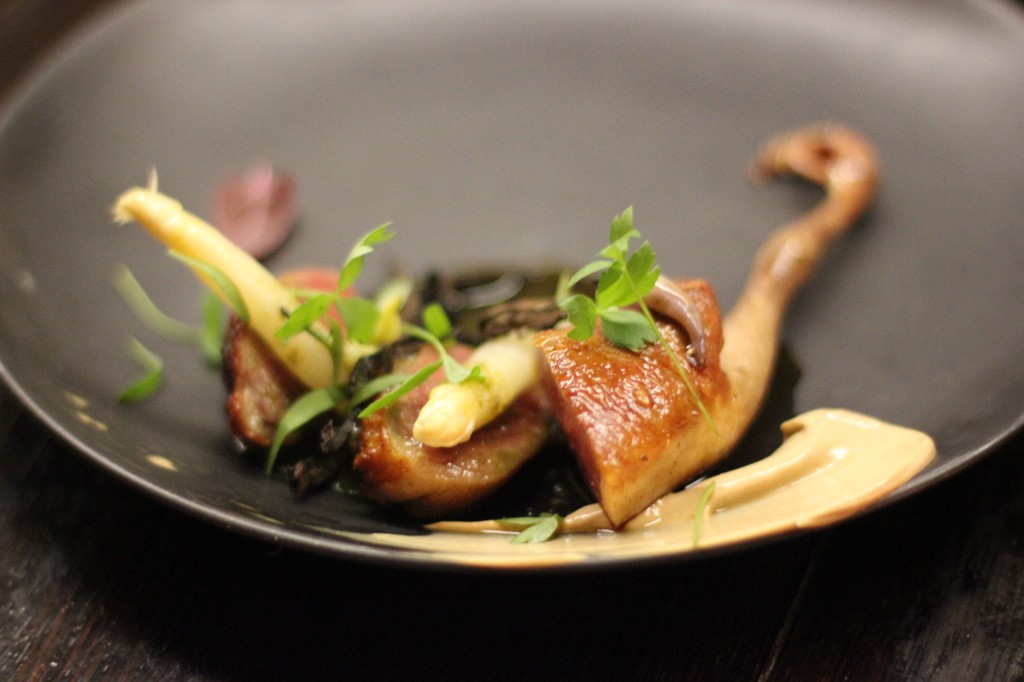 This was an amazing creation: rabbit with veal mousse and nduja, served with snap peas. A fantastic combination of flavours. Also, you could put nduja with pretty much anything and I'd eat it.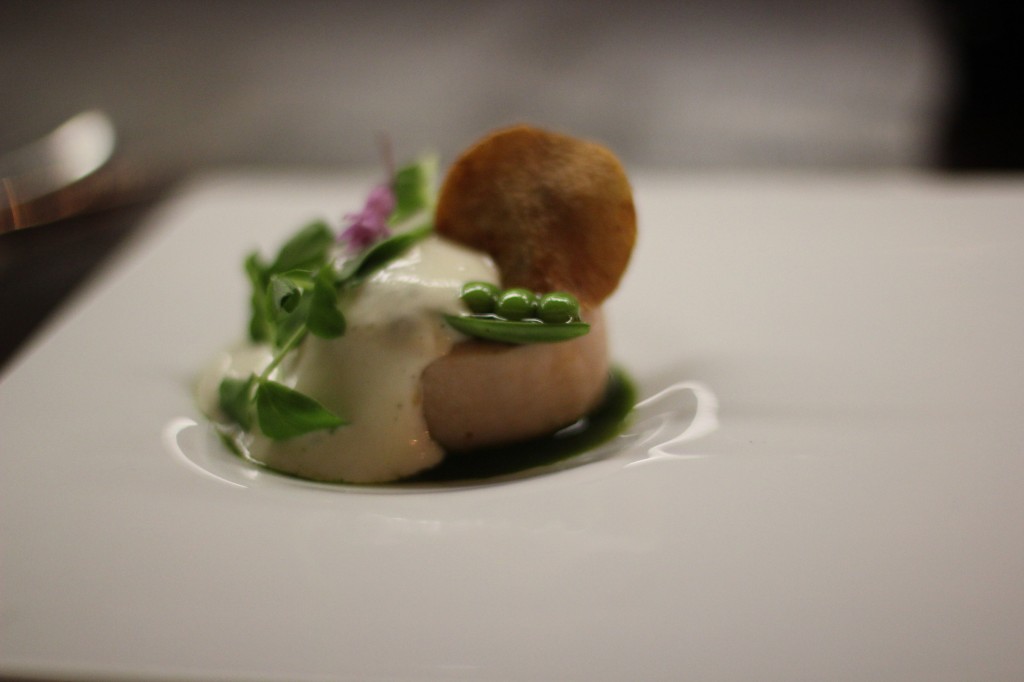 A delicious maple-infused egg custard with a salty bacon crisp.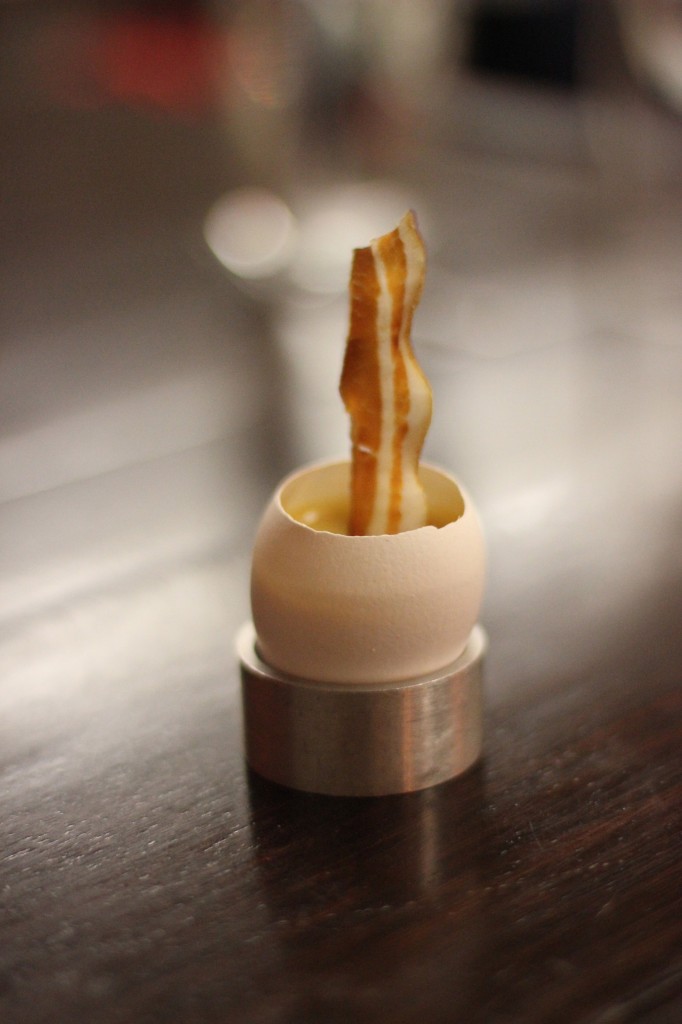 Dessert was brilliant – a dish of air-light cherry crisp with pineapple jelly, vanilla cake, oak ice cream and bourbon balls which burst in the mouth into little hits of alcohol – the sweet of the fruit and vanilla balanced by the creamy, smoky ice cream.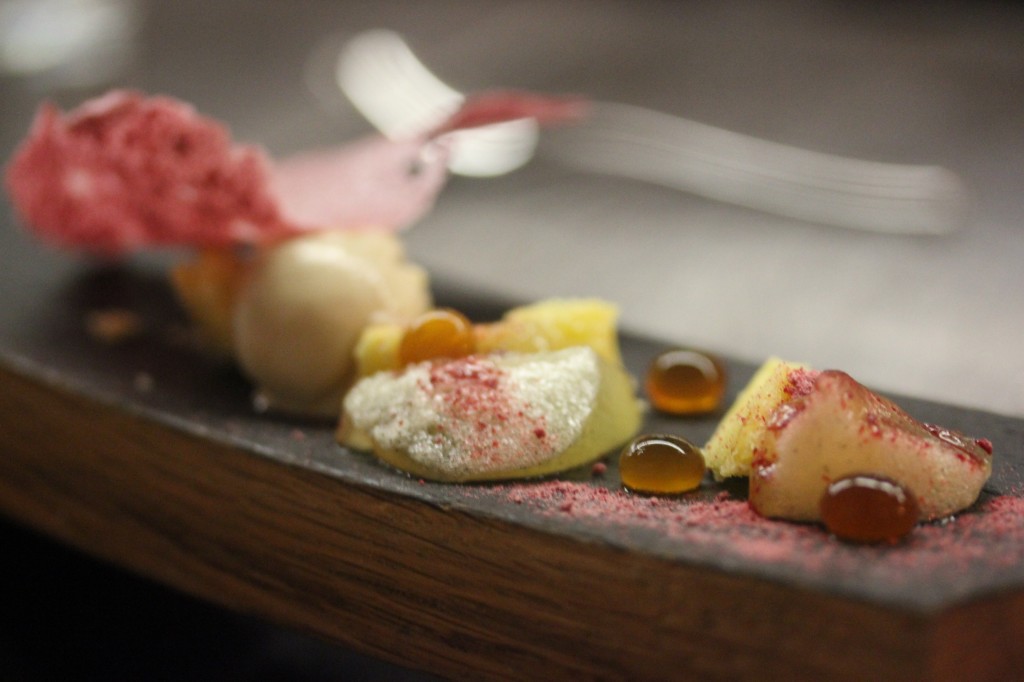 Catbird Seat's food sets it apart from the other restaurants in the city thanks to its use of progressive cooking techniques and imaginative, avant garde combinations, but what makes it particularly remarkable is the way that these two chefs have decided to collaborate in such a way, cooking in full view of their diners. Here, food lovers who are so often shrouded from the excitement and theatre of the kitchen can get a rare and thrilling glimpse of two chefs at the top of their game working side by side with all the ease and cadence of a well-rehearsed rock band. And they have tattoos to match. Well, we are in Music City USA.