/ /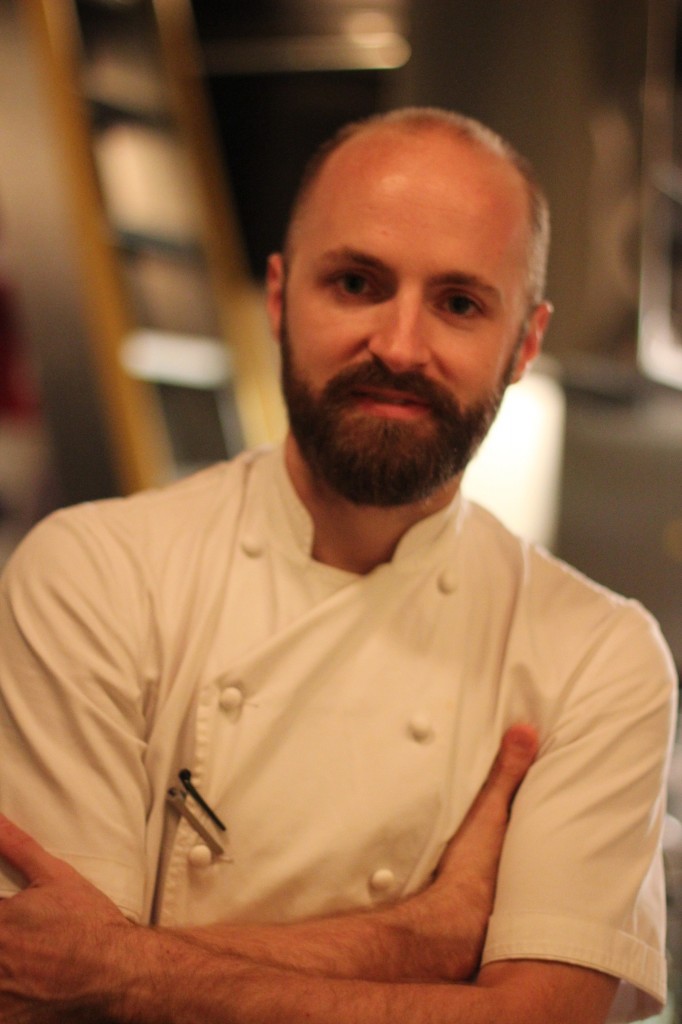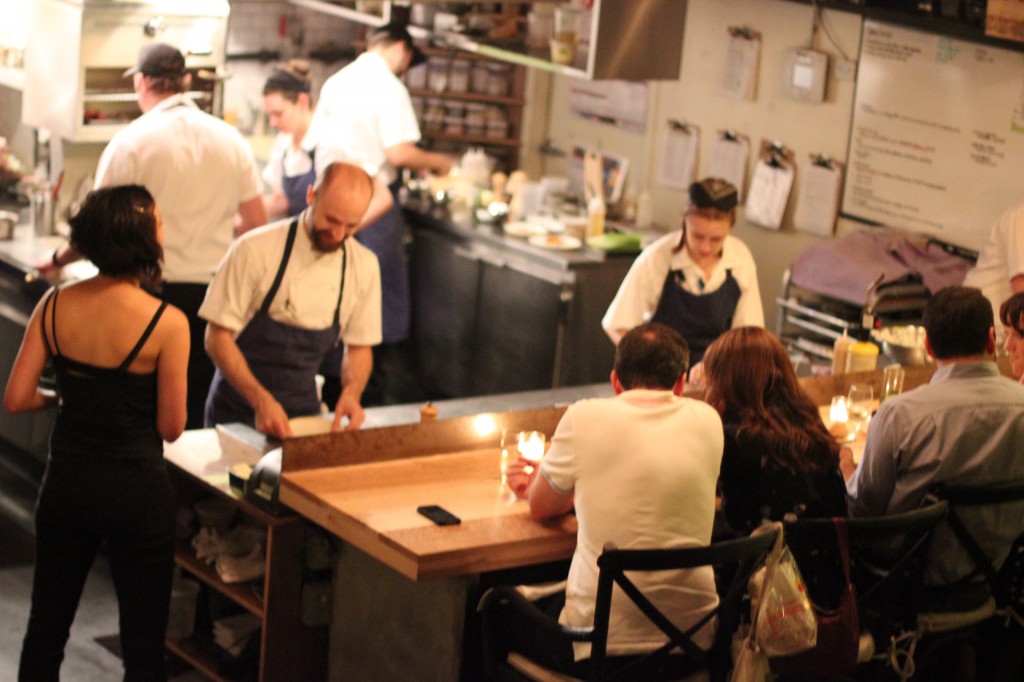 I landed in JFK in the midsts of a fleeting tornado. But they didn't tell us that on the plane: "Ladies and gentlemen, there's some cloud, wind and rain over JFK at the moment so we're going to hold off landing until it's cleared a little bit. We'll be coming down in about 15 minutes, and you may experience some turbulence." Diplomatically put. The whole cabin clapped and cheered when we landed with a not-very-fun amount of force that had most of the married couples around me closing their eyes, holding hands and suspending their long-held atheism to mutter quiet pleas under their breaths. The two-year-old next to me slept through the whole thing – something reassuring about that.
Brooklyn was sticky hot. The skies were black and it was pouring with rain. I drank a few cups of coffee and had a dip in the Aloft hotel's pool to try and trick my body into believing it wasn't really 1am, before heading out to the hottest new spot in town for a some culinary R&R.
Governor, which comes from the team behind Brooklyn Heights' much acclaimed Colonie and DUMBO's Gran Electrica, sits on a characterful, cobbled street by the waterfront and – with its warm lighting, huge glass windows and chic, well-designed interior – beckoned me in like only the promise of a good restaurant can.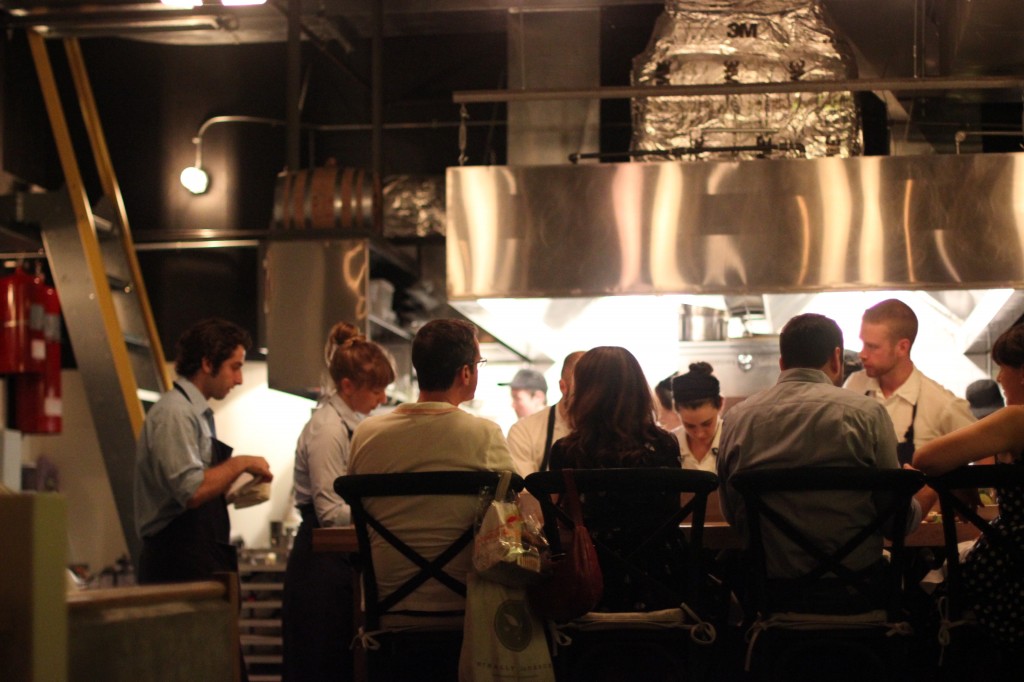 In the two months since it opened, this place has been earning itself a good rep (including this two star review from the New York Times this week), which is not surprising given that the chef – one Brad McDonald – a softly spoken, Mississippi-born 32-year-old, has worked at Noma and Per Se. The 60-cover restaurant is split over three levels – a sweet little cocktail bar when you enter, where the barman kindly whipped me up a smooth, perky concoction of gin, grapefruit, pastis and egg white, and then the main floor with banquette seating and an open kitchen with a short counter where you can sit and watch McDonald and his 11 chefs do their thing. We were sat on the rather nice mezzanine level, which has dark wooden floors and views over the whole restaurant and kitchen, and is presided over by a small and attentive team of front of house staff.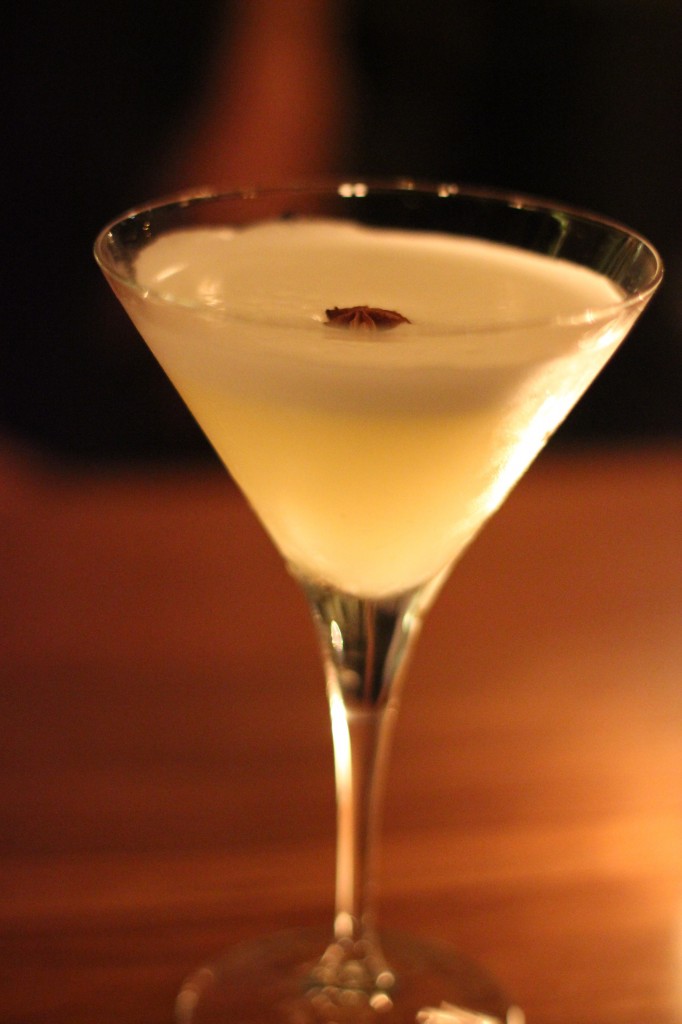 And so to the food. McDonald describes it as "New American". And what does he mean by that, exactly? Is it a la New Nordic? "I'm not sure yet," he told me with a smile. "It's a reflection of what American culture is, which is a melting pot. As a chef you can gain freedom by drawing on different cultures, and we do that in the way we treat locally-sourced ingredients. Some 'New American' chefs are taking traditional recipes like clam chowder and making them modern – we're taking local ingredients and making them unique to us. In terms of technique – that comes from all over the place – places I've worked and seen have influenced that."
All of this becomes clearer when the dishes – which vary from riffs on classic flavours to something altogether more esoteric – start to arrive. We begin with the snacks. Warm, crusty sourdough that's made fresh in the restaurant everyday comes with a plate of fresh, crunchy, peppery radishes and a slick of thick, creamy house churned butter that's topped with crunchy dehydrated chunks of cheese rind (a sort of in-house salt).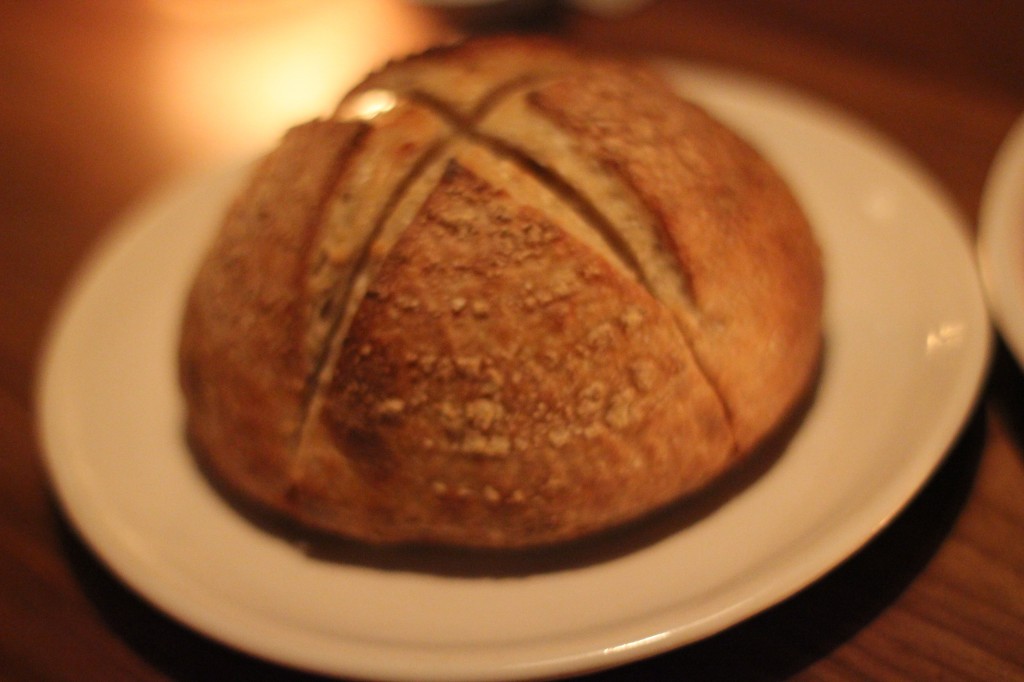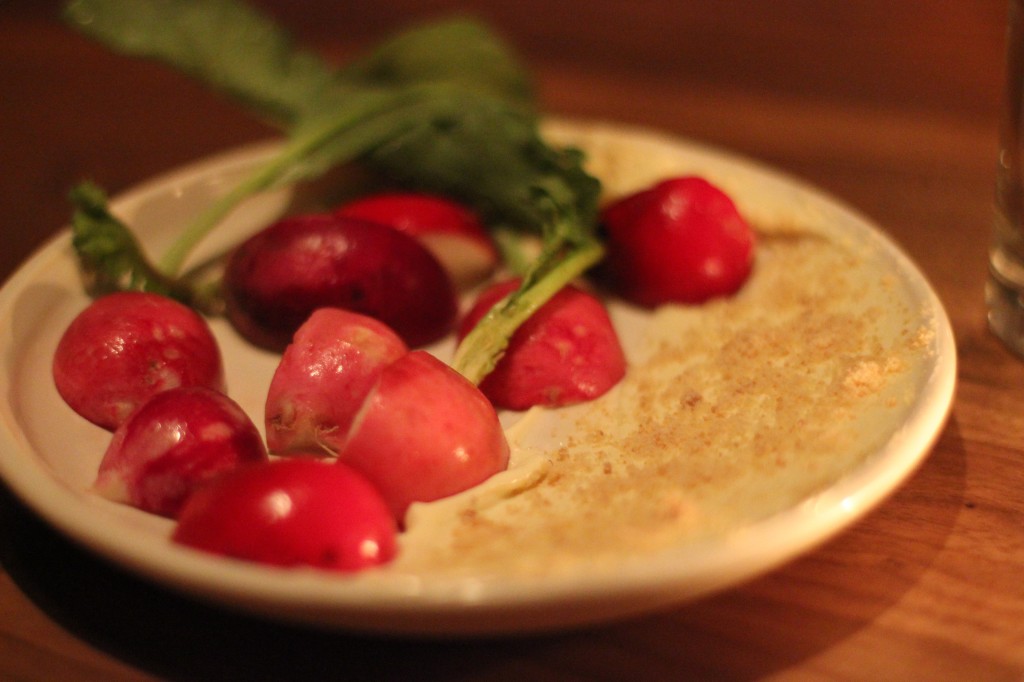 Then there's the delicate, melt-away tapioca crackers filled with beautiful hand-chopped beef tartare, bound together by a subtle, but umami-laden mussel emulsion with ramp capers (capers made from the buds of wild ramps – a wild American allium), and topped with rocket. Pork gets its moment too, in the form of pickled trotter – cubes of glistening, succulent, gelatinous pig foot, lifted with astringency from the pickling, with velvety chunks of spicy eggplant on an aerated pork skin cracker: a well balanced, textural mouthful.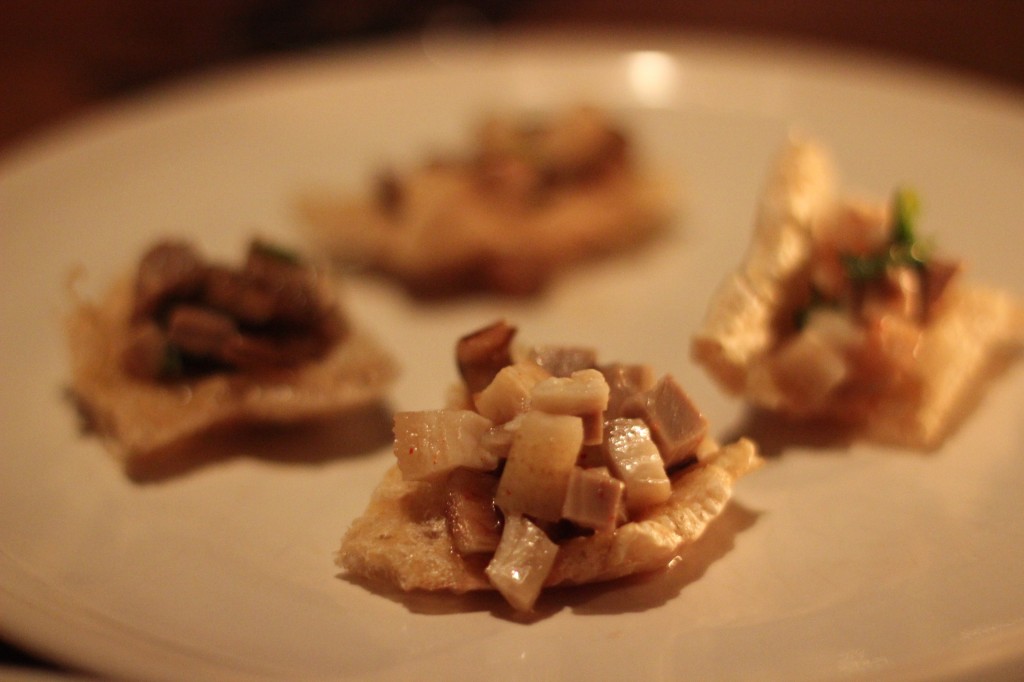 My favourite of these palate perkers though is the poached oysters on toast: small slices of the toasted sourdough forming a pleasingly crunchy backdrop for the luxuriant oysters, which have lost none of their iodine tone in the careful poaching, and are doused with an intense lobster emulsion – as heady as any bisque and garnished with pretty little garlic flowers.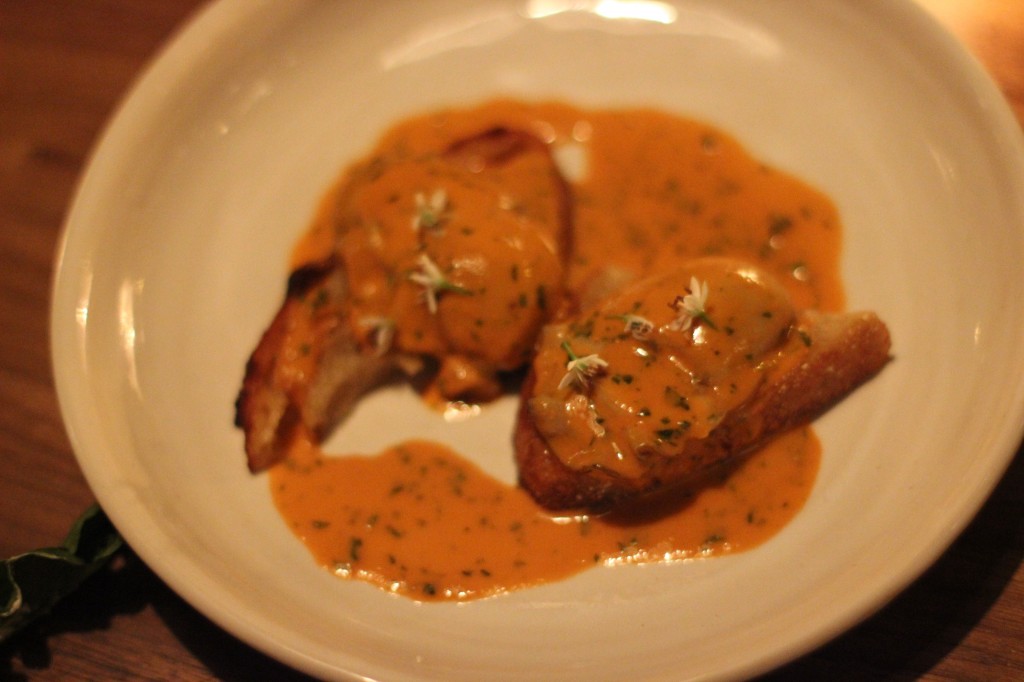 Smoked tomato tartare is another revelation: clean cubes of soft, lightly smoked tomato flesh intensified by a deep, creamy mousse of mackerel, punctuated with crispy little fried sourdough croutons and purslane leaves that taste of green.
There were some uneasy side glances in my party with regards to a couple of the menu items. The first was labelled 'live sea scallop, ponzu sauce and cilantro oil' and I think evoked visions of large, pulsating molluscs sliding around the plate. In reality what came was a thing of beauty – a pearlescent scallop shell bearing delicate cubes of sweet, almost translucent raw scallop wonderfully matched to the citric ponzu and fragrant coriander oil. The dish was finished with a slick of house-made soy sauce, which was fuller and more flavourful than any soy I've ever tasted – the fermentation process palpable in its savoury depth of flavour.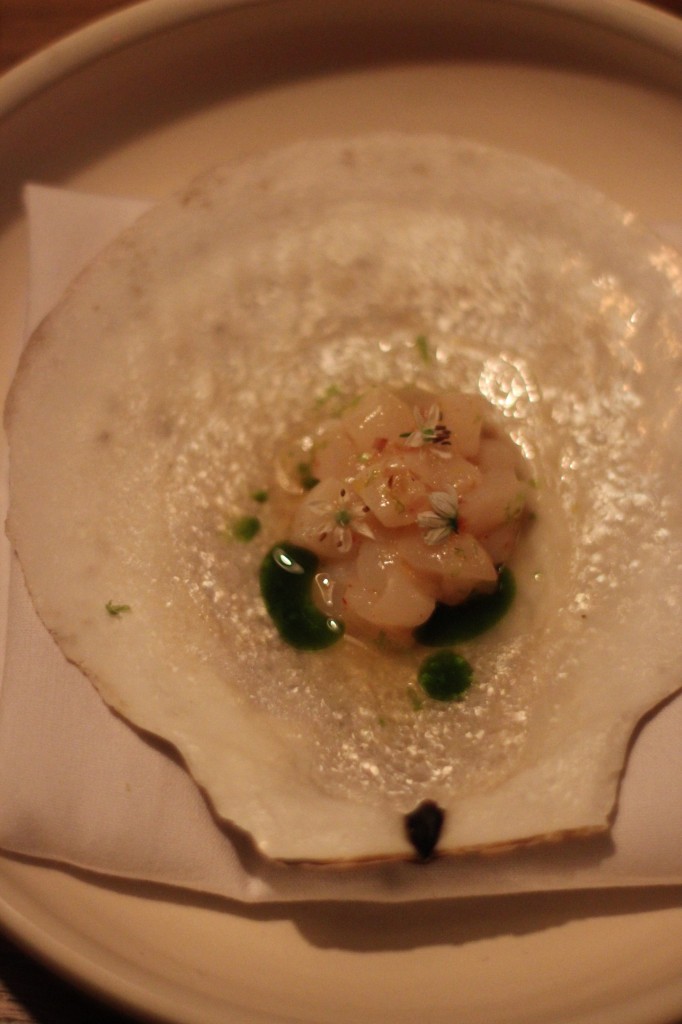 McDonald explained to me how he inoculates soy beans and then leaves them in the restaurant's cellar to ferment in order to make the sauce. "It means a lot to us to learn the process of making. So instead of pulling a soy sauce off the shelf, we're making it ourselves, and generally we're trying to do as much of the production as we can in-house, which I suppose is a more European approach," he says.
Another dish that speaks of this very artisan ethos was the other controversial one. And it was controversial insomuch as it was a celery root dish and we had a celery sceptic in our midsts. I say 'had' here very deliberately because McDonald's rendering of the ingredient just may have cured our celery cynic of his dislike of the ingredient, cleverly disguised as it was as mac n cheese. The chef had cooked thin ribbons of the vegetable like pasta, added lemon for freshness and smothered it in a smooth, creamy sauce of powerful American cheddar. Topping it off were waxy yellow flakes of preserved egg yolk that had been grated over the top adding a cheesy, salty kick. The dish was a real gem – at once familiar and entirely new – the strange, distinctive celery notes adding a whole other dimension to something traditionally considered low brow comfort food.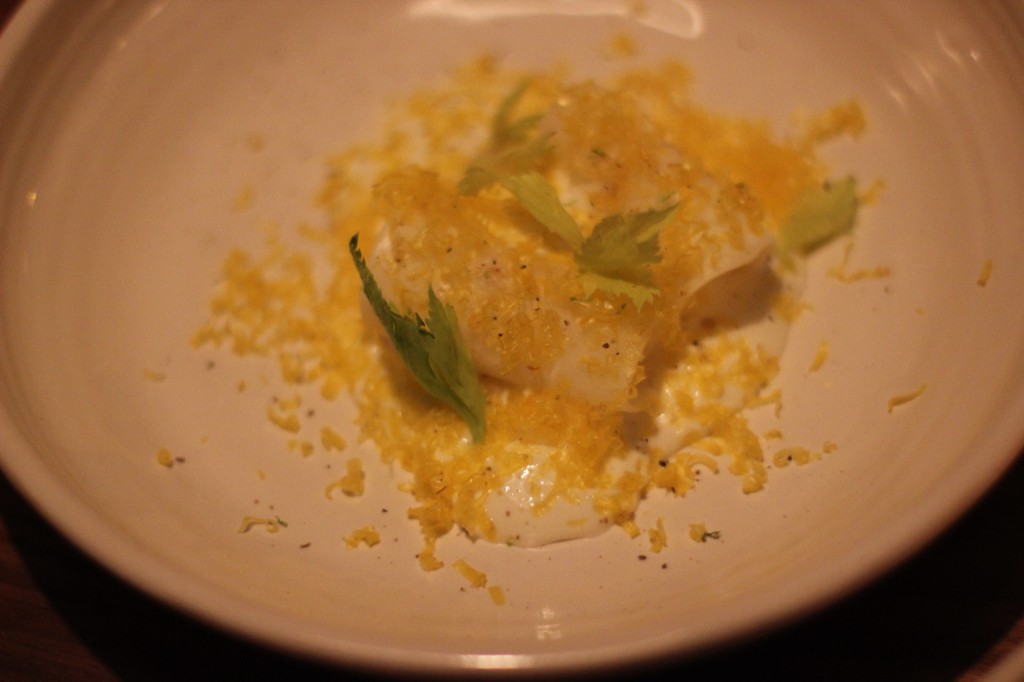 McDonald later showed me how he makes the preserved egg yolks, by sourcing embryonic eggs (which are just the yolks in the early stages) from his butcher, covering them in salt, sugar and black pepper, leaving them for a week, air drying and freezing them. It's a big process for something that's a tiny element of a dish – but it's worth it for the distinctive flavour it adds, and this obsessive attention to the tiniest detail is what makes eating here so special. It speaks of the sort of thoughtful, trailblazing restaurants McDonald has cut his teeth in, and situates him among the cheffing elite.
But simplicity is also done well here. A bowl of sweet, fresh summer beans and shishito peppers – each one perfectly cooked, comes swimming in boisterous whipped-up salt cod and topped with a ruby drizzle of chorizo oil, which is spicy and almost fruity. It's a stunning combination.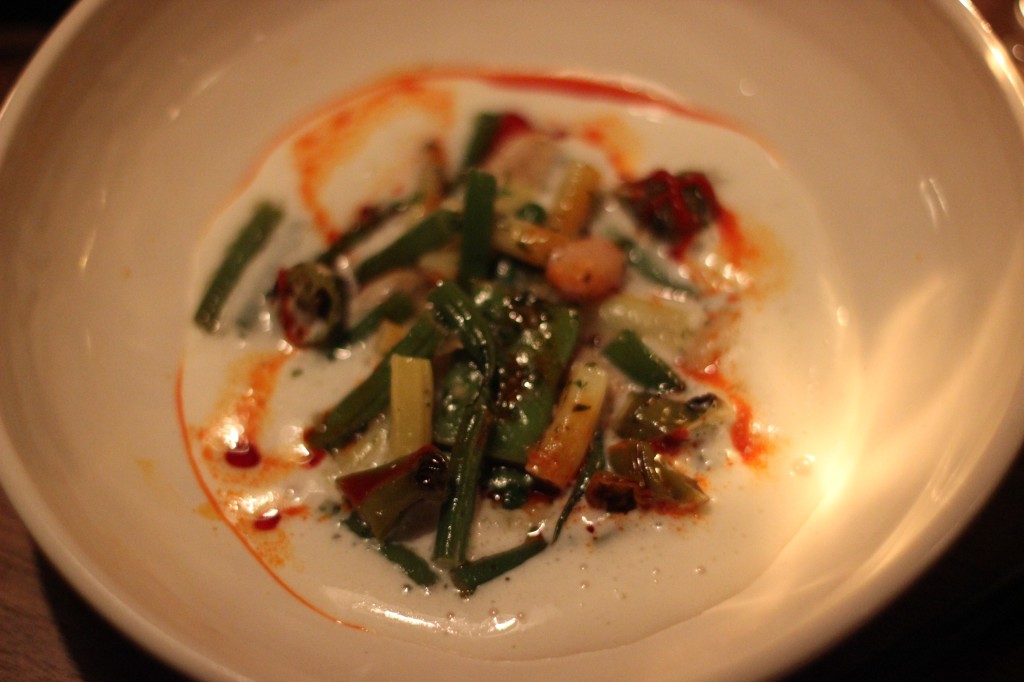 I'm still not sure what 'Amish quail' is exactly, but I do know that it was cooked until yieldingly tender and tasted delicious served alongside the best foie gras I've ever eaten: intensely salted and charred on the outside and wonderfully sweet, unctuous and light/creamy within. This came with spigarello: a sort of wild American spinach and a complex and addictive miso-squash caramel.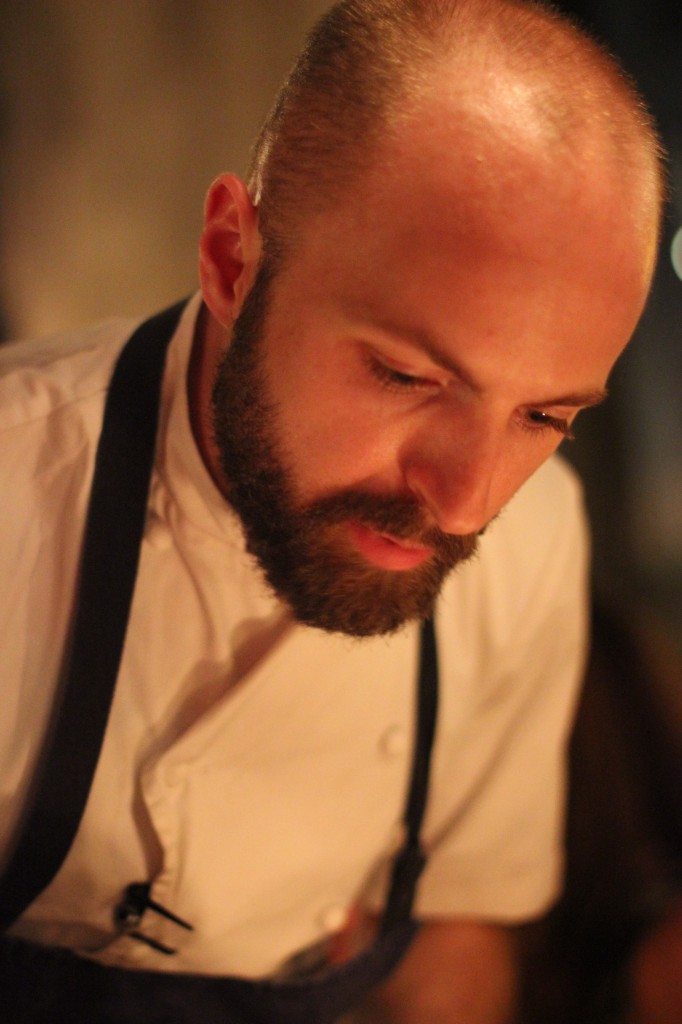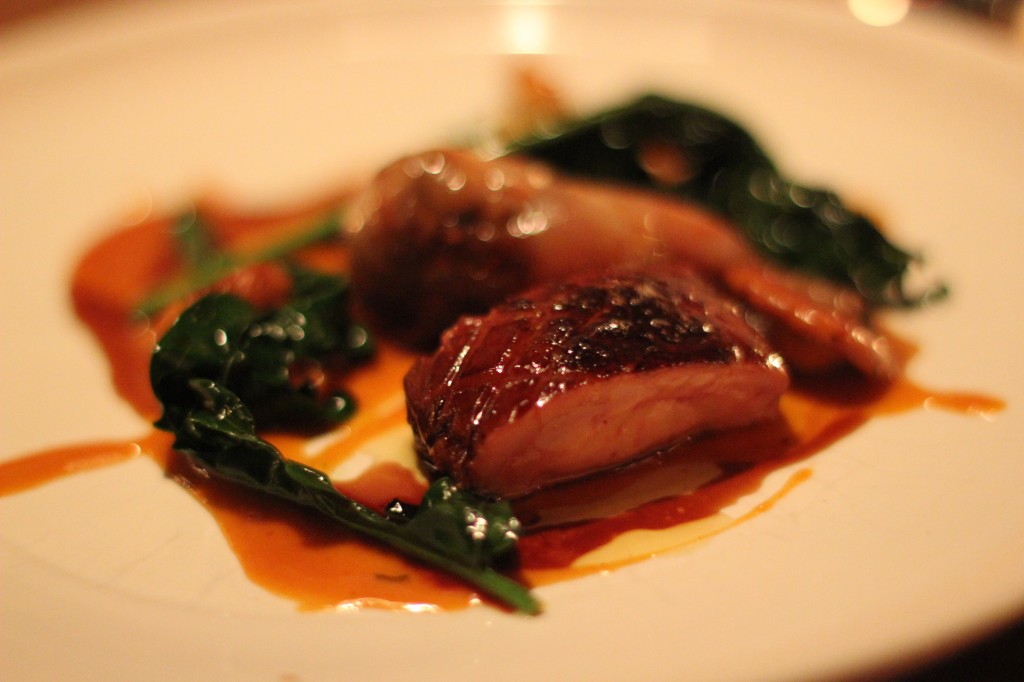 That epic ensemble brought us to the end of the savoury courses, and was followed by a flurry of distinctive, brilliantly executed desserts that included celery root cake (another hit with our reformed celery phobe) with pickled meringue and grape sorbet, which sounds incredibly weird but ate very well, and an impressive honey soufflé with an earl grey creme anglaise that spoke of some seriously well-fed bees.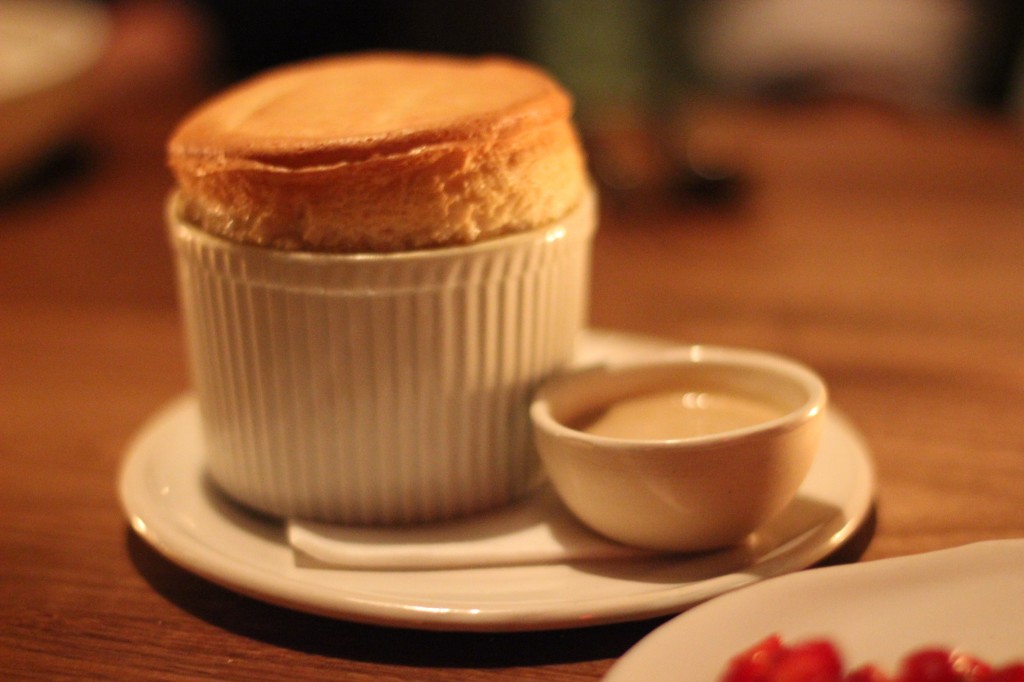 Next time you're any where near Brooklyn, I'd recommend booking a table at this joint. Because I'm pretty sure that pretty soon, that won't be very easy.