/ /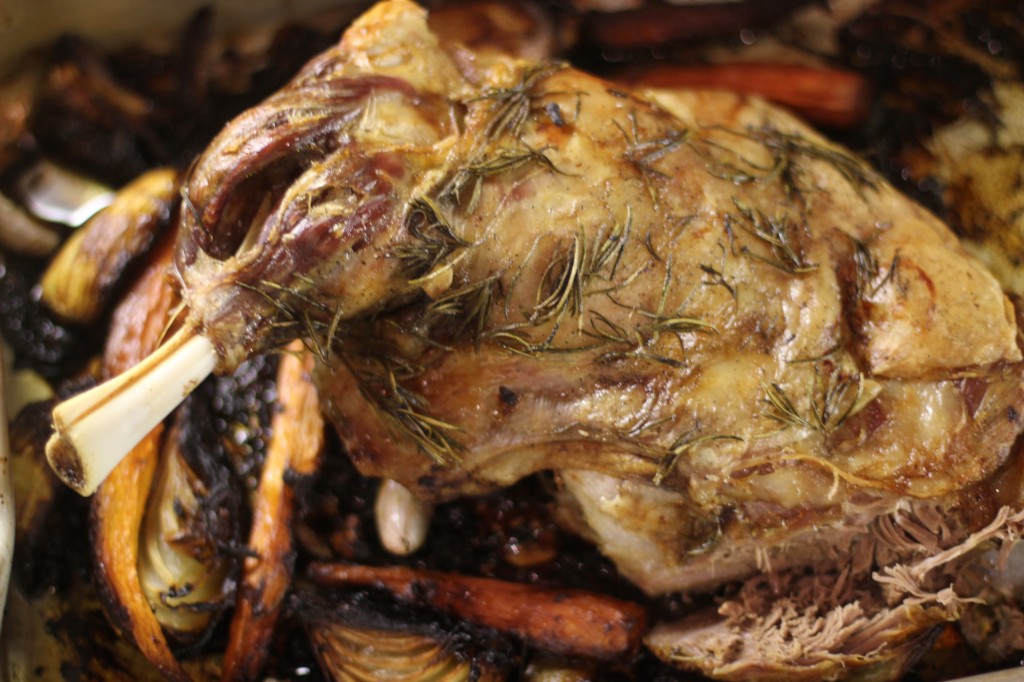 When it's getting dark at 4pm, you know it's time to start feasting. I had some friends round last weekend and I wanted to spoil them with cosy home-cooked dishes that would warm their cockles and make them feel sated and happy. Because I knew I had a tough week ahead of me, and because I wanted to have fun, dammit, I settled on a roast for the main course. I wanted something I could whack in the oven and leave to its own devices, which in this case was a nice fatty British lamb shoulder, covered in rosemary and garlic and slow cooked for four hours (180°C) with some peeled carrots and onions.
The starters, or perhaps 'nibbles' is more apt, were two things I got out of the Polpo cookbook; rough chopped chicken liver pate and walnut and rocket pesto – both things that could be easily made in advance and slathered onto some toasted sourdough (from Wild Caper, natch) on the night. I added chopped tarragon to the pate recipe because I bloody love tarragon with chicken, and I used Courvoisier rather than port and brandy, because it's what I had to hand. It worked well, but next time I might be a bit more generous with the cognac…
With the lamb I served two sides inspired from my travels and recent meals. I did a take on Jansson's temptation, an amazingly comforting Swedish dish which is basically dauphinois without the garlic and with the genius addition of anchovies, which as you know, go ever so well with fatty lamb. I had this recently with my Chateaubriand at the new Hawksmoor Air Street, and have been thinking about it ever since!
I adapted my recipe from one I found in Delicious magazine. I added in thyme, even though authenticity dictates rosemary, because I had some to hand and I always think thyme and caramelised onions are lovely together. I also added in the zest of a lemon to give it a fresh lift.
Jansson's Tempation
Takes about an hour and a half including prep, serves 4-6 as a side 
2 white onions, finely sliced
25g unsalted butter, halved
5 medium waxy potatoes, finely sliced as you would for Dauphinois
300ml double cream, seasoned with white pepper and a pinch of salt (no more because of the anchovies)
1 and a half cans of good quality anchovy fillets in olive oil
The leaves from 4 sprigs of thyme, or rosemary
The zest of half a lemon
While you're slicing all the ingredients, preheat the oven to 180°C. Drain the anchovies, pouring the oil into a frying pan, add half the butter and heat until the butter has dissolved into the oil. Then add the onions and make sure you're cooking them over a very low heat, until they're sweet and melty but not charred – should take about 20 mins. Near the end, add in the thyme and cook it with the onions for about five minutes.  When the onions are sweet and translucent, remove from the heat and set aside.
Butter a deep baking dish or tin with the rest of the butter and layer half of the potatoes in it. Pour over the onions and then place the anchovies evenly spaced on top. Place the remainder of the potatoes on top and pour over half of the seasoned cream and lemon zest. Bake for about 30 minutes, then add the remaining cream and bake for another 25-30 minutes, until the top has caramelised and the potatoes are cooked through.
The other side was a kale salad: because kale is in season right now, and I wanted something fresh and sort of healthy to go with the guilt of the lamb and JT. It's based on a raw Tuscan kale salad I had in Nashville (the yanks are really good at kale) at a place called Tavern, which was so delicious and texturally interesting with all the nuts and raisins I couldn't stop eating it. I'm pretty sure the Tavern version didn't have chilli in it, but where I can I like to add a bit of fire to salads.
Raw kale salad with toasted almonds and sultanas
Takes about 20 minutes, serves 6 or more as a side dish
400g curly kale, de-stemmed and roughly chopped
Two good handfuls of sultanas
Two good handfuls of sliced almonds
The juice of one lemon
50ml nice extra virgin olive oil
50g Parmesan, finely grated
Red chilli flakes
Preheat the oven to 180°C. While you do this, whizz the kale up until it's fine like tabbouleh. I did this in two batches to get an even chop. Then lay the sliced almonds onto a baking tray and toast in the oven for 8-10 minutes or until they're starting to go golden.
Mix the lemon and olive oil until it's emulsified. Put the kale into a large mixing bowl, add the sultanas, chilli flakes, Parmesan, and when they've cooled, the almonds. Mix it all up nicely using a spatula or good metal spoon. Pour over the dressing and give it one more stir.
To finish off the meal, we had a delicious hunk of Gorgonzola DOP which was kindly sent to me by Gorgonzola, which we ate with some rather interesting Sav Birch Sap wine, which was given to me by the Swedish chef Mathias Dahlgren at a recent meal he hosted in London.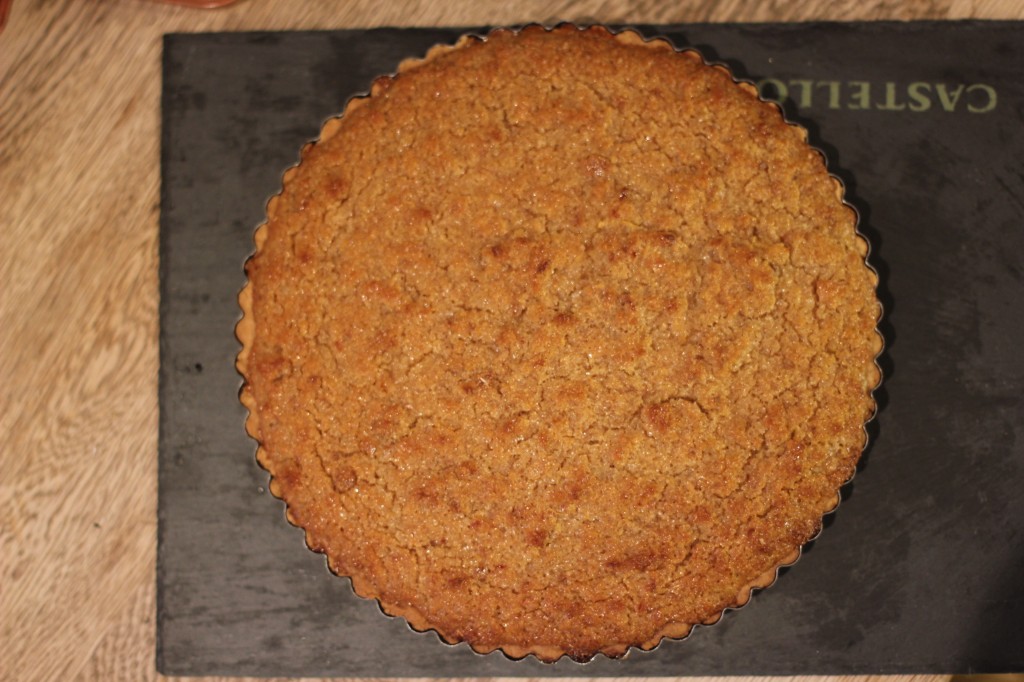 Dessert was treacle tart. I had this very one a couple of weeks ago at a friend's house and they kindly passed on the recipe, which is Heston, though I used April Bloomfield's brilliant grated sweet pastry recipe for the case! I served it with clotted cream.  These guys enjoyed it. Or at least looked like they did: