/ /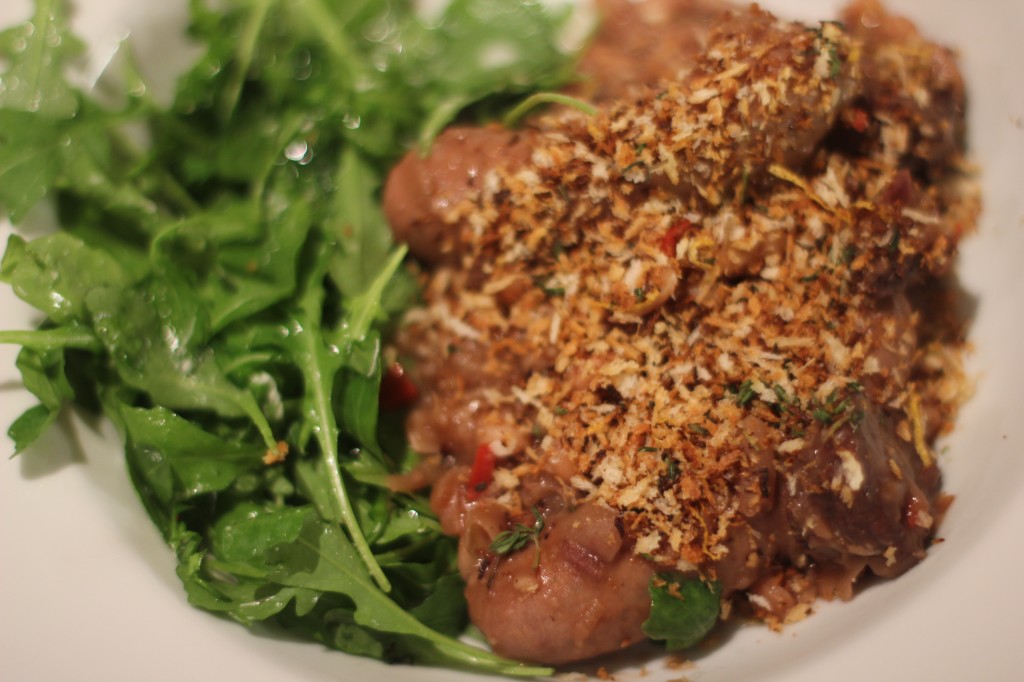 T'other night I had an impromptu gathering, and needed to pull something yummy and filling out of the bag, on a pre-Christmas budget. Inspired by a dish cooked for me once by my good friend and fellow Brixtonite Liz Marvin, I came up with a sort of sausage casserole-cum-fabada – my take on the lovely unctuous Spanish pork and bean stew. I made it with some delicious sausages that my butcher Dombeys  makes in house, and enriched the stew with some fantastic morcilla: spiced Spanish blood sausage from the Portuguese deli (not Continental, the one further down Atlantic road near to Argos, which I think is better value). I wanted something I could cook in my Le Creuset, in one fell swoop, and this was just the ticket. To liven it up and add a bit of perky crunch, I added an panko breadcrumb topping with thyme and lemon zest for freshness and texture. You can find bags of panko in most good Asian supermarkets – I got mine from the brilliant Thai shop on Electric Avenue.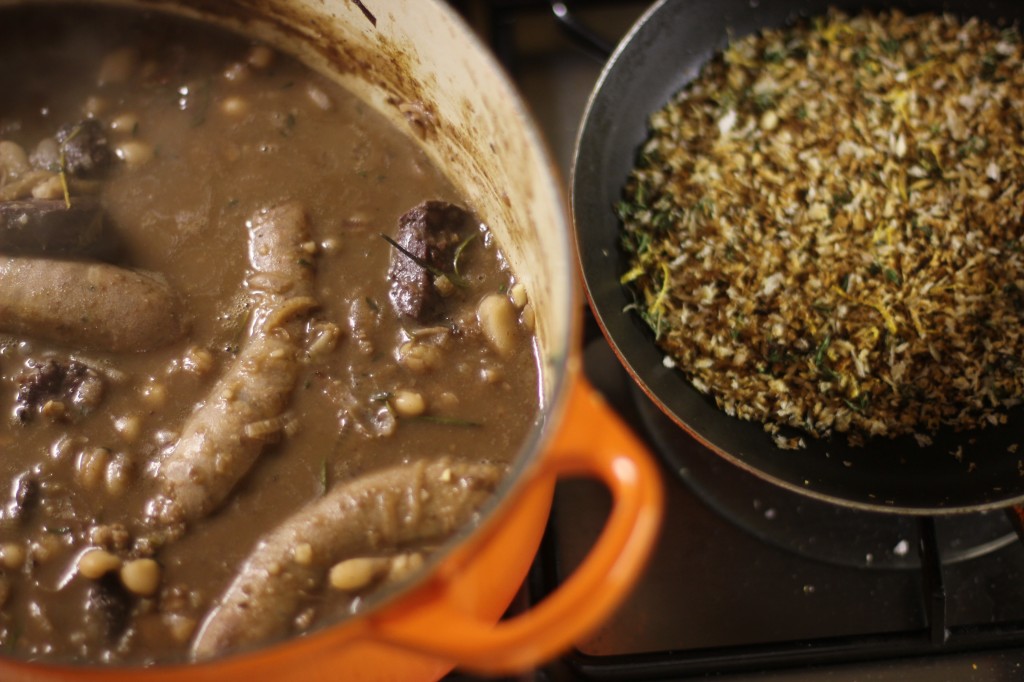 Brixton market fabada
Takes about an hour including prep and cooking, though you could cook for longer if time is on your side  
Six of Dombey's homemade pork sausages or some other good quality sausage
1 450g tin of butter beans or cannellini beans, drained but with about a quarter of the brine left in 
3 banana shallots, finely sliced
2 cloves of garlic, finely chopped
1 200-250g morcilla blood sausage, sliced into 2cm thick slices
1 large glass of red wine, preferably something like a rioja or Malbec
Extra virgin olive oil
The zest of half a lemon
Two handfuls of panko breacrumbs
A handful of thyme leaves, removed from the stalks
Heat a good splash of olive oil in you Le Creuset or a deep casserole dish over a medium heat, and add in the chopped shallots and sausages. Turn the sausages over to brown them – for about five minutes – giving them a prick with a knife point. Then add in the garlic and chopped morcilla and coat with the oil. Cook it until the garlic goldens and the morcilla goes a deeper colour – about three minutes, and then add in the beans and red wine and simmer on a low-ish heat for at least 20-25 minutes. If you want to leave it simmering for longer, add in a splash of water every now and then so it doesn't dry out.
In a small frying pan, heat a tablespooon of the olive oil over a low heat. Add in the panko, lemon zest and thyme and coat the ingredients together, frying until the panko breadcrumbs turn golden, at which point you should remove the pan from the heat immediately to avoid them burning.
Serve the fabada topped with the breadcrumbs and accompanied by a kale or rocket salad.