/ /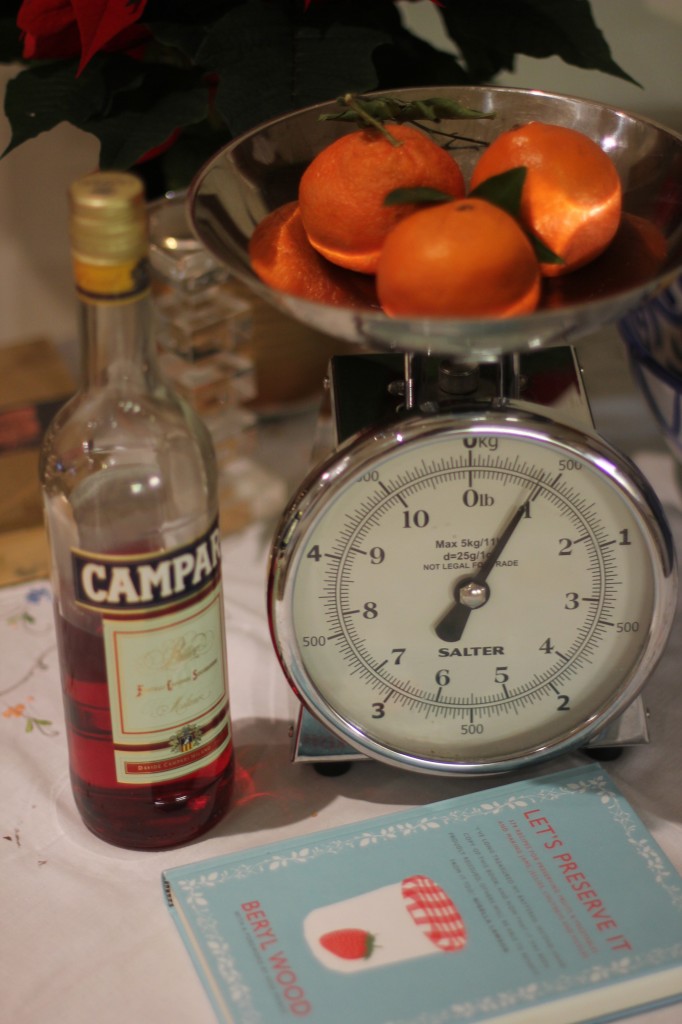 A few weeks ago I came upon a glut of glass jars (thanks to a frantic clean out of my mother's fridge, which seemed to be stocked for the end of the world with preserves that went off in 2003), and thought it would be nice to make some festive preserves. It's not something I've done before, but it's been on my food 'to do list' for quite a while. Luckily, my wonderful friend and fellow food writer Sophie Dening saw me Tweeting for recipe ideas and sent me Beryl Wood's wonderful 'Let's Preserve It' book to get me on my way. It's a fantastic book, full of accessible and delicious recipes arranged in alphabetical order – I'd strongly recommend it to anyone wanting to get their preserve on.
My first thought was to try my hand at a simple marmalade, and given the time of year, a clementine, rather than orange one. Wood's book has a very simple clementine marmalade recipe, but I thought I'd perk it up with the addition of a glug of Campari, which I had to hand. The bitterness of the Campari balances the sweetness of the clementines and gives it a nice bit of extra depth. Wood's recipe calls for steeping the fruit and skins in water over night, with the pips reserved in a muslin bag which also soaks with the fruit, but I didn't do any of that. Aside from the fact there weren't any pips in the clementines I picked up, I only had an afternoon to tackle all of this.
Instead I reserved about half of the skins and roasted them in a hot oven to concentrate the flavour, adding this to the pan of fruit and skins, and giving an extra citric intensity.  I also added cloves and cardamon, which I think work well with the fruit. Here's my recipe, which is adapted from Wood's.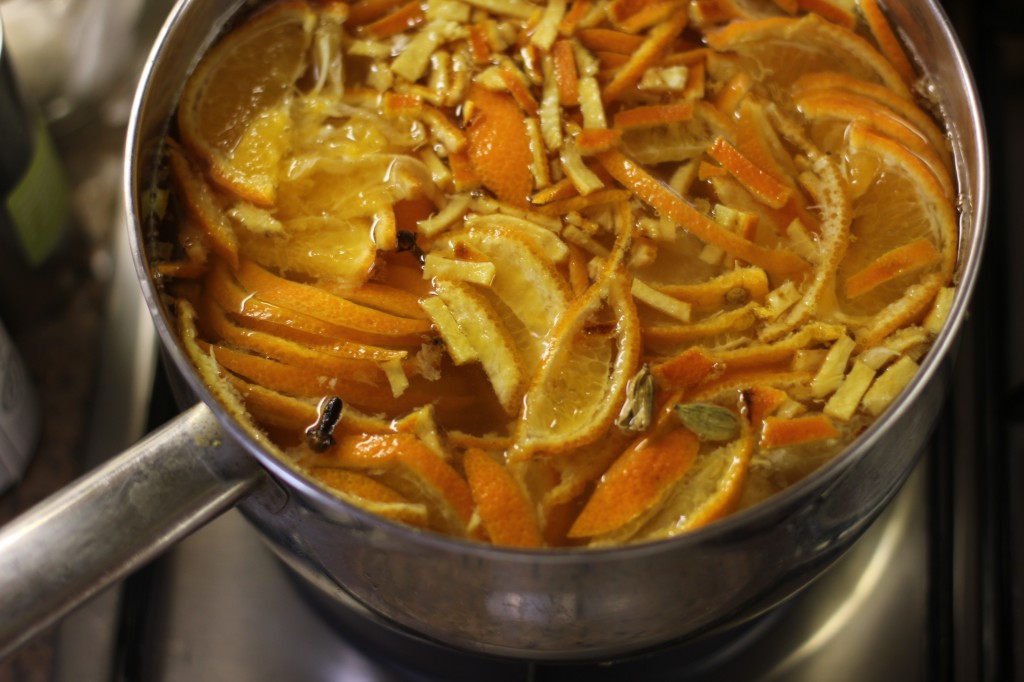 Clementine and Campari marmalade
Takes about two hours altogether, makes four jars
450g clementines
850ml water
680g sugar
25ml Campari
Two cloves
A couple of cardamom pods, crushed
Preheat your oven to 180c. Peel and finely slice half of the clementines, reserving the skin. Lay the skins out onto a baking tray and roast in the oven for about 12-15 minutes, keeping an eye on them to make sure they don't burn. Finely slice the remaining skin-on fruit. Put all of the fruit and skins into a heavy-bottomed pan or a preserving pan and add the water. When the skins have finished roasting, roughly julienne these and add to the pan.
Turn on the heat and simmer the whole lot for about 1,1/2 hours, until the skins are tender. Then add the sugar and Campari and stir over a low heat until the sugar has dissolved. Turn up the heat and boil rapidly to set, this could take anything between 10-20 minutes. I used a cooking thermometer to help me – the boiling point of jam is 105c but if you don't have one a good trick is to spoon a bit of marmalade onto a cold saucer and leave it for a minute. If, when you poke it, it has a fine skin on top – it's ready to set.
Pour the marmalade into warm sterilised jars – this is so easy to do in the microwave, top with wax discs and store for up to a year.