/ /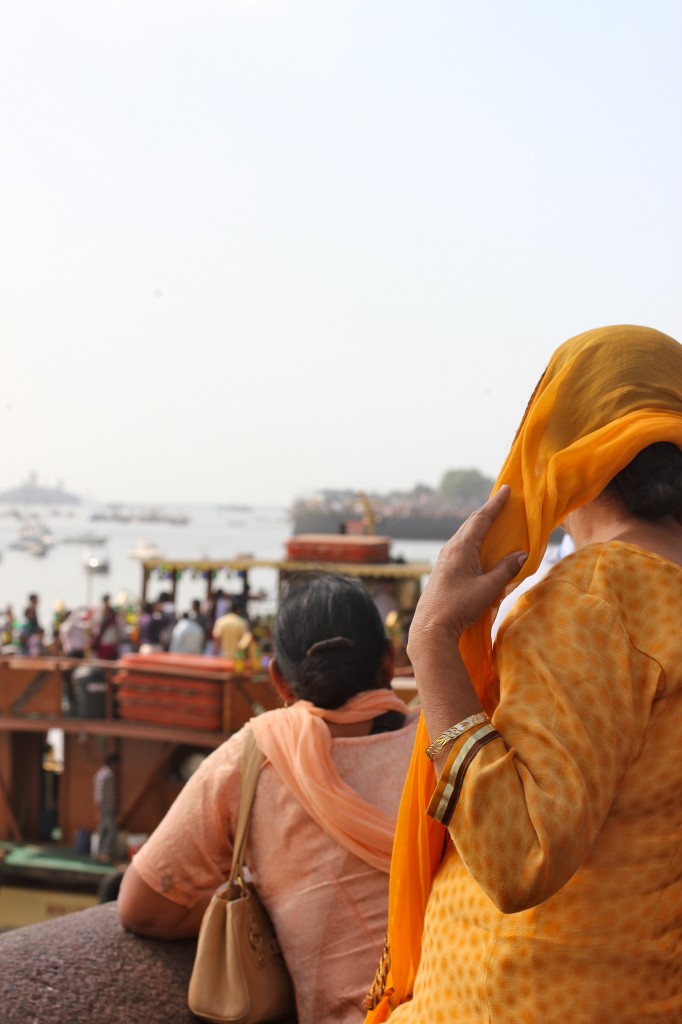 I've been lucky enough to visit India three times. The first was as an 12-year-old with a bad fringe and even worse bum bag: awkwardly chubby, pale and privileged and utterly gobsmacked by the smells, colours, craziness and social disparity I witnessed. I'd joined my parents on a last minute trip to Varanasi because my late father Peter Birkett – a freelance journalist – had been sent there by the Express newspaper. He was there to investigate the extended family networks of the slum communities, in light of an arguably crass comment the Duchess of Kent made about Indian people being 'richer' than their affluent Western counterparts in terms of their supportive familial relations. I was packing a banana yellow Gameboy in my bum bag, but the children I was playing with were more mesmerised by a packet of balloons the photographer busted out.
My mother was petrified of me getting ill (bless her) so carried tins of corned beef in her handbag which we ate with fresh naan, which somehow passed the hygiene test. We rode on a crowded passenger train from Delhi to Varanasi and the attendants brought around dinner, which was actually festering buckets of slop with flies crawling on it. We eschewed, and my tummy remained in tact.
The next time I went to India, in 2010, a whole other kind of train ride beckoned as I was traveling as a journalist on the inaugural voyage of the Maharaja's Express with one of London's top Indian chefs, the lovely Vivek Singh. The train ride was more like Wes Anderson's brilliant Darjeeling Limited than I could have hoped – we even went to the remote rural village visited by the characters in the film, and – and I know this sounds like some 70s acid trip delusion – I slurped opium tea from the palm of a prince of the Bishnoi tribe.
I saw the opulent ancient beauty of Jodhpur and Udaipur, and the poverty that I remembered from the last visit, which seemed emphasised by the luxe nature of my surroundings. Without my mother to watch my back, and with a food assignment to pen, I let my taste buds properly explore. We worked our way up from Mumbai, through Rajasthan to Delhi, and we tasted everything – from the the fiery hot Rajasthani goat curries to chargrilled paneer, chickpea-based Gujarati snacks and Indian hash browns for breakfast in Agra. It was here I also contracted amoebic dysentery, which made my life rather unpleasant for a couple of months on my return. But that's India.
In January of this year, I was lucky enough to return to this crazy country to explore Mumbai in more depth. I was traveling with a fantastic bunch – London restaurant PR darling Gemma Bell; Olive magazine's amazingly knowledgeable  deputy editor Lulu Grimes; the one and only Lucy Cavendish: mum of four and prestigious journo extraordinaire; Xanthe Clay – the Telegraph's fearless food columnist and recipe writer and Ming Tang Evans: a fantastic photographer who provided us all with brilliant pictures from the trip. Leading us around were cousins Kavi and Shamil and Naved – the owners and chef respectively of London's brilliant Dishoom restaurants which are based on the Indian city's wonderful Irani cafes. You can read all about these, and their tragic decline in this piece I wrote for the Guardian.
Exploring the city with Shamil, Kavi Thakrar and Naved Nasir as our guides was absolutely fantastic because these guys know the city like the back of their hand – Shamil and Kavi because they used to visit their grandparents here, and Naved because he cooked here for almost five years. They understood the inquisitive, intrepid nature of our group, and as well as showing us the historic cafes, took us both on and off the beaten track – sniffing out good food at Chowpatty Beach, taking us for an incredible, authentic multi-course thali at the home of their lovely friend Pooja and on an guided tour of the Mohammed Ali Road, where we sampled some very unique and memorable Muslim street food – including bheja roti – rotis fried with delicate lamb's brain and finished with a squeeze of lemon, a delicious, gelatinous trotter curry and bone marrow curry.
My mother would have had heart palpitations if she'd seen the ramshackle state of some of the places we ate in, but I can happily report that apart from a momentary wobble, my tummy was fine.
Here are some of my photos from the trip – hope you enjoy.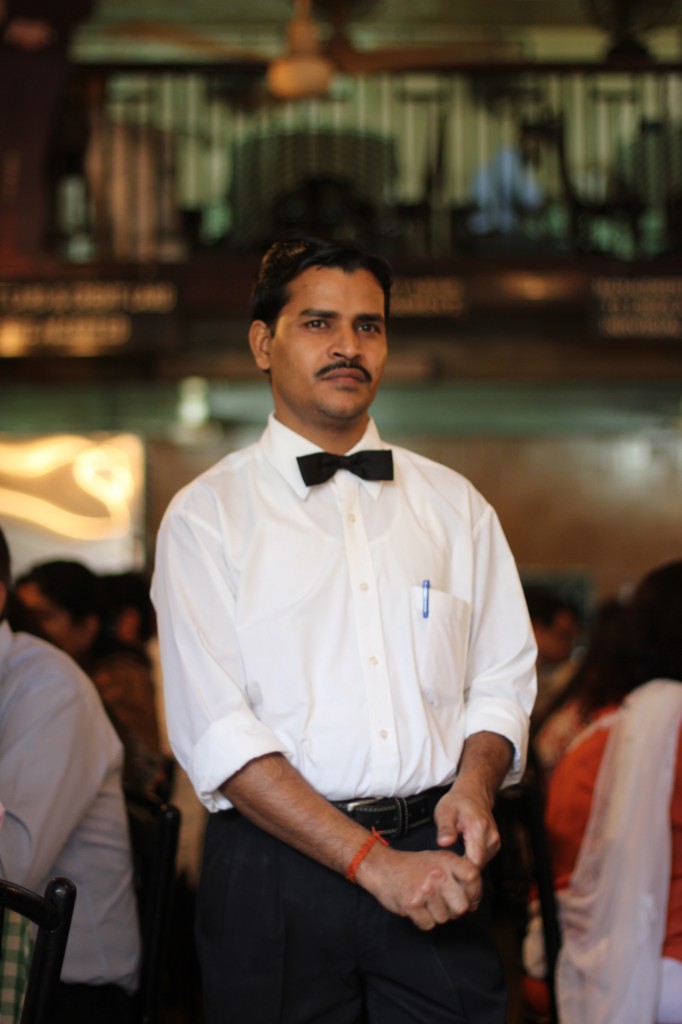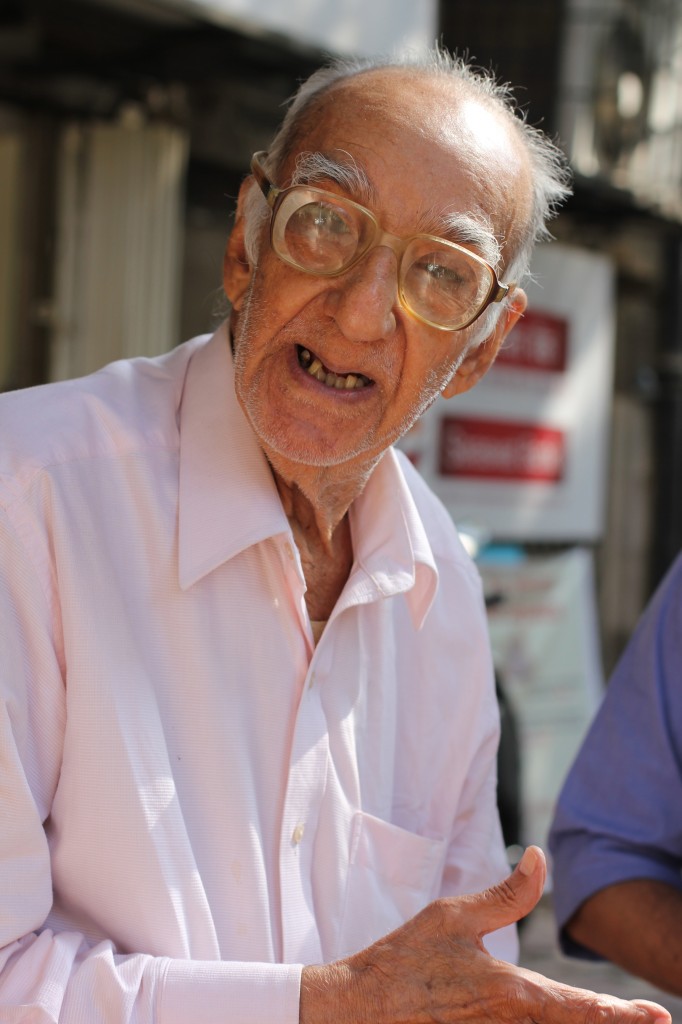 The one and only Mr Kohinoor of Brittania Cafe – check out those specs!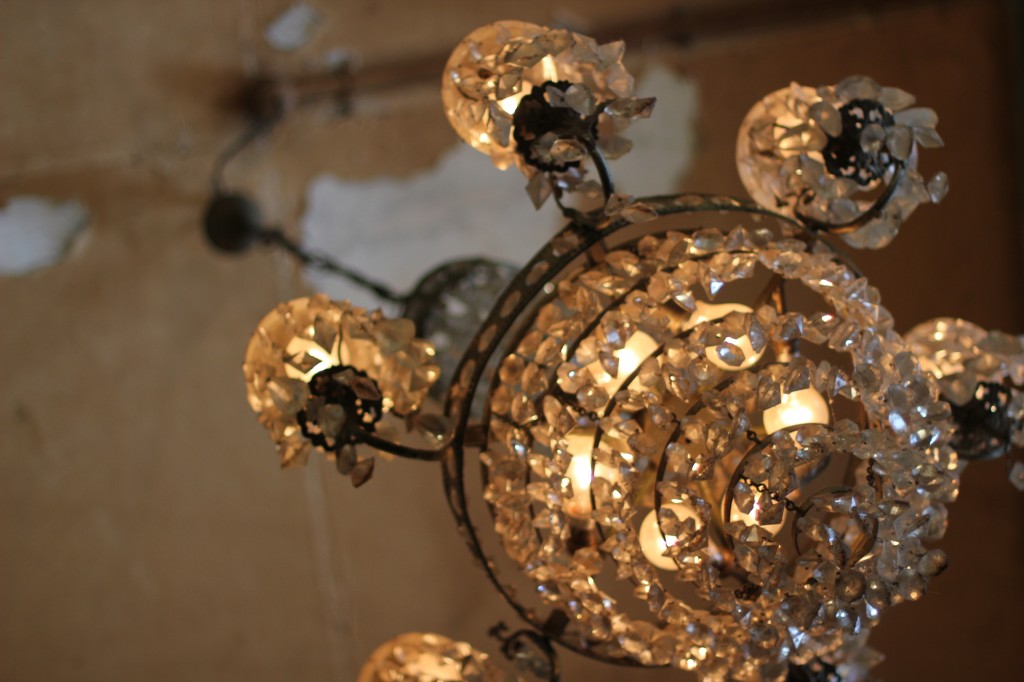 The lone chandelier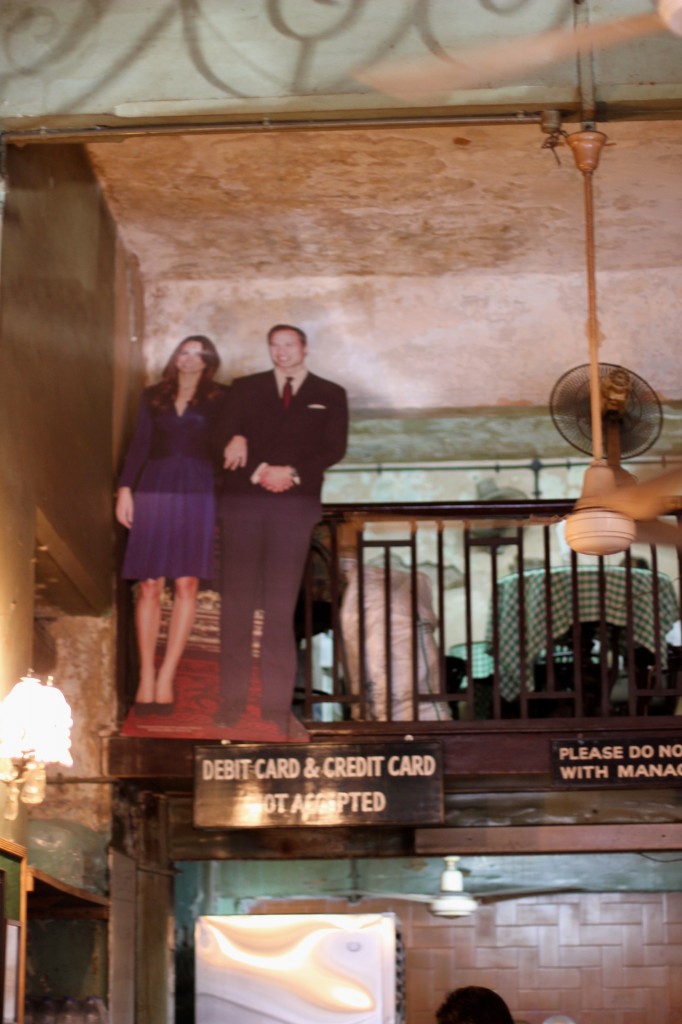 Life sized cut-out of the Duke and Duchess of Cambridge at Britannia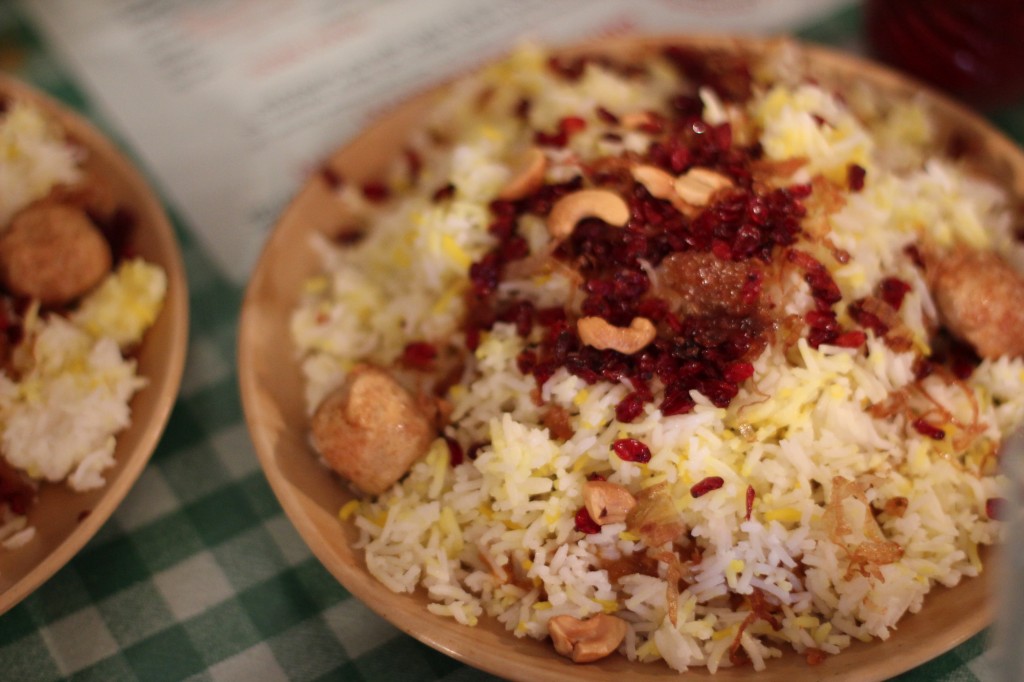 Britannia's famous chicken berry pulao
The best creme caramel I've ever tasted at Brittania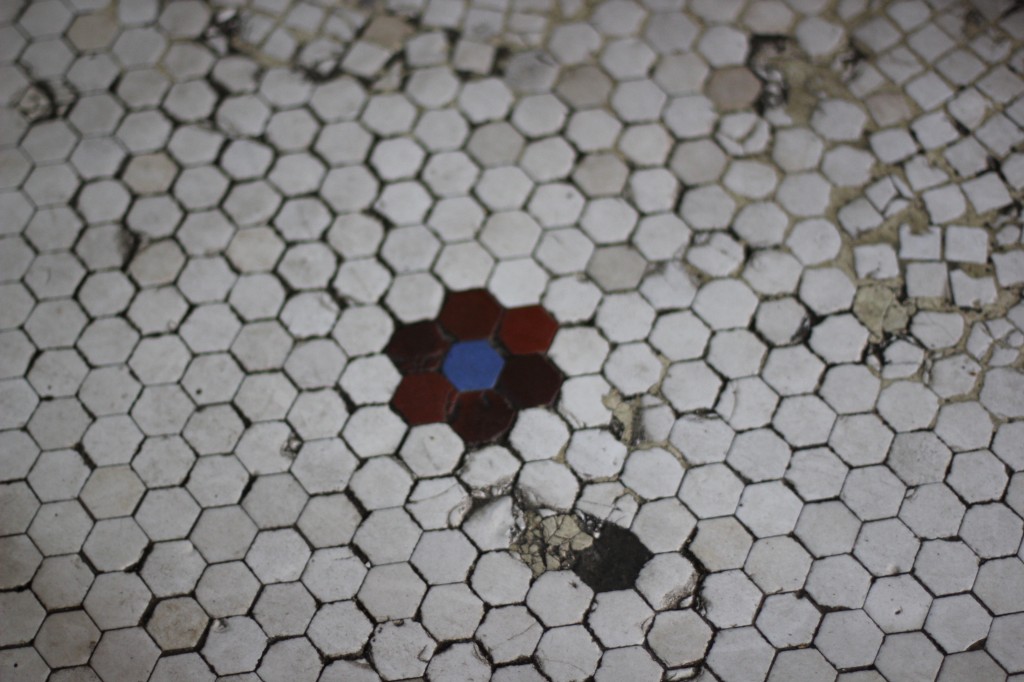 The amazing mosaic tiled floor at Kyani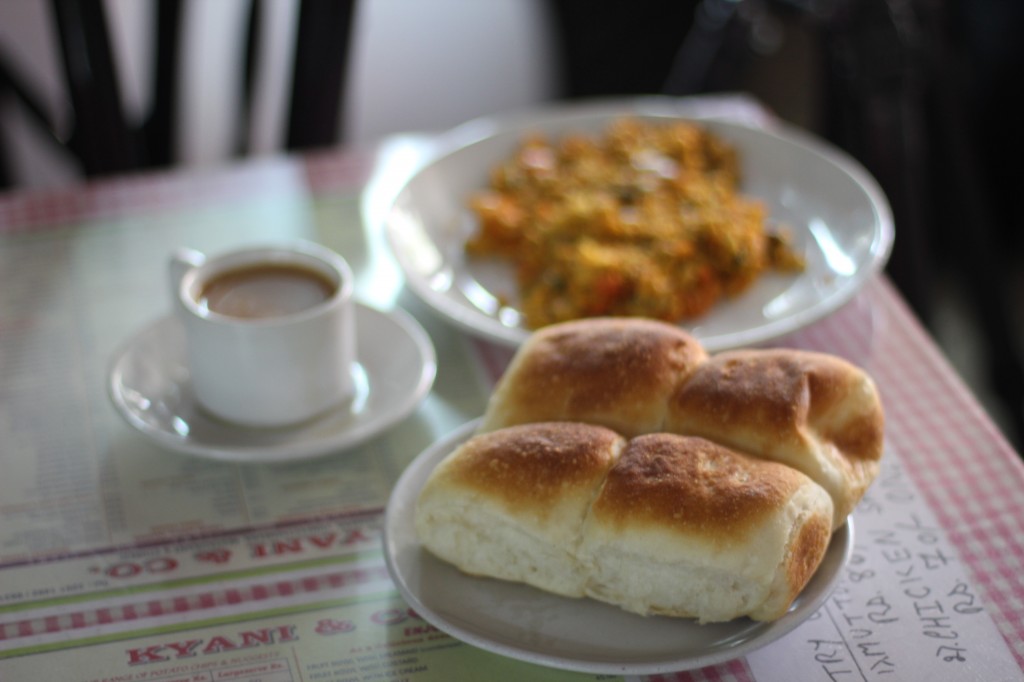 Bun maska, chai and akoori (chilli scrambled eggs) at Kyani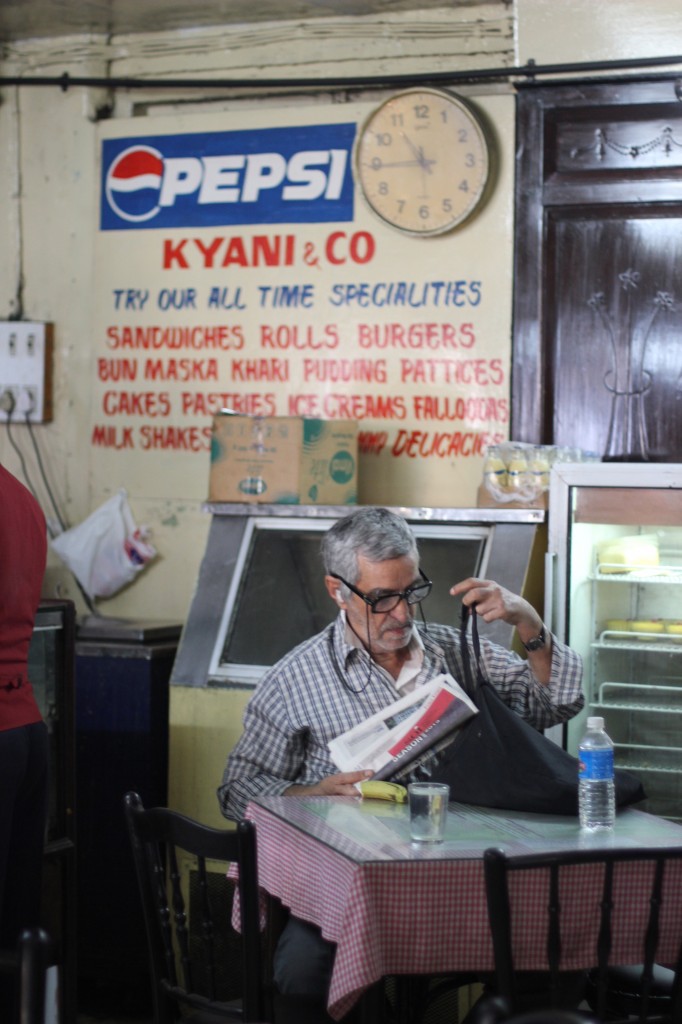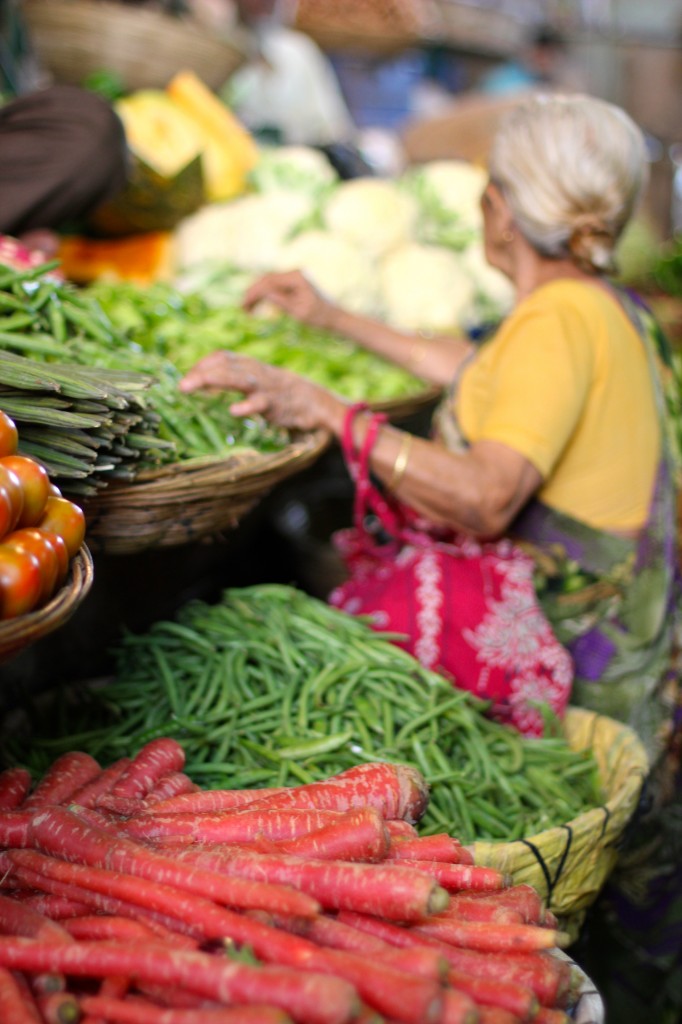 Red carrots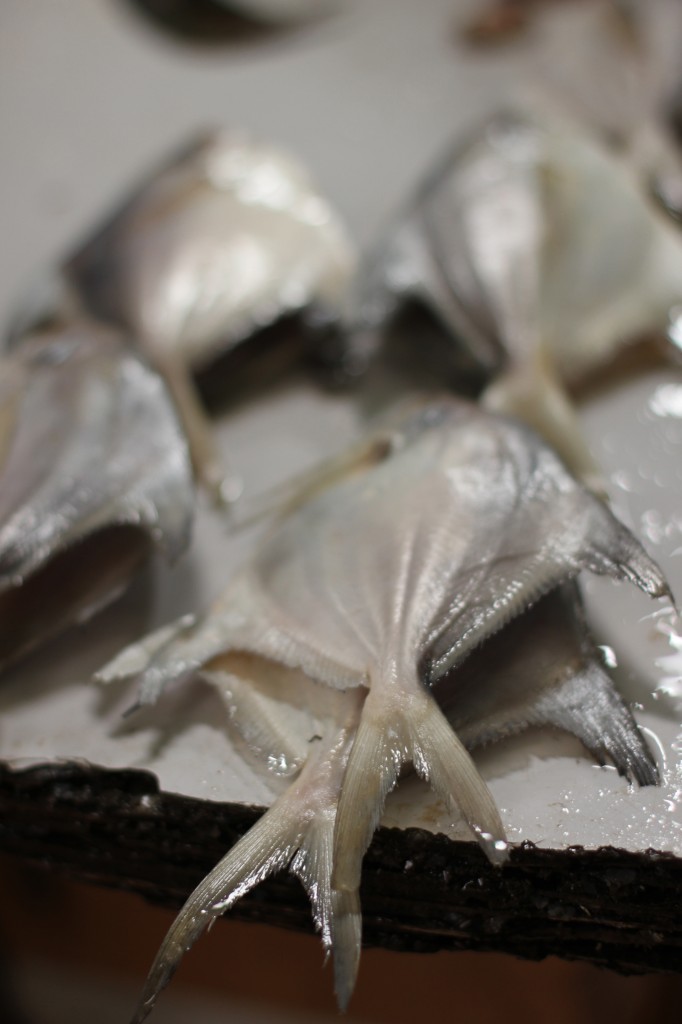 Pomfret at the market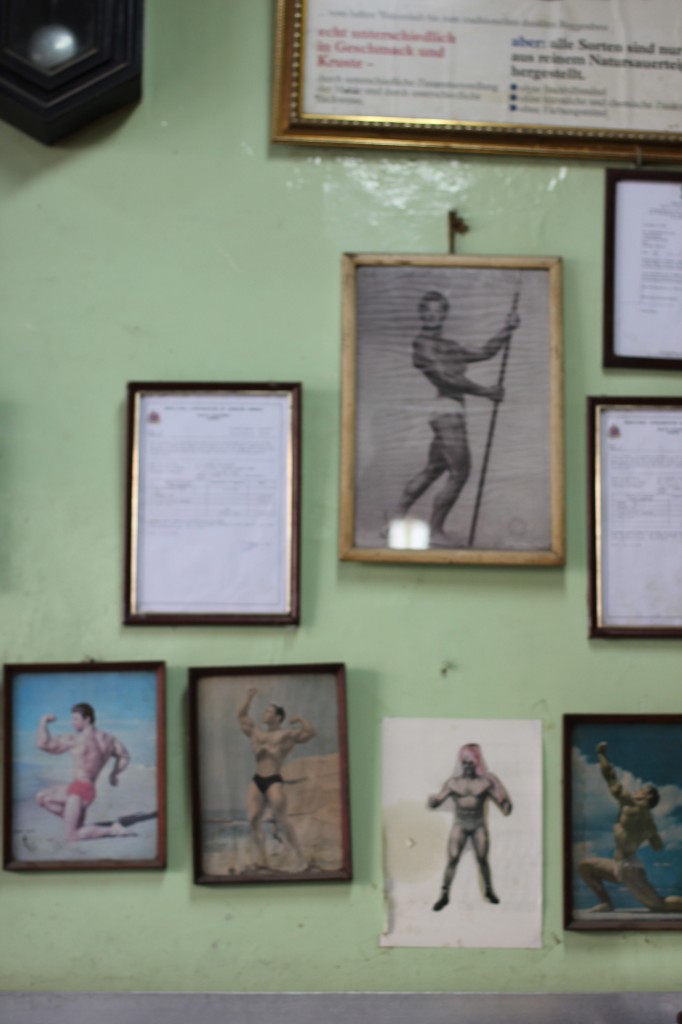 Pictures of Irani body builders at Yazdani bakery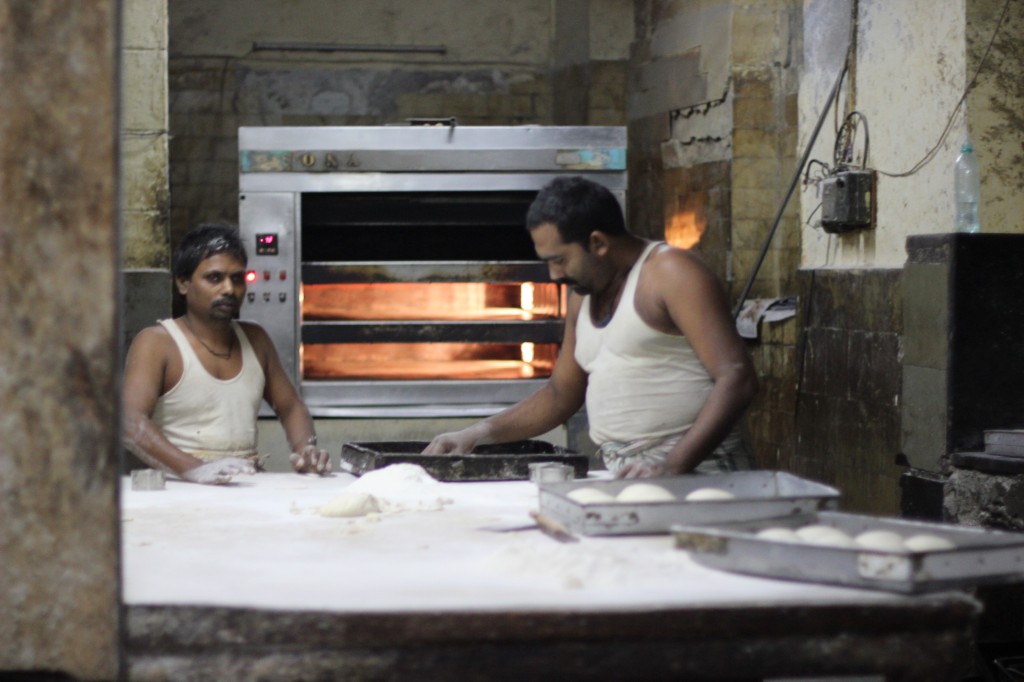 The bakers at Yazdani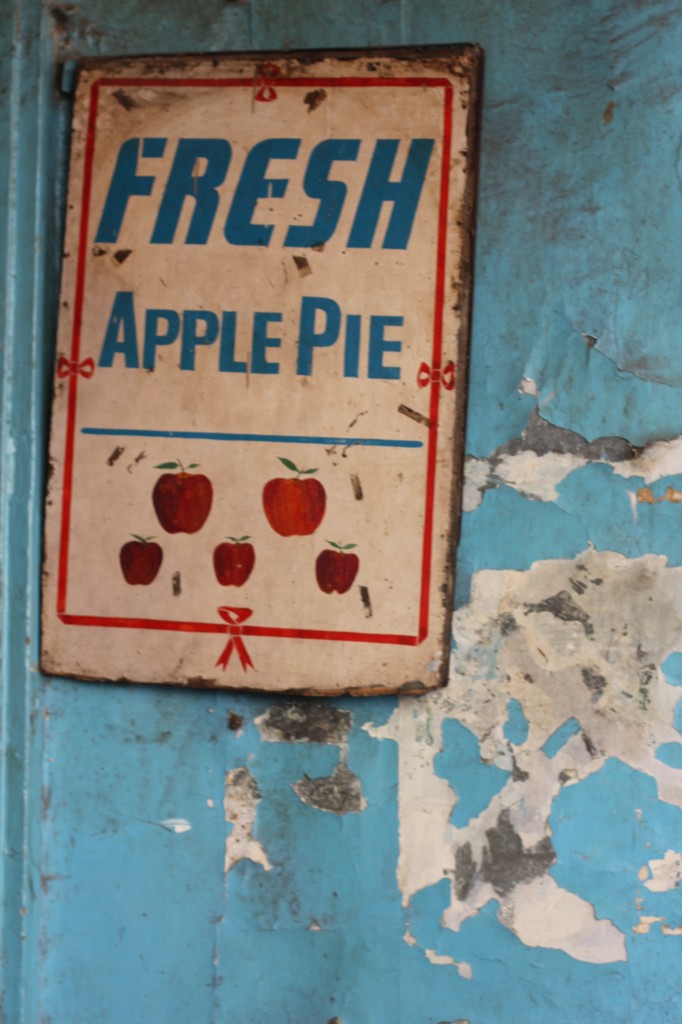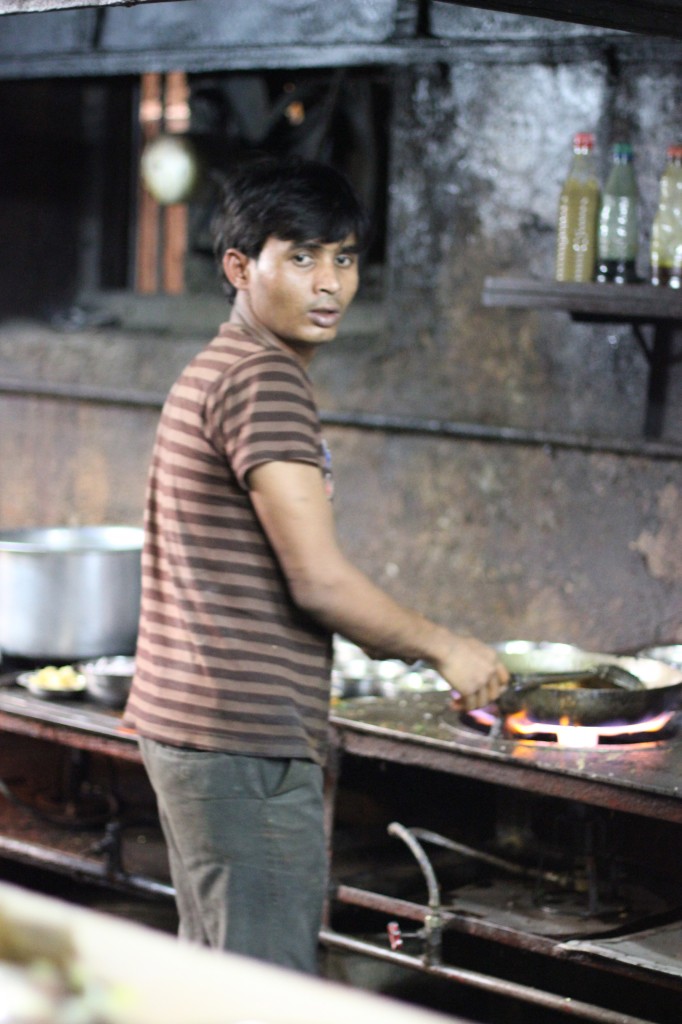 One of the chefs at Radio restaurant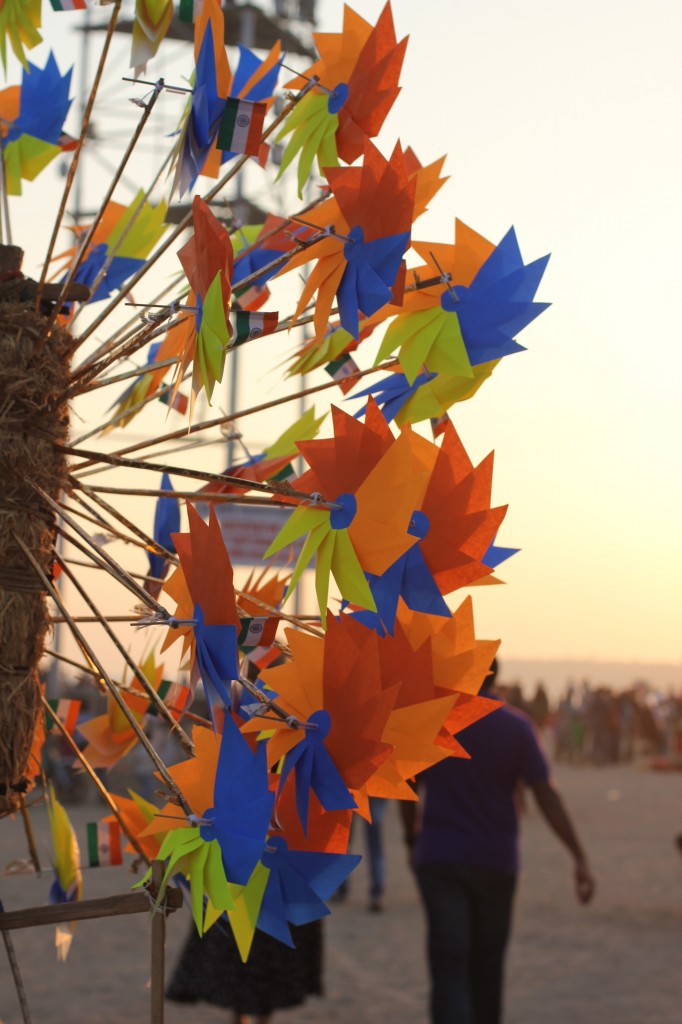 Sunset on Chowpatty