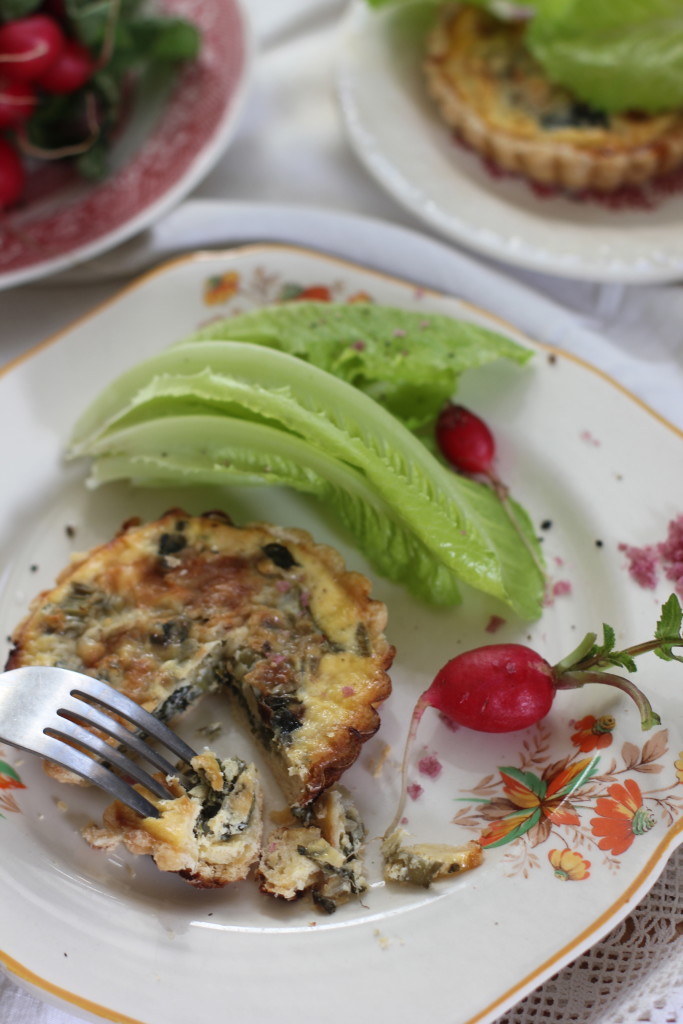 / /
I've spoken to you before about the amazing Mr Choi. He's our landlord in Vancouver, his favourite catchphrase is 'holy mackerel!' and he keeps a mean kitchen garden. But he's anything but mean. In fact, he couldn't be more generous with the bountiful fresh produce he grows, and is always knocking on our door with armfuls of amazing things. So far we've had the sweetest, most delicious tomatoes, fragrant basil and these prickly Mexican pears which I'm yet to successfully cook.
This time he brought us Swiss chard – a huge glossy bunch of it. I had some cheese in the fridge which was going a little dry around the edges, some left over sour cream, half an onion and enough butter and eggs to make pastry, so I decided on making a tart out of the earthy greens. Then I realised I didn't have a big tart dish, so it would have to be little tartlets. A bit more fiddly, but in fact the result was rather a hit – the earthy chard perfectly tempered by the sweet onion and nutty cheese.
Mr Choi is so happy and kind, and full of stories of when he was a chef in the 60s in a now-defunct hotel in Vancouver. He's been such an inspiration to my cooking, and we wish we could bring him back to London with us. I hope you enjoy this recipe, which I thank Mr Choi for!
Makes 6 little tarts
(use springform tins) or one 23 x 2.5cm large tart
For the pastry:
175g plain flour
1/2 tsp dry thyme leaves
1 tbspn parmesan/ grana padano
1 egg yolk
100g cold butter, diced
4 tbspn iced water
For the filling:
bunch of swiss chard, thoroughly washed - stems and leaves separated
half an onion, finely chopped
1 tbspn olive oil
bay leaf
1 garlic clove, minced
salt and pepper
1 tsp butter
3 eggs
1 egg white
1/2 cup sour cream
25ml whole milk
50g gruyere, finely grated
30g sharp white cheddar, finely grated
1tsp cider vinegar
To make the pastry
Put the flour, parmesan, thyme leaves, egg yolk, butter and iced water in a food processor and whizz until it's a sandy texture, and melds together. Pour it out onto a floured surface and squish it into a ball. Wrap in cling film and blast chill it in the freezer for 5 minutes.
To make the tarts
Preheat your oven to 180. Brush your tart tins with a thin coating of oil.
Take the pastry out of the freezer, divide in half and then each half into three equal thirds. Squidge each third into a ball-like shape, and, on a floured surface with a floured rolling pin, roll out thinly into discs.
Line the tart tins with the pastry discs, being careful to tuck the pastry right into the base and press into the fluted edges. To remove the excess pastry, press your finger against the edge of the top of the tin to chop it off. Pierce the base of each pastry case lightly with the prongs of a fork. Refrigerate again in the freezer for five minutes and place a baking sheet in the oven to heat up.
Place the cases on the baking sheet and line them with baking parchment. A good tip here is to scrunch up the parchment so you can mould it into the base of the tarts. Fill with lentils, baking beans or coins and blind bake for 15 minutes.
While that's baking, you can make the filling. Heat the olive oil and butter on a medium heat in a frying pan and gently sauté the onion, thyme, bay and garlic for about 10 minutes, until the onion is soft and sweet. Be careful not to burn the garlic at this point.
Slice the chard stalks and add them to the frying pan, sautéeing for about another five minutes. In the meantime chinois the green leaves, then add them into the pan and wilt along with the onion and stalk mixture. Once the greens have wilted, transfer to a bowl and add a tsp of cider vinegar, mixing it in.
Once the timer goes off for the cases, remove the parchment and baking beans and bake for a further five minutes, until golden.
In another bowl, break the eggs and lightly whisk together with the egg white. Add in the sour cream, cheese, salt and pepper and milk and mix.
When the cases are ready, divide the chard mixture between them and carefully spoon in the egg and cheese mixture being careful not to overfill the cases.
Bake in the oven for 25-30 minutes, until golden. Allow to cool on a wire rack for five minutes before removing from their cases. Serve warm, with a dressed green salad.