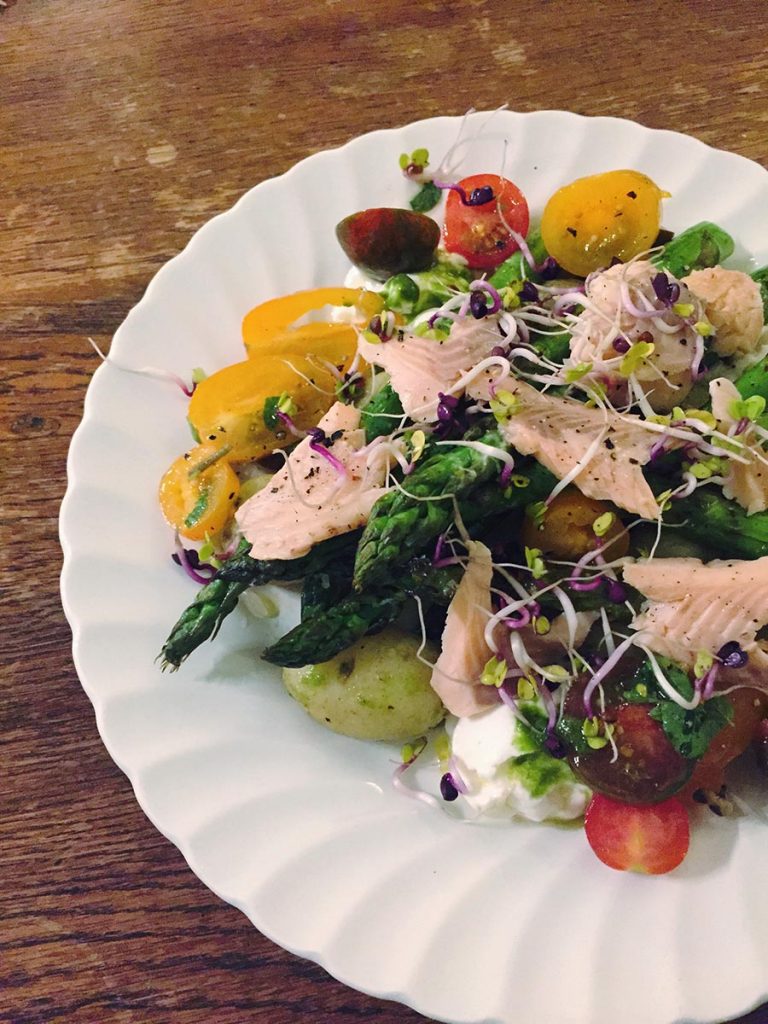 / /
Spring has sprung! And it's publication week
Hello and welcome to the new look blog, which has been given a much-needed springtime redesign. I hope you'll now find the site cleaner and easier to use, as well as a bit more responsive and engaging. Do let me know if you have any comments about how I can improve it further!
It seems like only a matter of weeks ago I was having to take the dog out for his last walk of the day before 5pm because the darkness was drawing in so early. Now the clocks have gone back, the days are lasting much longer, and we can have wonderful sunny evening walks in the marshes – surrounded by beautiful spring blossoms that look good enough to eat. I adore this changing of the seasons into spring, not just because London is truly stunning in the sunshine, but because it means there is so much exciting spring produce for us to play with in the kitchen, and eating – both at home and in restaurants – becomes an altogether more vibrant affair.
I write about my love for spring produce – particularly Jersey royal potatoes (which to my mind, have an unbeatable flavour), and asparagus in my cookbook A Lot On Her Plate, which, rather fittingly, is published this week by Hardie Grant. I'm so happy that it's a spring release, because there are some really seasonal recipes in there which people will be able to get stuck into with the first flushes of asparagus and blooms of elderflower. It feels so surreal that after years in the making, the book is finally here, but I'm so proud of it, and I'm just loving seeing all your photos, Tweets and instagrams about the recipes you've already been trying out, especially after the amazing extracts in Olive and The Sunday Times Magazine. Keep them coming!
I was very lucky to be sent some freshly dug Jersey royals and some beautiful spring products (gorgeous wild British tomatoes, asparagus, China Rose sprouts) from the organic veg supplier Wholegood, and it's meant that for the past few days I've been living off some absolutely gorgeous salads, drizzled with my wild garlic puree. Here's a recipe for one of my favourites.
For the wild garlic puree
:
50g wild garlic, washed
4 tbsp extra virgin olive oil
Pinch Maldon
Squeeze of lemon

200g Jersey royals, washed

100g cherry or wild tomatoes
Tbsp oregano leaves
2 tsp good red wine vinegar
Pinch salt
Tbsp extra virgin olive oil

10 spears of asparagus, woody stalks snapped off
2 tsp groundnut or rapeseed oil
1/2 lemon

4 Tbsp natural yoghurt

2 fillets of smoked trout
Tbsp china rose,
rambo radish or alfalfa sprouts

First make the wild garlic puree. Bring some water to the boil and blanch your wild garlic for a few seconds. Refresh in a bowl of cold water, squeeze out any excess water and then put in the bowl of a food processor or mini chopper (I find my Nutribullet does the job really well). Add in the salt and olive oil and blitz to a fine puree. Season with lemon juice, to lift the flavour slightly.
Now cook your Jerseys in plenty of salted boiling water for 8-10 minutes, until tender. Drain and toss in a tbsp of the wild garlic puree. Slice up your tomatoes and toss them with the tbsp of extra virgin olive oil, the oregano leaves, red wine vinegar and salt.

 Heat a griddle pan over a high heat and scatter over a pinch of Maldon. Toss the asparagus spears in a the rapeseed or groundnut oil and griddle for 5-8 minutes, until deep green, tender and marked by dark grill marks. Brush the cut side of the lemon with oil and char it on the griddle for a few minutes, until it's darkened and caramelised on the cut side.
To assemble, spoon some natural yoghurt onto each plate. Arrange the jerseys on the base of the plate and top with the asparagus spears. Dot around the tomatoes and top with the smoked trout. Squeeze the charred lemon over the top, coating the trout and asparagus, then top with the sprouts. Devour!