/ /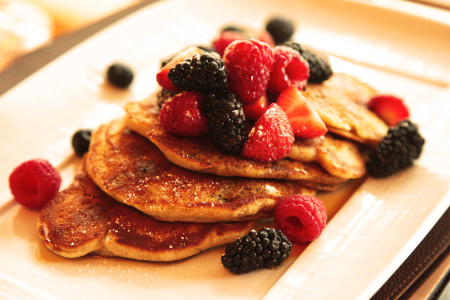 A couple of weeks ago, I had the pleasure of meeting superstar chef Wolfgang Puck, who was over in the UK visiting his steak restaurant CUT at the 45 Park Lane Hotel. Puck was born in Austria, but after spending time in Michelin-starred restaurants all over France, moved over to the States as a young chef, first cooking in Indianapolis before moving to Hollywood and opening the legendary restaurant Spago on the Sunset Strip. Puck has been credited with changing the way that America ate with his laid back approach to gourmet cuisine (think smoked salmon and caviar pizza) and has built up a global restaurant empire which is ever-expanding, with launches planned for Asia and the Middle East.
It was amazing that this superbly busy chef found the time to spend an afternoon with me showing me how to make his famous, plump, fluffy, ginger-spiked pancakes. But he did! After a morning spent eating our way around Borough Market (you can see those pictures on my Instagram) we debunked to his kitchen to whip up some of the American breakfast classics. Puck was keen to encourage us to customise the pancakes to suit our taste, showing me how to add blueberries or chocolate depending on preference.
I hope you enjoy the video, which is full of tips on getting those breakfast pancakes right, and here's the ingredients list below so you can follow it and have a go yourself. Enjoy!
Ingredients:
4 eggs
4 cups flour
1/3 cup milk
1/4 cup double cream
1 cup melted butter, plus extra for greasing
1 cup buttermilk
4 tbsp sugar
1 tsp baking powder
1tsp baking soda
1/2 tsp salt
Splash of vanilla
1/2 tsp ground cinnamon
1/2 tsp ground ginger
pinch of nutmeg
To add:
Chocolate flakes
Blueberries