/ /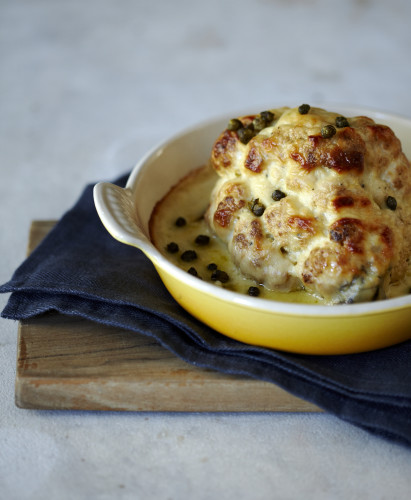 Anyone who's been reading this blog for a while, or who's got the cookbook will know that I've got a bit of a thing for our bobbly, bulbous friend the cauliflower. Always have and always will. What's not to marvel at about its miraculous, cloud-meets-tree structure and its brilliant versatility: the way it roasts to a deep nutty char or purees to a smooth, creamy slick? I like to keep a cauli in my fridge at all times if I can possibly help it, because it's a failsafe meal solution if ever there was one. Haven't been shopping for a while? Whip up a cauliflower pasta dish with preserved lemon and pine nuts. Or roast it hard, slice it into wedges and eat it with a nice slow tomato sauce, spiked with some rose petal harissa.  Scatter over some toasted flaked almonds for crunch.
Saying that, classic dishes are classic for a reason, and I'm a real sucker for some good cauliflower cheese. My preferred method is to roast it whole and smother it in a three-cheese sauce, topped with some crispy fried capers to cut through the richness with their brininess. I created this recipe for Guardian Cook's spectacular Roast supplement, for their 10 best side dishes feature, and this beautiful picture was shot by the brilliant Kristin Perers, who I enjoyed working with recently on a different food styling job.
I wanted to share this recipe with you in time for Christmas, and I think it would make a fantastic addition to your festive repertoire and might even be worth adding to your Christmas dinner. Enjoy.
1 medium whole cauliflower
Extra virgin olive oil
Salt and black pepper
40g unsalted butter
1 bay leaf
40g plain flour
600ml whole milk
A grating of nutmeg
100g gruyere or Comté
100g mature cheddar
1 tsp white wine, cider vinegar or lemon juice (optional)
1 tbsp of capers, drained
Olive oil
Serves 4
1 Preheat the oven to 200C/400F/gas mark 6. Strip the rough outer leaves from the cauliflower and put it in a roasting tin. Rub it all over with a bit of olive oil, and season well with salt and pepper. Roast it in the oven for about 30 minutes, until it's golden, caramelising on the outside and smelling really good.
Advertisement
2 Meanwhile, make the cheese sauce. Melt the butter in a nonstick saucepan over a medium heat with the bay leaf. Then add the flour and cook, stirring, for two minutes or so, until the roux is starting to bubble. Add the milk, little by little, stirring with a whisk, until all the milk is incorporated and you have a smooth, lump-free sauce. Cook for about 10 minutes, until thickened, and then season with nutmeg and black pepper. Add the cheese and stir over the heat until it's melted and smooth. Taste the sauceand adjust the seasoning, and 1 tsp vinegar or lemon juice to pique it.
3 Remove the cauliflower from the oven, smother it with the cheese sauce, and return to the oven for another 20 minutes, turning the heat down to 180C/350F/gas mark 4 and baking until golden. Remove from the oven and allow it to settle while you fry the capers.
4 Meanwhile, dry the capers in kitchen paper. Heat a good slug of olive oil in a nonstick frying pan over a high heat. Fry the capers for a few minutes, until puffed and crispy, then drain on kitchen paper.
5 Serve the cauliflower with the capers scattered over. Particularly good with roast pork.