/ /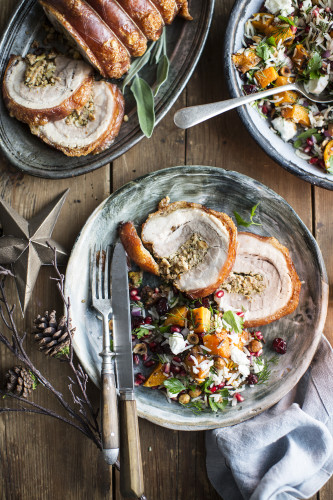 Pot luck parties are SUCH a good idea. As someone who's made something of a rod for her own back with all this cooking malarkey (well I can't exactly lay pot noodles and crisps now can I?) the idea of spreading the load when you want to have friends over for dinner is always welcome in my household, especially at Christmas when we all have so many mouths to feed and so much to cook already. Which is why I was doubly thrilled to be asked to contribute to a festive recipe feature for BBC Good Food magazine with fellow food writers and cookbook authors Sabrina Ghayour, Olia Hercules and Shivi Ramoutar. The idea behind the piece was for us to throw a pot-luck Christmas dinner, and all bring a dish to feast on together, with some exciting new festive recipes for people to try at home.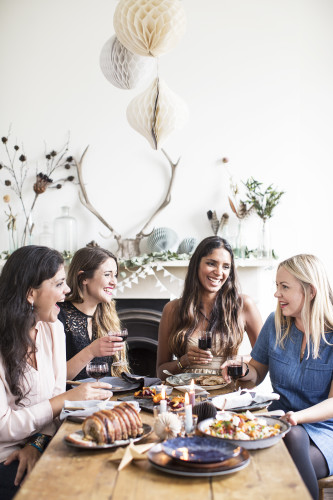 I came up with a recipe for a festive stuffed porchetta, involving really crispy crackling and a sumptuous, spiced savoury stuffing with pine nuts, orange zest, sage and onion and sourdough croutons. Olia made a delicate a pretty little canape of Shukhi- warm beetroot and mushroom salad on crispy, dill-flecked croutons and Sabrina made a colourful black and white rice salad with the most divine cumin-roast squash, which was such a perfect accompaniment to my porchetta, itself infused with coriander seeds. Shivi's Ponche de creme dessert was a glorious rum-spiked brioche pudding sweetened with condensed milk, spiced with nutmeg and lifted by lime zest and Angostura bitters – so clever.
The shoot itself was great fun – it was so nice to catch up with these wonderful creative food women, and we all got thoroughly into the festive swing while photographer Helen Cathcart captured our little gathering and took some beautiful shots of the food (her photos are used above). Linda Berlin's gorgeous modern festive props have been a real inspiration for my own festive decorating too. The handmade ceramics she chose were really special
You can find the recipe for the festive stuffed porchetta here on BBC Good Food's website, and also watch my latest youtube video showing how to make it.