/ /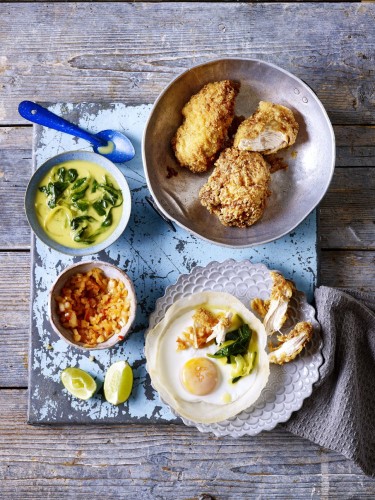 BBC Good Food magazine has always been a magazine (and website) I've turned to for recipe inspiration. It's always packed full of reliable, exciting and seasonal recipes and food content from some of the country's best chefs and food writers, as well as some gorgeous food photography and styling. Which is why I'm so thrilled to be contributing recipes for it on a regular basis.
My first recipe feature for the mag was hinged on the idea of 'Chicken and Egg', and I was tasked with coming up with some recipes that including both of these ingredients. I had a lot of fun playing with the brief, and coming up with some new ways of combining what is in my opinion, two of the greatest and most versatile ingredients we have.
While I've never been to Sri Lanka, I had my first taste of hoppers last year at Weligama at Druid Street market (can't wait for the book!), followed by tasting them again at Hoppers in Soho. I became obsessed with the light, crisp, egg-topped fermented rice flour pancakes, and thought that doing a version with some crispy, juicy fried chicken would be a good idea. Everything tastes better with a side helping of fried chicken, no? To give the fried chicken a Sri Lankan twist, I first brined the chicken in a marinade made with coconut milk and cardamom, to make sure the chicken would be super flavourful and tender. You can find the recipe here on the Good Food Website.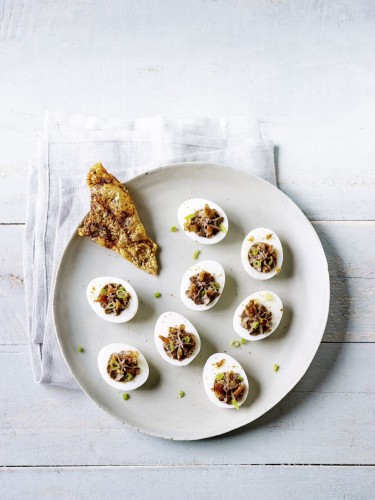 Another favourite from this feature was these chicken liver pate filled 'devilled eggs', which make a fantastic snack for any dinner party you might be having. They're flecked with crunchy chicken crackling, which you can learn to make here. Warning: this stuff is seriously addictive…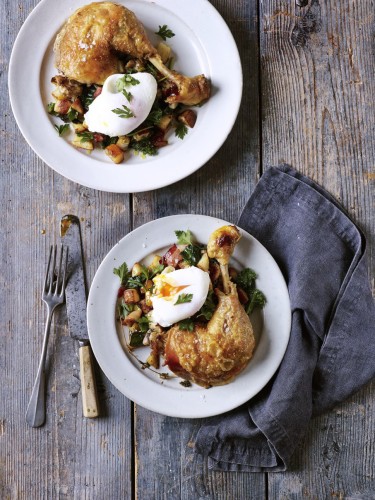 Confit means to cook in fat, and these chicken legs are cooked in olive oil until the skin is crisp and golden and the meat is falling-apart-tender. I serve them with a hash of potatoes, kale, spring onions and topped with a perfectly poached egg. Check out the recipe here.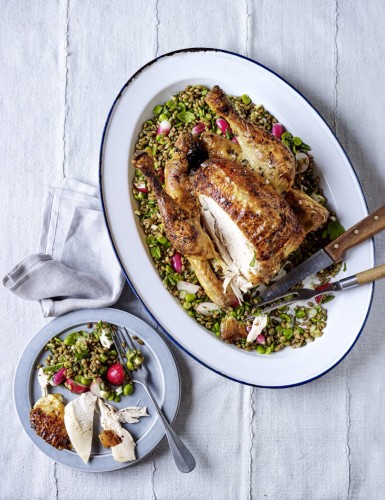 If you're cooking for a crowd, or if you've made a jar of my preserved lemons from A Lot On Her Plate, this preserved lemon roast chicken with a rustic freekeh salad is the one for you. You can customise the salad to change with the seasons and what's available.
Let me know how you get on with these recipes, if you give them a go, and watch this space for more from my BBC Good Food recipes.
CREDIT: All of these pictures were taken by Peter Cassidy.