/ /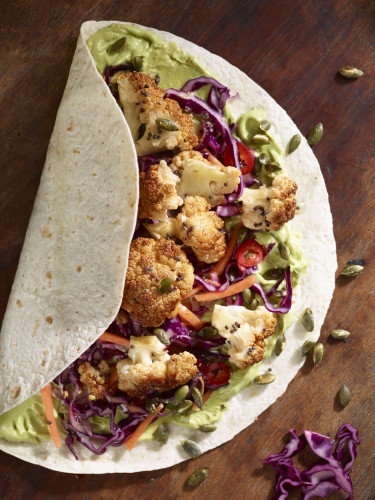 I've spoken on this blog before about my cauliflower crush. It's just getting worse, and I'm showing no sign of stopping wanting to cook with our versatile, bulbous friend any time soon. Roasting it is absolutely the way forward as far as I'm concerned because it brings out such a gorgeous sweet nuttiness, and I really love this recipe I've created for Mission Deli wraps – a Southern roast cauliflower wrap with avocado 'mayo', pickled slaw and crunchy toasted pumpkin seeds.
Granted, there's a lot going on there, but it all works so well together, the nutty cauli against the smooth, creamy mayo and the piquancy and crunch of the pickled slaw, plus the Mission Deli wraps are super soft and don't break, so you can really load them up with all those gorgeous fillings.
This is a perfect dish for a summer party/ al fresco meal because you can roast the caulis ahead, make the slaw and avo mayo and then just pile everything in the middle of the table and get people to build their own wraps. A wrap party, if you will (sorry)! You could even have a go at roasting or part roasting the cauliflower in the barbecue with the lid closed if you have a kettle barbecue, as it will take on that gorgeous smoky flavour.
At this time of year I really love cooking with friends outside or having impromptu meals out on the balcony or in the front garden, but I really don't want to end up stuck in a hot kitchen while everyone else is basking in the sun, so I try and keep things as simple as possible, while still making something  a bit special.
To help you get the most out your summer parties, I've put together my top entertaining tips along with a series of recipes using Mission Deli wraps which are designed to take the stress out of your next garden/dinner party. Follow the tips in the video and I guarantee you won't be a flustered hot mess, but a cool, calm host with a reputation for throwing the best parties. If you've got any other top tips for summer entertaining, don't hesitate to tweet me and @MissionDeliUK!
For the Southern roast cauliflower
1 small cauliflower, leaves removed
2 tbsp. rapeseed oil
1/2 tsp smoked paprika
Pinch of salt
Pinch of white pepper
Pinch of cayenne pepper
For the avocado mayo
1 ripe avocado, peeled and destoned
Big pinch of salt
Juice of 1/2 lime
tbsp. tahini
Tbsp. water
For the pickled slaw
1/4 small red cabbage, finely shredded
1/2 red onion, finely shredded
1 red jalapeño, finely sliced
1 pickled jalapeno, finely sliced (optional)
1 carrot, peeled and finely sliced
Pinch of mustard seeds
4 tbsp. raw, unpasteurised cider vinegar
Tsp Maple Syrup
Tsp Dijon
Pinch of mustard seeds
Pinch of salt
Tbsp. toasted pumpkin kernels
4 Mission Deli Multigrain wraps
Preheat your oven to 200 degrees centigrade, fan. Stir the rapeseed oil with the smoked paprika, white and cayenne peppers and salt. Place the cauliflower into a roasting tin and pour over the spiced oil, rubbing it all over the surface of the cauliflower. Roast in the oven for 40-45 minutes, until caramelised on the outside and slightly tender. While that's roasting, put the avocado, tahini, salt and lime juice into a food processor or mini chopper and blitz until smooth. With the motor running, add a tbsp. of water and blitz until you have a creamy emulsion.
To make the coleslaw, combine the shredded veg in a bowl. Mix the vinegar, maple syrup, mustard and mustard seeds to make a dressing and pour over the slaw, mixing it in until thoroughly dressed.
Remove the cauliflower from the oven and slice into thick slices. Place your wraps on the plate, spread with the avocado mayo, top with the slaw and then the cauliflower. Scatter over the pumpkin seeds. Wrap and enjoy!