/ /
Hello everyone, and sorry for the delay in posting, it's been a really frantic few months with pop ups, lots of work and trips to Tuscany and Japan, but I am back and with very good reason. October is National Breast Cancer Awareness Month, and this year I am proud to partner with Mission Deli on their #FriendshipUnwrapped campaign, celebrating amazing food and its impact on friendships. In a pledge to raise money for breast cancer support, Mission Deli has turned packs of its Original wraps pink, and promised to donate £50,000 from the sales of the special packs to Breast Cancer Care, the only UK wide specialist support charity giving care and information to thousands of women living with the disease and its effects.
Food plays such an important role in bringing friends together – whether as part of your Saturday night in, or providing comfort and nourishment when you all need a pick-me-up, and to chime in with 'Pinktober', I've created a series of warming, sharing recipes (below) using Mission Deli's wraps that you can whip up easily for your mates. All of them are based around the idea of sharing and enjoying fuss free, delicious food, and we have Smoky Steak Wraps with Avocado and Charred Corn Salsa, a banging, Korean-inspired Cheat's Kimchi Quesadilla with Sesame Mayo, and a miraculously light Spiced Apple Tart – perfect for this time of year. So please support Mission Deli in their pledge by purchasing limited edition pink packs from supermarkets nationwide this October.
Smoky Steak Wraps with Avocado and Charred Corn Salsa
Taking inspiration from Mexico, these delicious steak wraps bring heat to a cosy night in. Mission Deli wraps are super oft so don't be afraid to pack the filling in.
Ingredients
1 pack Mission Deli Original wraps
200g Rump or Bavette steak
Pink pickled onions
Marinade
Juice of 1 pink grapefruit
Juice of ½ lime
1 tbsp cider vinegar
1 pinch dried oregano
1 tsp smoked paprika
1 tsp cumin
1 tsp salt
1 tsp sugar
Black Pepper
Salsa
1 Corn on the cob
1 avocado
1 tomato (cubed)
½ red onion
½ red chilli
Juice of 1 lime
Chopped coriander
1 tbsp parmesan
First make the marinade. Juice one pink grapefruit, 1/2 a lime and mix with a tbsp of cider vinegar. Add a pinch of dried oregano, tsp of smoked paprika and cumin, grind of black pepper, tsp of salt & sugar and marinade a nice piece of rump or bavette steak in it in the fridge for at least two hours. To make the salsa, heat a heavy-bottomed frying pan over a high heat. Brush one corn on the cob with rapeseed oil, season with salt and place in the pan. Cook, turning until golden and charred all over. Slice the corn from the cob and mix with the cubed flesh of one avocado, one cubed tomato, 1/2 a red onion, 1/2 red chilli, the juice of a lime, some chopped coriander and a tbsp of parmesan. Season. Heat the pan you cooked the corn in until really hot, remove the steak from the marinade and sear for a couple of minutes on each side. Remove from the pan and rest for a few minutes. Slice the steak. Build your wraps with salsa, steak and garnish with some more coriander and pink pickled onions.
Cheat's Kimchi Quesadillas with Sesame Mayo
These Quesadillas are inspired by the spicy, savoury flavours of kimchi – fully-loaded with melted cheese and umami flavour.
For the kimchi paste
10g ginger
2 cloves garlic, peeled
2 shallots, peeled
1/2 tsp chilli powder
tbsp fish sauce
tbsp sriracha
tbsp honey
tsp soy sauce
tsp rice vinegar
tbsp rapeseed oil
1/4 white cabbage, sliced
1/2 white onion, sliced
1 spring onion, sliced
100g cheddar
2 Mission deli wraps
For the mayo

tbsp mayonnaise
2 tsp toasted sesame oil
tsp black sesame seeds
To make the cheats kimchi paste, blitz all the ingredients for the paste in
a mini chopper or food processor. Heat the rapeseed oil in a non-stick
frying pan. Add the paste and cook it off over a medium heat for a few 
minutes. Add in the onion, cabbage and spring onion and cook for about five 
minutes, until the cabbage is cooked and the whole lot is incorporated with
the spicy paste. Set aside.
Heat a non-stick frying pan over a medium high heat. Place one wrap in the
pan and cover with half the cheese. Top with the cabbage mix and then cover
with the rest of the cheese. Place another wrap on top and cook for 3-4 
minutes, until the cheese has melted. Flip the quesadilla onto a plate and
then put it back in the pan with the uncooked wrap on the bottom. Cook for a
 further three minutes then slide out of the pan and cut. Mix the mayo 
ingredients together and serve alongside the dilla.
Spiced Apple Tart
Using two wraps layered up with butter and baked makes for an ingeniously
easy pastry alternative for the base of this tart.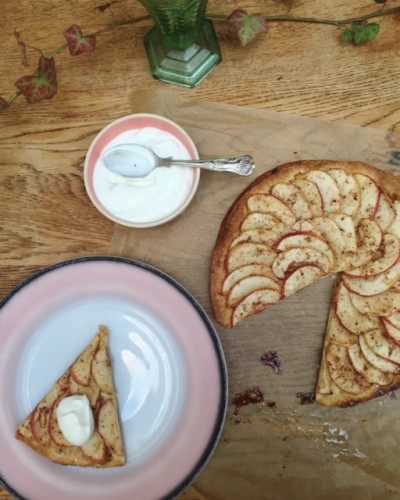 Ingredients
2 apples, cored, quartered and very finely sliced
2 Mission deli wraps
50g unsalted butter, melted
2 tbsp brown sugar
tsp cinnamon
Preheat the oven to 180. Line a baking tray with greaseproof paper. Lay one
 wrap on it and paint it with melted butter. Lay the other wrap on top, 
paint with more butter and bake for 6 minutes. Meanwhile toss the apple 
with the remaining melted butter, sugar and cinnamon. Remove the base from 
the oven and arrange the apples on top in a circular pattern. Bake for a 
further 12 minutes or until the apples are cooked and the base is golden.
Serve with natural yoghurt or creme fraiche. Perfect for breakfast,
afternoon tea or dessert.