/ /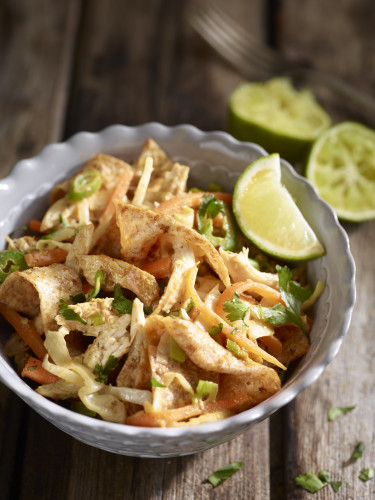 This year I've been working with Mission Deli on their 'Feed Your…' campaign to help showcase the versatility of Mission Deli wraps. If you follow me on Instagram, you'll have seen I've created everything from riffs on French toast, to pizzas and apple tarts using the wraps. For my final post, I wanted to share something spiced and warming now that we're well into into the colder months, and also something which would work well using leftover Christmas turkey – something we'll all have surplus amounts of in the coming week. This is a recipe inspired by Sri Lankan dish known as kothu roti: the ultimate dish for using up leftovers.
Thanks to new pop ups and restaurants like Weligama and Hoppers, I've really discovered Sri Lankan cuisine this year, and have been blown away by the flavours of it: somehow familiar from Indian food but at the same time totally unique, rich with lots of coconut milk and heady with roasted spices. I'm currently in the midst of plotting our honeymoon there next year (which will of course revolve around food), and I'm hoping to track down lots of kothu roti while I'm out there. Don't worry, I'll keep you posted on my progress on Instagram…
I'm big on recipe ideas that help us tackle food waste, and traditionally kothu roti uses up leftover chopped flatbreads stir fried on a big flat griddle with egg, cabbage and spices and finished with a spiced curry sauce. This is my version with chicken and Mission Deli wraps in place of the roti, but it would also be a brilliant with leftover roast turkey. It's really quick to make and such gorgeous combination of flavours and textures.
I hope you've all enjoyed the recipes which I created this year. If you want some recipe inspiration do head over to the Mission Deli website or you can find them on Facebook and Twitter.
Makes: 2
Preparation time: 10 minutes
Cooking time: 30 minutes (approx.)
Ingredients:
Tbsp. groundnut oil
2 Mission Deli Wholemeal wraps, shredded
4 curry leaves
Tsp fenugreek
Tsp ground cumin
Tsp coriander seed
Thumb of ginger, peeled and minced
1 clove of garlic,
1 green chilli, finely sliced
1 carrot, peeled and julienned
1/4 white cabbage, shredded
250g leftover roast chicken
3 spring onions, finely sliced
Two eggs, cracked and forked through
Small bunch of fresh coriander, to serve
Lime wedges, to serve
For the curry sauce:
1/2 tin coconut milk
2 tsps. curry powder
Tbsp. soy
Tbsp. tomato paste
Heat a frying pan over a medium to high heat and toast the spices and curry leaves for a couple of minutes, until just browning and smelling aromatic
Transfer to a pestle and mortar with a pinch of salt and grind. Add in the ginger and garlic and pulse until you have a paste. Stir together the ingredients for the curry sauce and have all your ingredients ready. Heat the wok over a high heat and add half the groundnut oil
Fry the wraps until they are starting to dry out and brown around the edges. Remove to a plate
Add the rest of the oil to the wok, followed by the spice paste and move it around the wok. Add the chilli, carrot, cabbage and chicken and stir fry for five minutes before adding the wrap. Stir to combine and then add egg and spring onions. Stir fry for two more minutes, distributing the egg, then add a ladleful or two of the curry sauce, stirring vigorously until the sauce is distributed and the mix is starting to dry
Serve garnished with the coriander and wedges of lime