/ /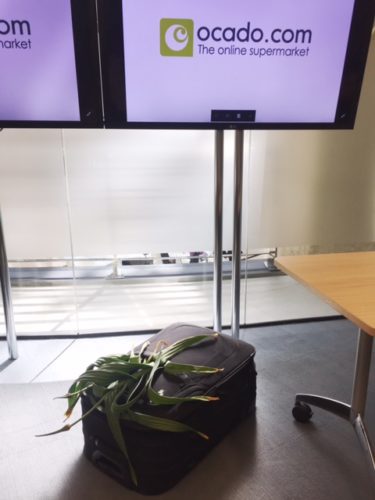 A couple of months back, I was proud to be asked to join the judging panel of online retailer Ocado's "Britain's Next Top Supplier" contest, to help select an exciting new producer to be listed on the site. I'd previously heard that Ocado conducts the 'Dragon's Den'-style competition each year to find pioneering new suppliers, so I was intrigued to be in on the process, and joined Lawrence Hene, Marketing and Commercial Director at Ocado; Rose Price, Head of Buying at Ocado; and Kayleigh Rattle, Deputy Editor at Great British Food magazine, for a morning of tastings and presentations, as we whittled down the six finalists to find the winner.
What was brilliant was that even though we were essentially sitting in a board room in an office building in the middle of London, we were seeing some really cutting-edge new producers who had rolled in from across the country to shout about their life's passion and why they deserved to be given this incredible platform. First up was Field & Flower – a grassfed, free range farm whose founders are cornering the market of meatballs for kids. While the poor guys had a bit of a nightmare with the cooking given the limited facilities – and we didn't actually get to taste the meatballs – they gave a compelling argument for why they should be considered, citing their compelling customer research and showing us how they're bolstering the nutritional content of their meatballs with veggies such as kale a beetroot.
We also heard the story of Cecily Mills from Coconuts Naturally – an amazing lady who turned her back on a high falutin job in retail, working for the likes of Oliver Bonas, to pursue her passion for nutrition, creating a vegan coconut ice cream brand. I'm not going to lie – I was a little skeptical about the idea of vegan ice cream, and naturally had to try at least a scoop of each flavour just to check it out, but I was incredibly impressed by the texture and taste of all the pots – especially the plain coconut and salted caramel. Another stand-out was Dash Water, a really cool new brand of sparkling mineral waters in beautifully branded cans, infused with different flavours using wonky veg that would otherwise be wasted. I couldn't help but think how well the Amalfi lemon flavour would work with a few glugs of vodka…
And speaking of vodka, it's not usually my preferred breakfast tipple, but I wasn't about to say no to the glass of black, strangely pungent liquid that was put down in front of me by Barnaby Edwards, the brilliantly eccentric and fanatical garlic farmer who won our unanimous votes by rocking up with a suitcase full of different sorts of the muddy allium fresh from The Garlic Farm. Barnaby had come from the Isle of Wight, where his family have been growing garlic for over 50 years, experimenting with different varieties and its various bi-products.
And it really wasn't the fact he plied us with the unusual vodka, it was the sheer range of garlic-inspired produce he presented – everything from several different varieties of fresh garlic and chutneys through to beer, vodka, and a multitude of pastes for cooking. He also showed us the under-used garlic scapes – flower stalks which can be eaten as well as the bulb for a lovely mellow garlic flavour, and talked about the farm and its shop, where visitors can do a tour of the farm and learn more about this globally-loved ingredient, as well as taking part in fun-sounding garlic bread making workshops. I'll definitely be plotting a trip if I get over to the Wight Isle any time soon.
In the meantime though, I'm going to be taking advantage of the winning listing, which has more than 50 products at www.ocado.com/garlicfarm; from Black Garlic Beer (£4.25) and Pork Scratchings with Garlic (£1.95), to Garlic Jam with Red Chilli (£3.95) and Vampire Slayer – Seriously Hot Chilli Sauce (£6.95).
For more information about The Garlic Farm products, visit: www.ocado.com/garlicfarm
For more information about Britain's Next Top Supplier, visit: supplyocado.com/bnts.