/ /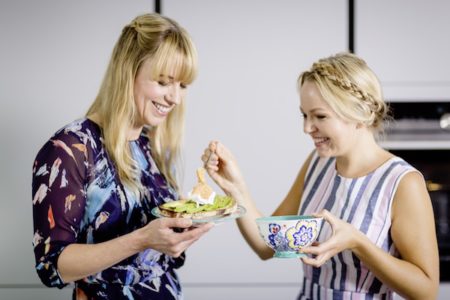 Back in July, I was chuffed to bits to be asked to take part in a fun campaign called Organic Feed Your Happy with the Organic Trade Board that saw me cooking dinner for radio DJ and foodie Sara Cox and her friends, using beautiful organic ingredients.
The idea behind #Feed Your Happy was to plan a menu for Sara's happiest meal – she told me which foods make her happiest, and I planned a surprise menu around that, with some familiar dishes and exciting new ideas with her favourite organic foods.

 We met in the kitchen and began to plan the day and all the delicious dishes we were about to prepare.
During the day while we were planning the dinner, we were treated to a visit from some of the producers who provided the ingredients for the feast.  Then for our fruit and veg – I get a Riverford Organic veg box every couple of weeks but it's certainly never been delivered to my door by Riverford farmer and founder Guy Watson, so it was really interesting to speak to him about what's good down at the farm at the moment.
We started the meal off with some bruschetta. In summer, this is one of my absolutely favourite things to eat, because, well, tomatoes. I used organic lovage from my own balcony window as the herb, rather than the usual basil, because something magical happens when you mix ripe tomatoes with lovage, olive oil and salt. We used gorgeous sourdough for the toast and rubbed garlic cloves into the bread – something that never fails to hit the spot.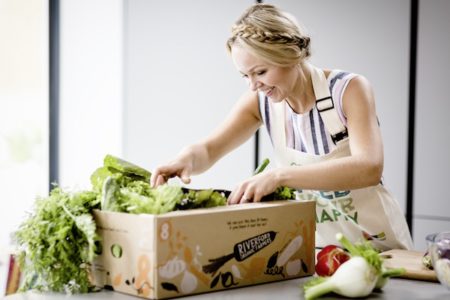 Like Sara, I'm also a roast chicken girl, and it's one of those easy dishes I've made on hen dos or summer parties when I'm catering but I've wanted to be in the room with my friends as opposed to slaving away in the kitchen. With a wonderful, slow grown organic chicken like the one we were supplied by Geoff Sayers of the Well Hung Meat Company, you don't need to mess around and over-complicate things, much better to keep it simple and let the bird sing, happy in the knowledge that the bird has been reared with lots of space to roam and graze and a natural, organic diet. Below is the final dinner menu.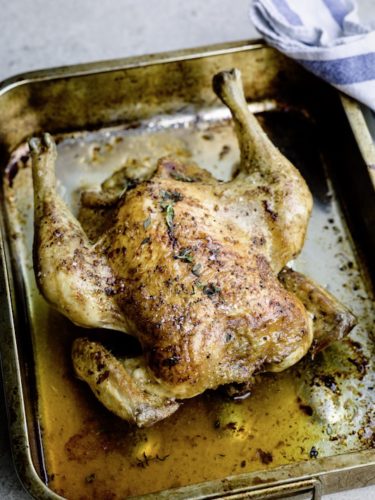 Starter
Heritage tomato bruschetta with Rosie's
homegrown lovage and organic olive oil
Mains
Roast chicken and salsa verde
Preserved lemon roast salmon
Sides
Grilled aubergine with organic vinegar and olive oil
Shaved fennel remoulade
Freekeh salad bowl with radishes, broad beans
and spring onions
Dessert
Raspberry and fig leaf brulee
I made our chicken with a seasonal salsa verde of fresh green herbs including chervil, tarragon and basil, and Sara absolutely loved learning how to make this quick and delicious condiment.   I used some delicious broad beans and spring onions in the freekeh summer salad which accompanied the roast chicken – Sara's ultimate happy dish.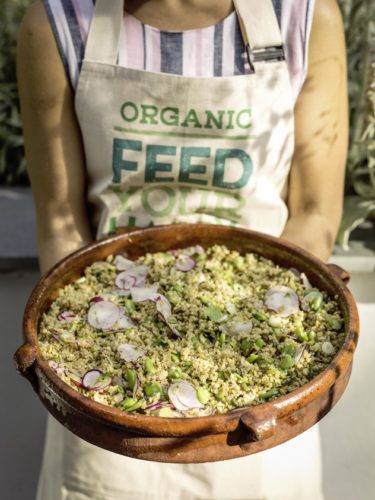 We were also visited by Tim and Sarah Mead, from Yeo Valley, who brought cream, milk and yoghurt to share from their farm.   For pudding, we made a delicious fig crème brulee – one of Sara's favourite dishes which went down a treat.
But aside from cooking some of our favourite foods, the fact that the ingredients we were using are organic means that we also feel happy about eating them – not only because they taste better, but because they're grown with fewer pesticides, always free range and with no artificial colours and preservatives. Get involved and share your favourite organic foods and meals with #FeedYourHappy.
The film for the campaign can be found here.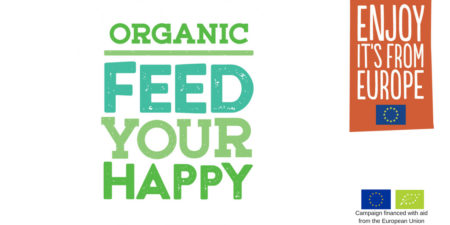 The content of this blog represents the views of the author only and is his/her sole responsibility. The European Commission and Consumers, Health, Agriculture and Food Executive Agency (CHAFEA) do not accept any responsibility for any use that may be made of the information it contains.