/ /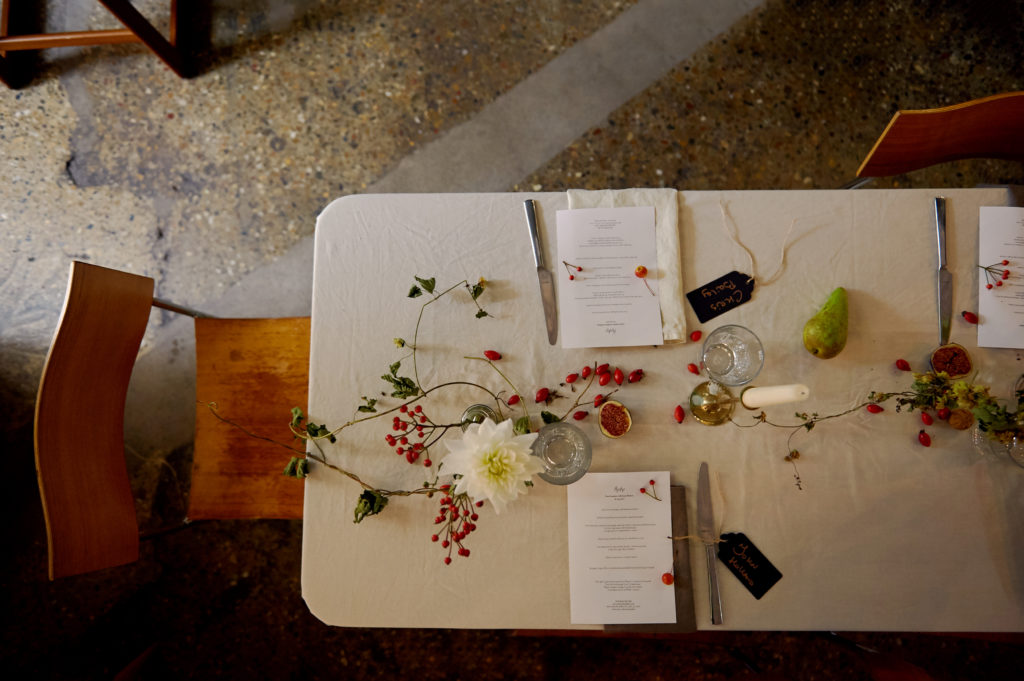 I don't think I've mentioned it on here yet, but we now have an allotment share! WHOOOOOOOOOP de WHOOOOP! (disclaimer: expect plenty of middle-aged allotment-related chat on here from now on). This is actually the best thing to happen to me this year, it means we can finally start growing some of our own food and not just herbs. Now we have this, autumn's gifts are all the more apparent. While our plot was a mess of thistles when we took it on, we inherited a lovely apple tree, laden with fruit, and a crown of rhubarb that was thick with bright pink stems.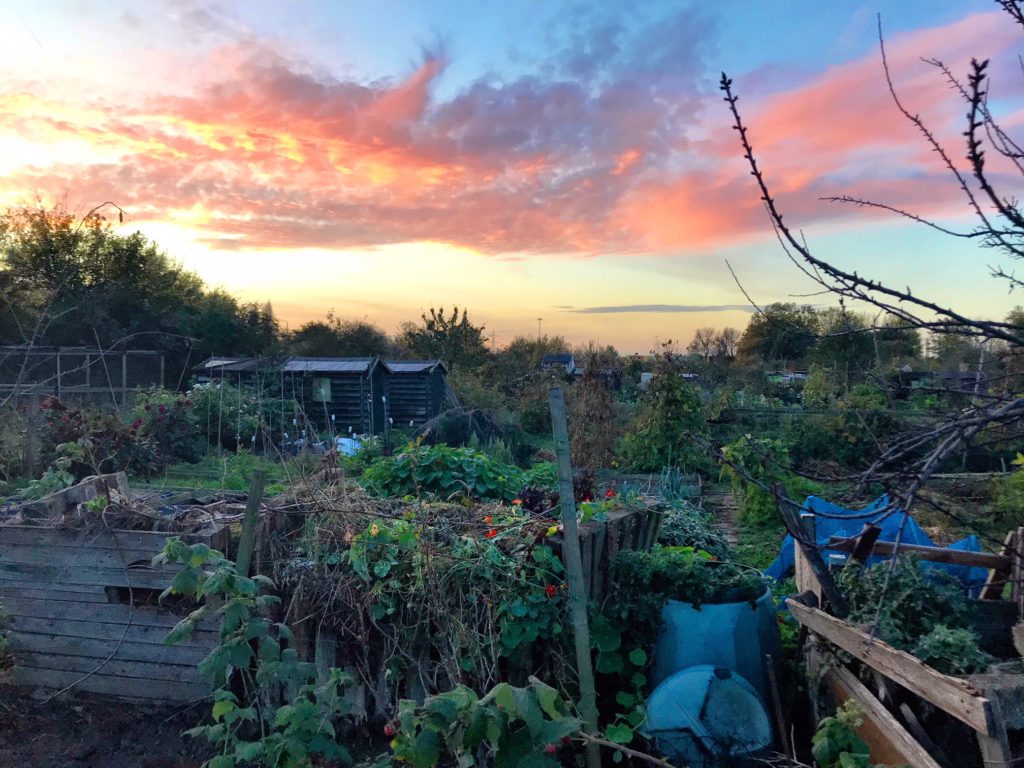 When the lovely Alissa from Kino Vino approached me about collaborating on a special East London themed dinner, I knew the timing was just right, and that I would use some of this allotment produce to give the food on the night a special local flavour, along with some of the wild, foraged products I've been collecting and stockpiling over summer, subsidised by some collected for me by my friend John The Poacher. We wanted the night to reflect the beauty and abundance of autumn, and the brilliant girls from Worm collaborated with us, creating a hanging display of hops and strewing the tables with rosehips, orchard fruits, stems of crab apples and gorgeous orange and yellow flowers.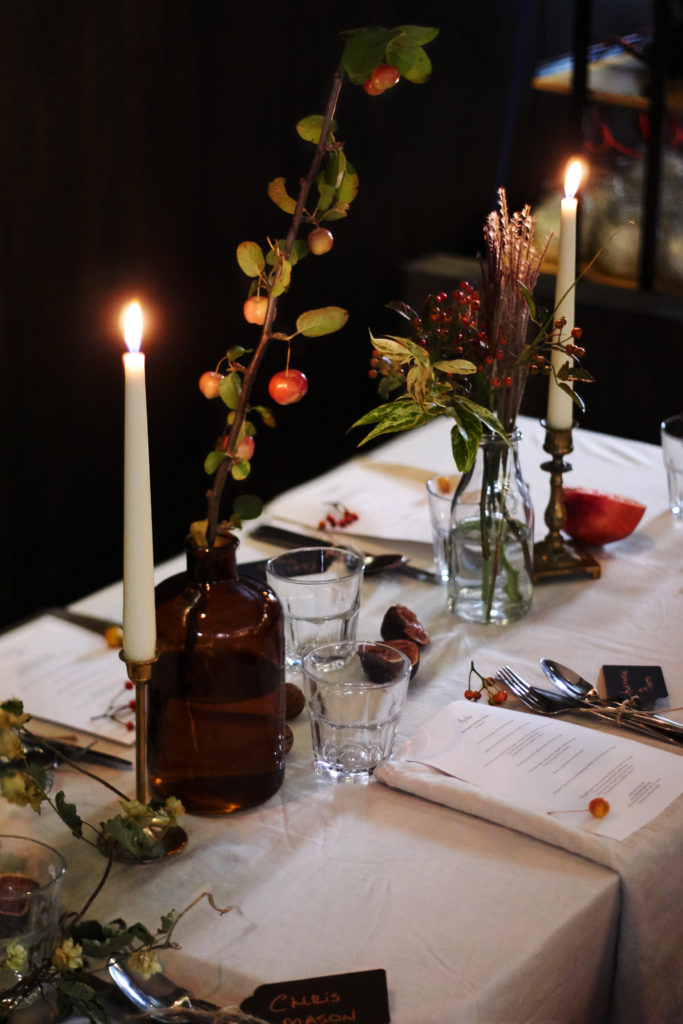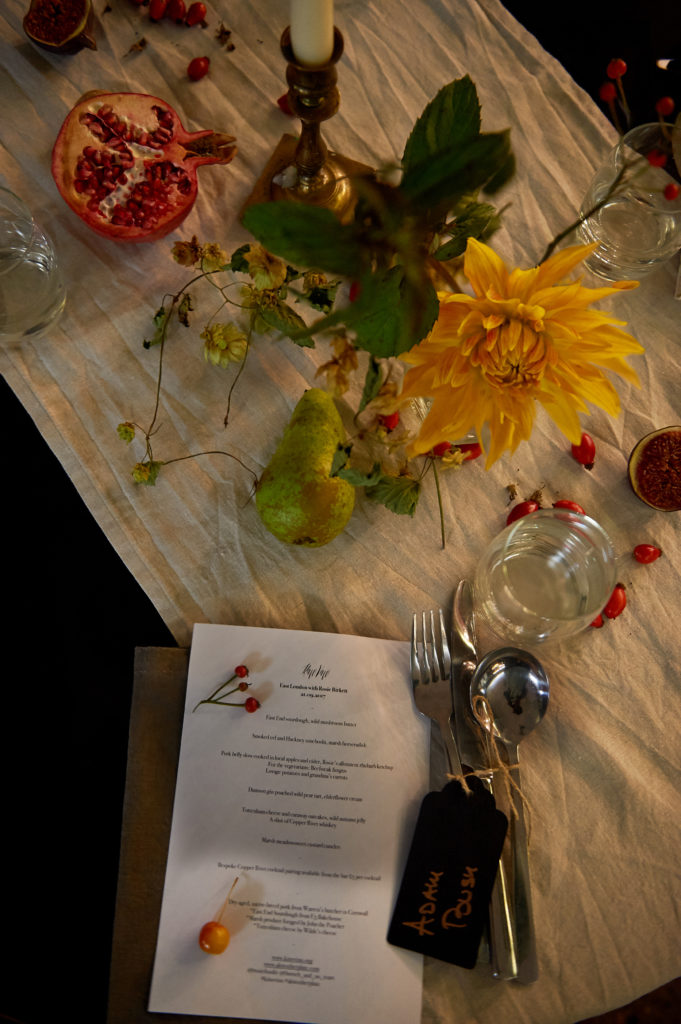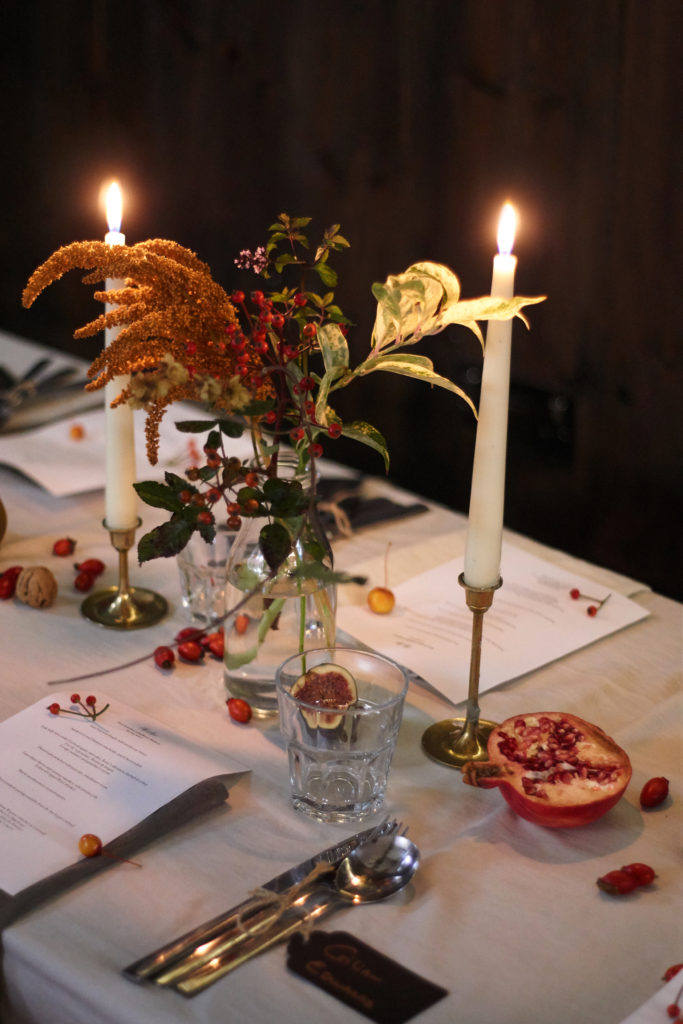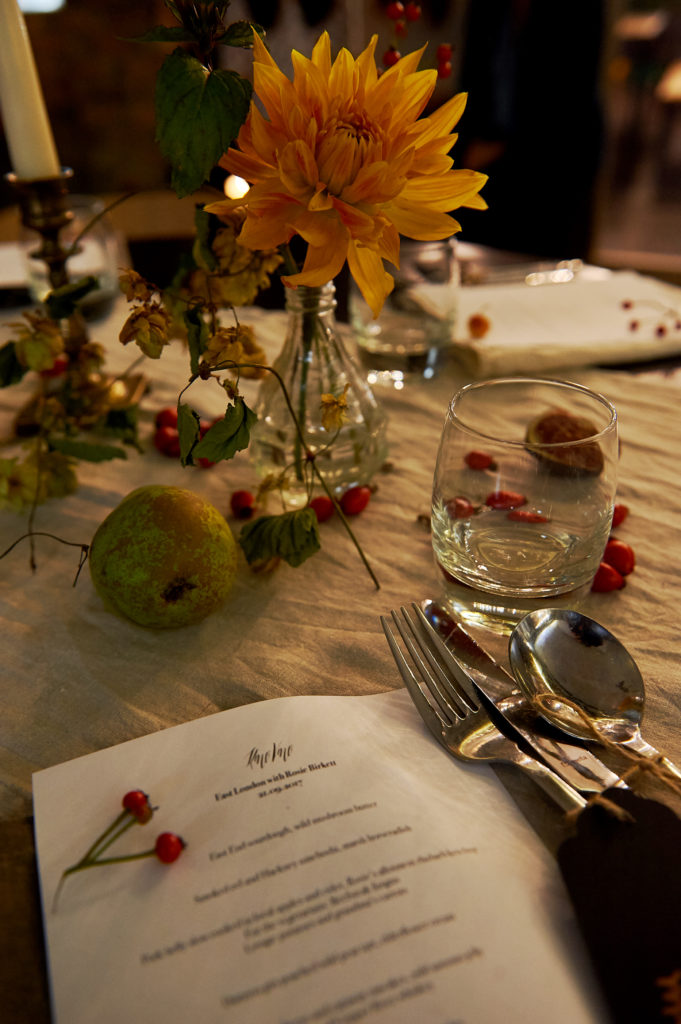 Alissa, who always themes her Kino Vino dinners around films had picked out the movie "It Always Rains on Sunday", an old Ealing studios production from 1947 that was shot in and around Bethnal Green, and I created a menu I felt reflected the locale on the plate. This meant foraged crab apple sour cocktails (with gorgeous Kent gin from Copper Rivet Distillery); mushroom compote on E5 Bakehouse sourdough toasts; a starter of smoked eel in a broth made from the bones served with deliciously sour Tottenham umeboshi (salt fermented wild plums I gathered from up the canal) and wild rocket, garnished with grated Hackney marsh horseradish.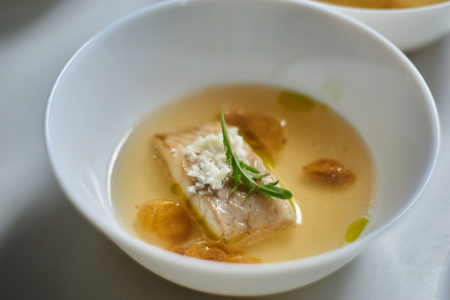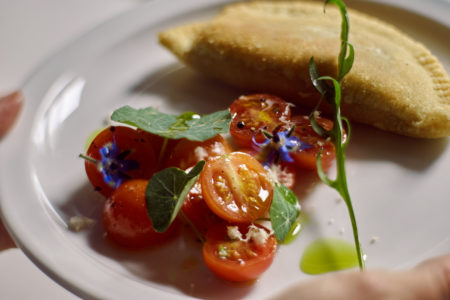 For the main course, I served pork belly from Phillip Warren's butcher in Cornwall, that had been brined with wild hops from the marshes and then slow cooked with allotment apples, onions and cider. It was sat atop a spiced allotment rhubarb ketchup and served with local salad leaves from Growing communities dressed with foraged elderberry vinaigrette. To go alongside this we served boiled potatoes with homegrown lovage, capers, and rapeseed oil from Duchess Farms which is just down the road, and organic carrots cooked according to my granny's old recipe (with butter, parsley and vinegar).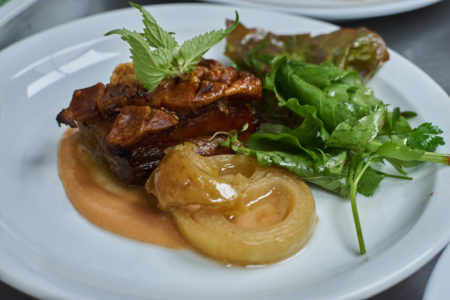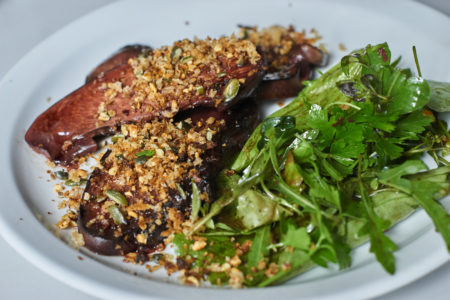 The few lucky veggies at the table were treated to an extra special dish thanks to the foraging prowess of John the Poacher, who had acquired some insanely delicious beefsteak fungus for me. This crazy fungus has marbled, blood red flesh and a juicy, intense savoury flesh. We fried it up in butter and thyme (just as you would a steak), and served it with a crumb of sourdough, lemon zest and pumpkin seed for crunch and added freshness.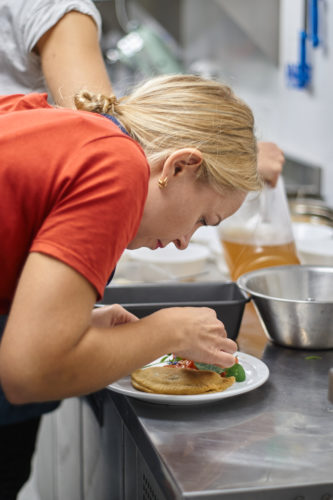 For dessert, I made spelt pastry gallettes topped with sloe gin poached Asian or Nashi pears (again foraged in Hackney by John), served with edlerflower whipped cream cut through with the most delicious cultured butter buttermilk from Grant Harrington for an added sharpness. After that, it was Wilde's cheese from Tottenham served with homemade caraway oatcakes – recipe here, and wild medlar jelly I made with medlars I foraged on dog walks. For petits fours, I made some shiny, gooey canele filled with marsh meadowsweet custard (more on meadowsweet here). They went down quite a treat! I love serving things like this that give guests a new flavour that they might not have tasted ever before, but always try to do so in a way that is familiar and not too "scary" and out there.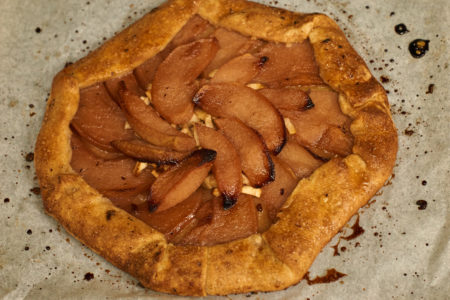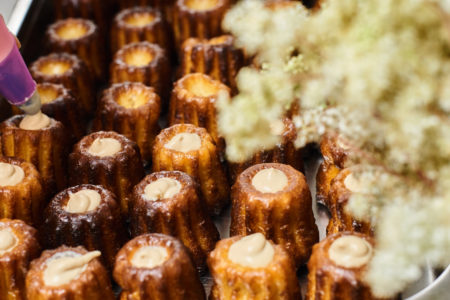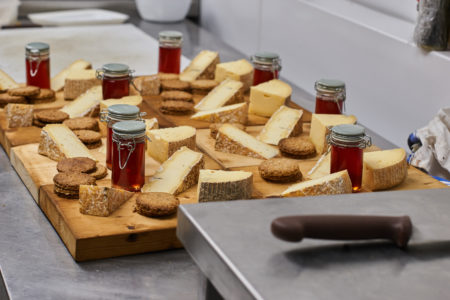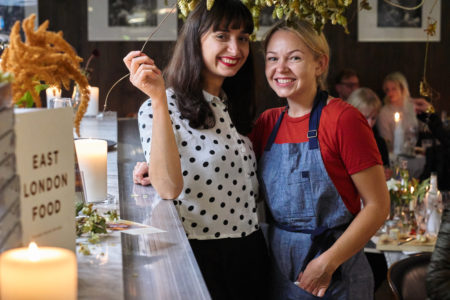 Working with Alissa was an absolute joy and a few weeks later we got to repeat the experience when we collaborated again for 2017's edition of the Severn Sisters feast with Romy Gill and a group of female food writers and chefs including my pal Elly Curshen, Maria Elia, Olia Hercules and Paula McIntyre, Henrietta Inman to raise money for Action Against Hunger. Last year we put on a similar event at Yurt Lush in Bristol, but this year was even bigger and better, and we took over the Market Hall at Borough Market, feeding over 100 guests a multi-course menu prepped and cooked by all of us. We took over the kitchen at The Globe pub on the corner of the market (brilliantly, this is the pub Bridget lives above in Bridget Jones!) and I spent hours, cleaning, cooking and finishing hundreds of wild and chestnut mushrooms, kindly donated by Total Produce for the event. My dish was an autumn-inspired starter of wild mushrooms on Bread Ahead sourdough toast (again kindly donated) in a green herbed cultured butter, again from Butter Culture.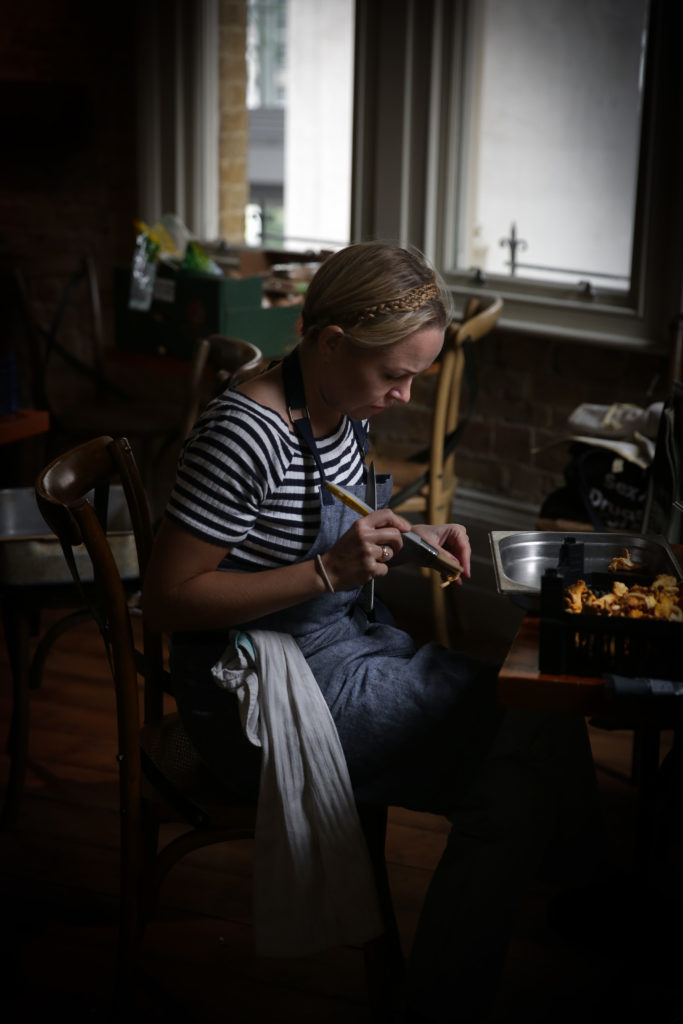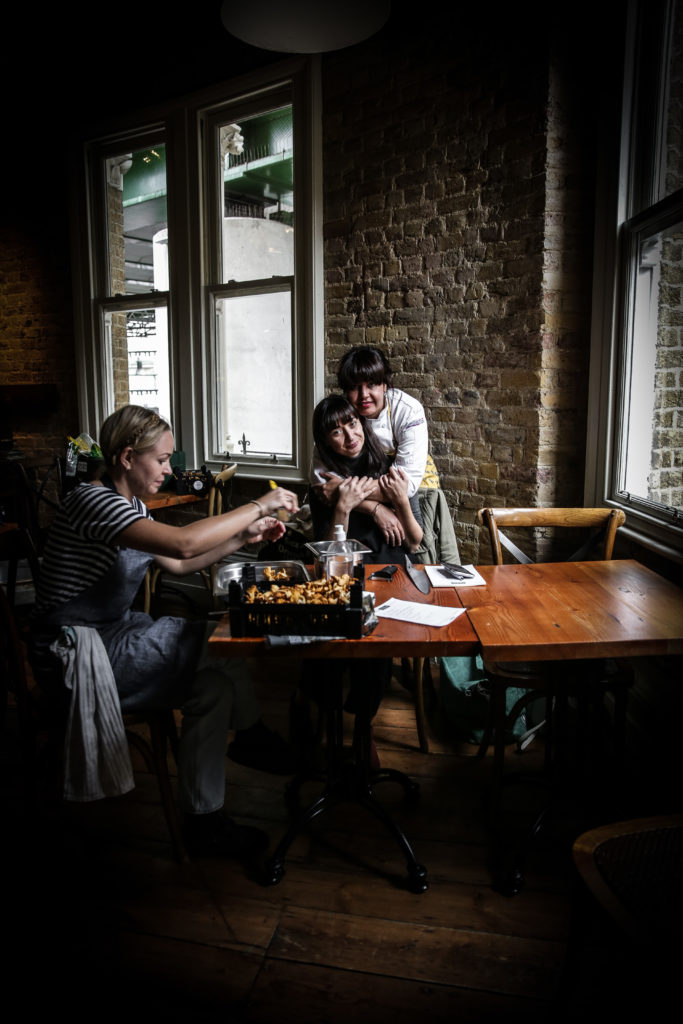 While not without its logistical challenges, (camping out in a pub kitchen and having to run our dishes downstairs to the warming cupboards before plating!) it was so much fun working with all these lovely women and helping each other problem solve and make more delicious food than any of us are used to. Thanks to matched donations and the generosity of our suppliers, guests and raffle prize donators, we raised over 10k for Action Against Hunger, which was way more than any of us could have hoped for. Here's to next year!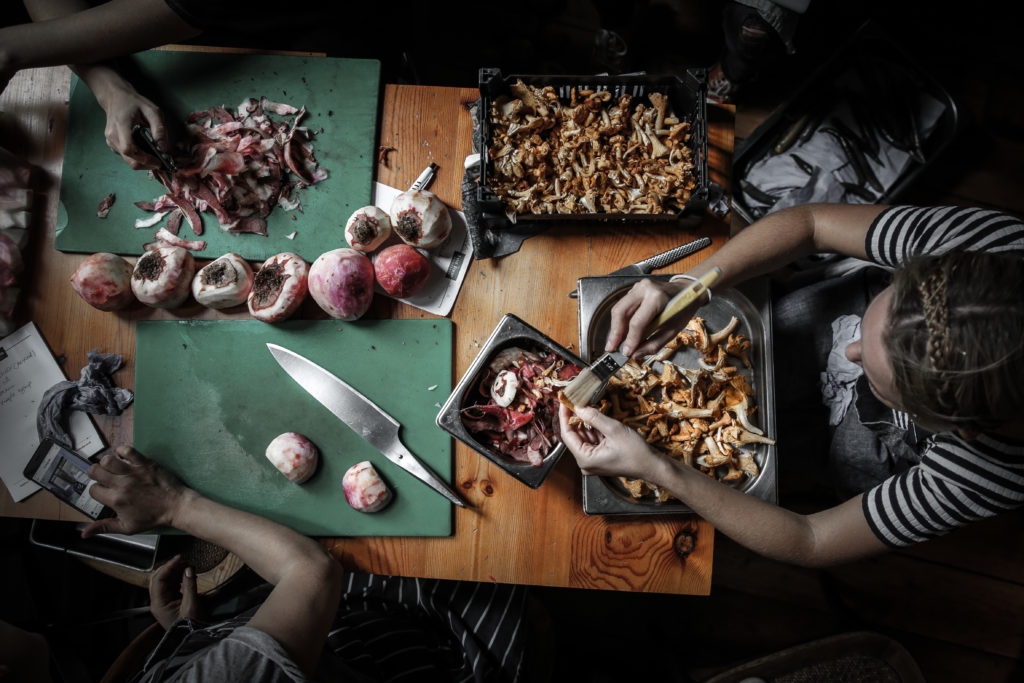 Thanks to the fab Tania Naiden for the photos of Kino Vino, and to the brilliant Ros of Her Dark Materials, for the Severn Sisters snaps.