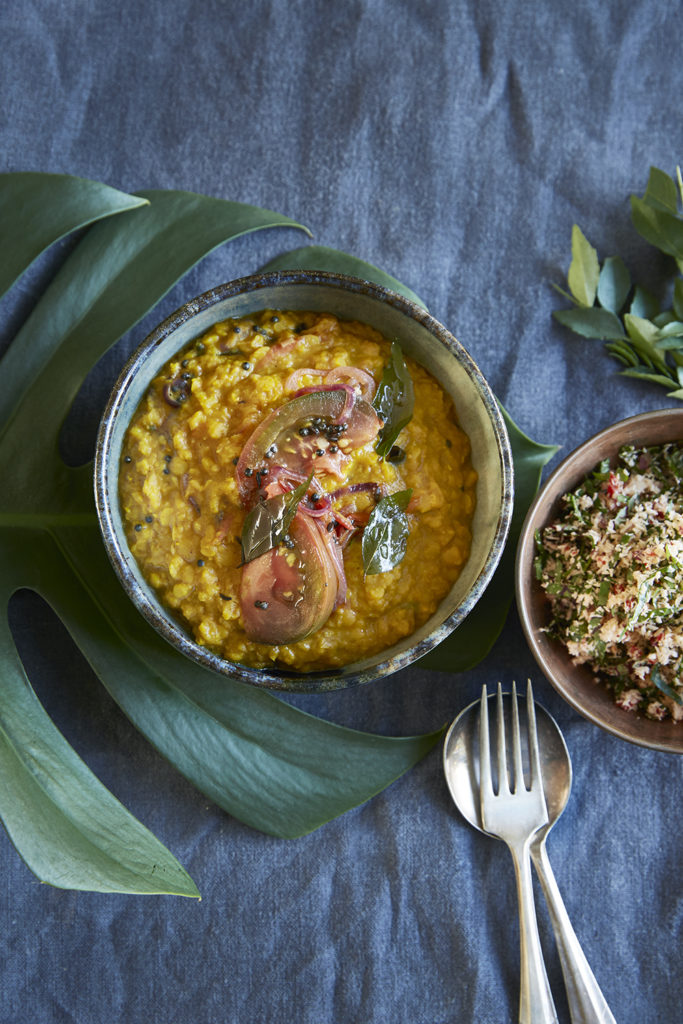 / /
At this time of year, it's so nice to have some recipes up your sleeve for dishes that are comforting, warming and nourishing, but also – more crucially – that don't take hours and hours to prep. With Christmas just around the corner, we're all going to have so much cooking to do, and subsequent kitchen fatigue, it's a relief to find some dishes that hit the spot and only take a matter of minutes to rustle up. Dal is one of the few things I could genuinely eat every day – it's both satisfying and interesting, not just in the context of curry, but as a vehicle for eggs, poached or fried, and a side for all manner of proteins. I love how simple and frugal it is, and this version is my failsafe, a method I picked up in Sri Lanka earlier this year on honeymoon.
I used to think that dal had to take a while to make, but Sri Lanka proved me wrong – as long as you give the lentils a good wash, they are ready in no time at all, I promise. I produced this recipe in the summer as part of a wider seasonal veggie curry feature for Guardian Cook (and the beautiful photos are courtesy of the brilliant Helen Cathcart), but I think this dish really transfers so well to winter, and would make the perfect base for any leftover turkey curries you might have in the works. It's also vegan, which is also rather refreshing at a time when it often feels like we've got chipolatas and brandy butter coming out of our ears!
This version uses tomatoes to give it some extra acidity and sweetness, not particularly seasonal, I realise (although my Riverford delivery last week included some lovely fat tomatoes), but you could always use tinned, and a dash of coconut milk for richness. Fresh curry leaves are ideal, but if not dried will work too.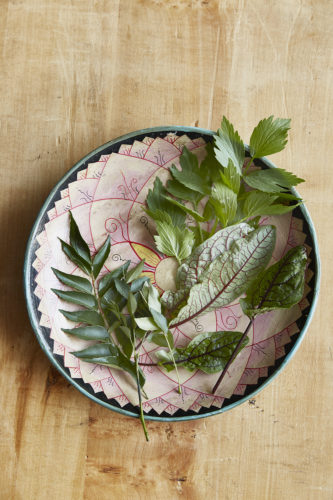 Serves 4
For the dal
150g red lentils
1 tsp salt
1 tbsp turmeric
5 tbsp coconut milk
To temper
1 tbsp coconut oil
½ tsp cumin seeds
1 tsp black mustard seeds
A sprig of curry leaves
½ red onion, sliced
1 garlic clove, crushed
A pinch of salt
2 tomatoes, sliced (or 150g tinned tomatoes)
1 Wash the lentils in 2-3 changes of water, drain with a sieve, then put in a pan and cover with water (about a finger's tip above the level of the lentils). Bring them to the boil with the salt and turmeric. Simmer for about 10-12 minutes, until tender, but still holding their shape.
2 Meanwhile, melt the coconut oil over a medium-to-high heat. Fry the cumin and mustard seeds in the oil until they start to sizzle and pop, then add the curry leaves, onion, garlic and salt, then cook for a few more minutes, until the onion starts to colour. Add the tomatoes and cook, stirring, for about 5 minutes, until the tomatoes have collapsed and given up their juice.
3 Add 4 tbsp coconut milk to the dal and simmer for 3 minutes longer, then pour in the contents of the tomato pan, along with the final tbsp of coconut milk. Stir, taste and adjust the seasoning, then preferably serve immediately. Otherwise, cover the pan with a tea towel and keep warm until you're ready to eat.