/ /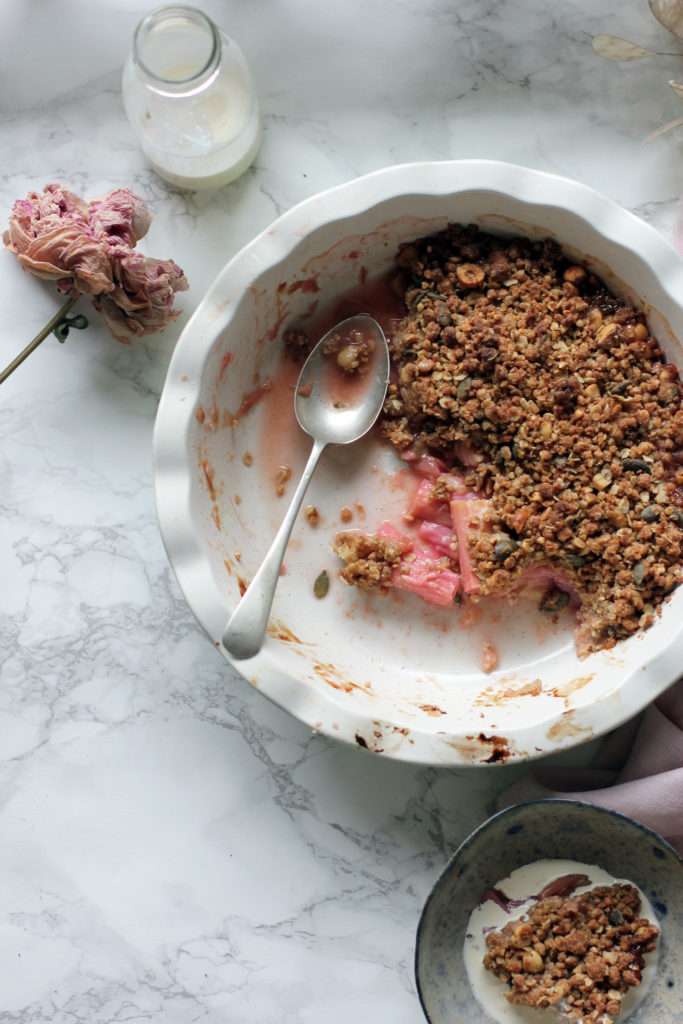 Thanks to a disgusting cold I've really been a bit good for nothing these past few days, which is a bit annoying on the weekend, though thankfully I've had little to do but slump around in my PJs reading, looking at Instagram and drinking tea. And I have to say I've been very well looked after by my husband. I sometimes think that when one person in a couple is under the weather it somehow emphasises how sprightly the other one feels? Am I alone there?
Anyway yesterday Jamie was in a particularly productive mood. He cleaned out my kitchen cupboards (yes, I married very well), getting rid of some kit we never use, spending hours sorting through pots, pans, linens and aprons that are now destined for the charity shop. He then decided that he wanted to make me a lovely roast organic chicken for tea. It was such a good idea – we both had the same thought that we could make stock with the carcass and use it for chicken noodle soup the next day.
I really fancied something sweet, warming and comforting for dessert, and had some rhubarb leftover from last week's shoot, so set about making a rhubarb crumble – which is just one of the most delicious desserts at this time of the year. I added warming spices of ginger and cardamom to the crumble mix, used spelt flour and some good, wholesome nuts and seeds to make sure it was nourishing as well as pleasurable. Pumpkin seeds, buckwheat and hazelnuts added another dimension of texture and worked really well against the supple, soft poached rhubarb.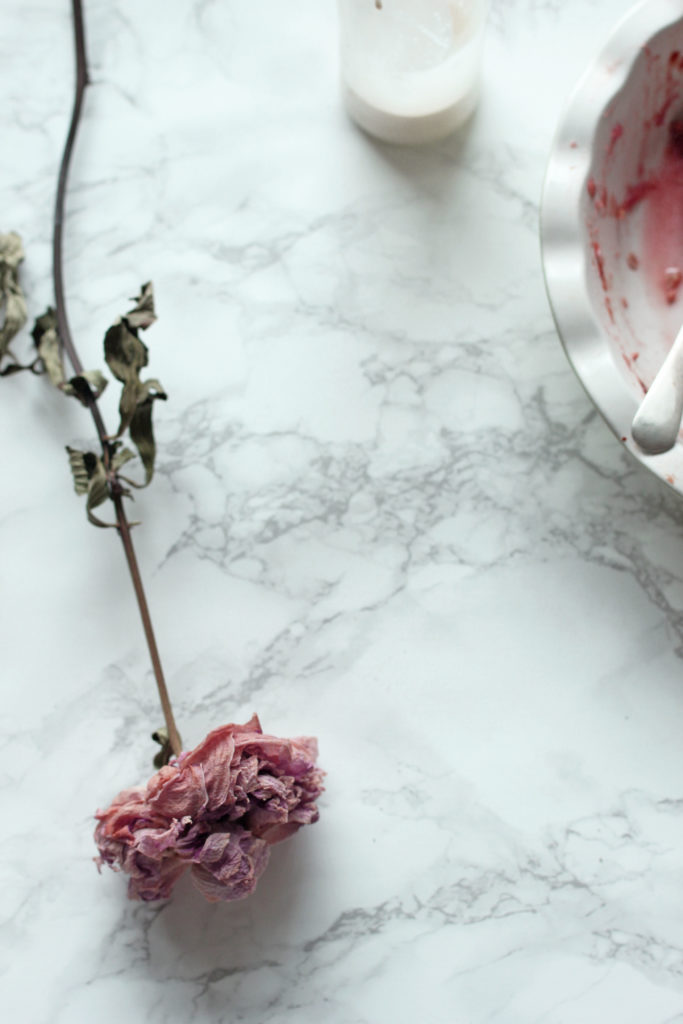 The result was utterly delicious and I thought I should share the recipe with you here because it was so simple. Rhubarb is just coming into season and I just cannot get enough of cooking with it at the moment. It's just one of my favourite all-time ingredients – I love the way it transforms with sugar into a sherbety, sour goo, and I'm so excited that we've inherited a crown of it down at the allotment. Expect more rhubarb recipes coming soon and please comment and share your favourites with me too as I'd love to know your go-to rhubarb recipes.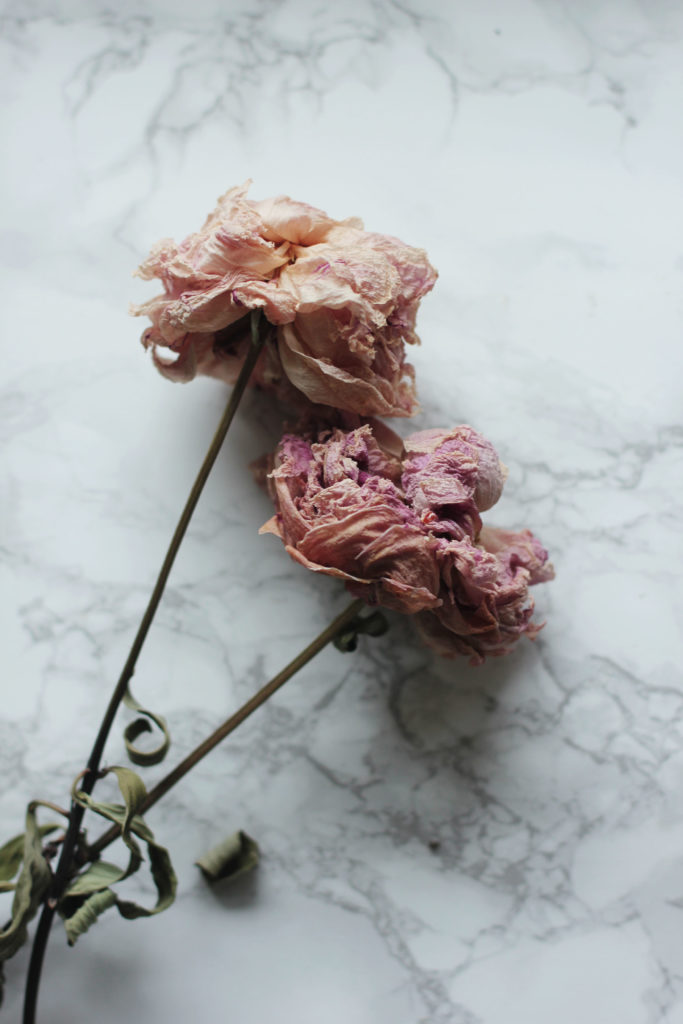 Warming spiced rhubarb crumble
Serve 4-6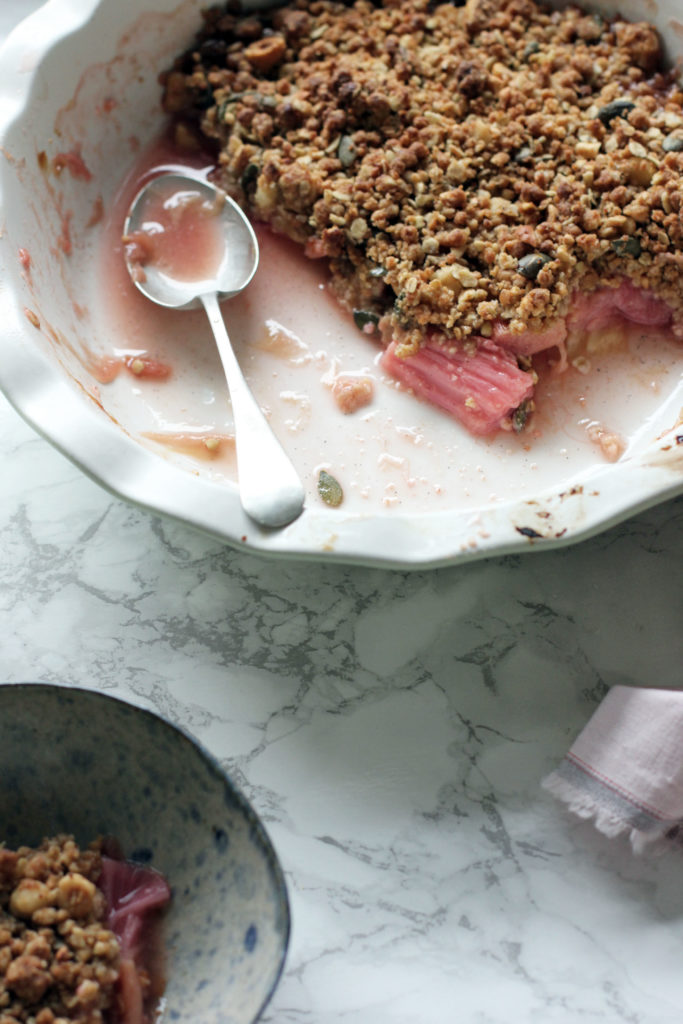 400g rhubarb, sliced into ⅘ cm lengths
100g caster sugar
1 vanilla pod, split
Zest and juice of ½ a lemon
For the crumble
120g spelt flour
50g desiccated coconut
100g muscovado sugar
50g coconut sugar
100g jumbo oats
50g buckwheat groats
50g pumpkin seeds
40g hazelnuts, chopped
½ tsp ground cardamom
½ tsp ground ginger
Pinch of salt
150g butter, melted
Heat the oven to 180 fan. Line a roasting tray with baking parchment and fill with the rhubarb. Top with the sugar, lemon zest and juice and scrape the seeds from the vanilla pod in there too, throwing the spent pod on top. Cover with foil and roast for 20 mins. Then remove from the oven.
To make the crumble, combine all of the dry ingredients in a bowl and pour over the melted butter. Mix thoroughly with a spoon until a crumble forms.
Butter a pie or crumble dish and fill with the roasted rhubarb. It's up to you how much poaching syrup you want to keep in there. I usually drain away about half the syrup so it's not too wet, but there's just enough to keep it nice and moist. Top with the crumble and roast for 20-30 mins, until the crumble topping is crisp and golden and the rhubarb is bubbling at the sides. Serve with cream.