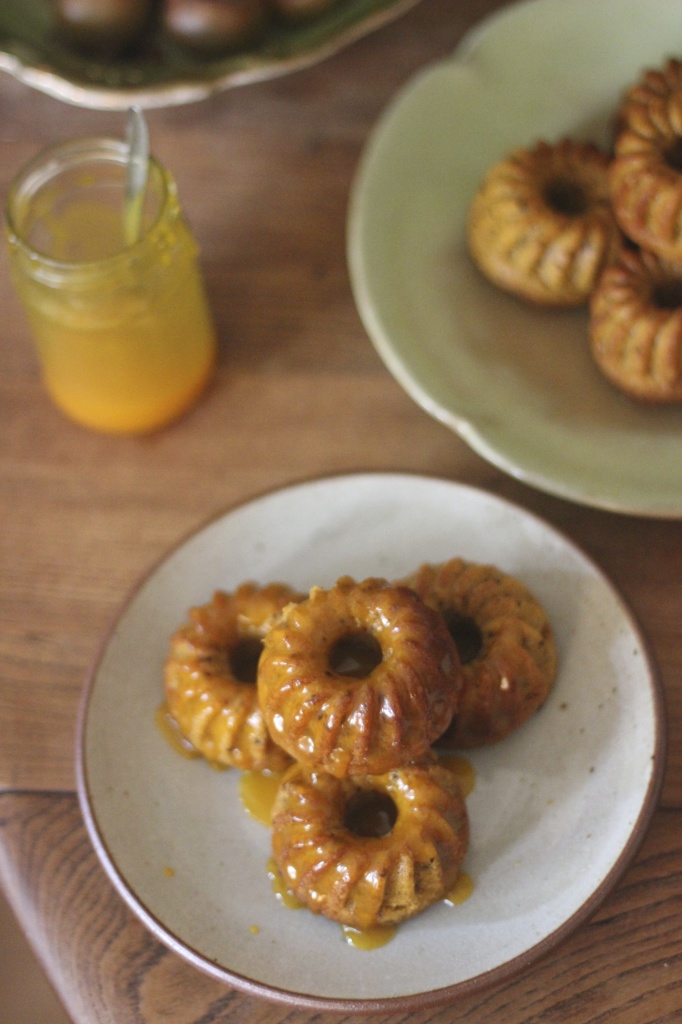 To me, the abundance of pumpkins and squashes are one of the best things about this time of year. I never really cooked with them until I went to Vancouver and discovered them growing in every garden and trailing down every front porch from 'fall' onwards. It was my lovely friend Renee who first showed me how to carve out pumpkins and roast their seeds to a make a spicy, savoury snack.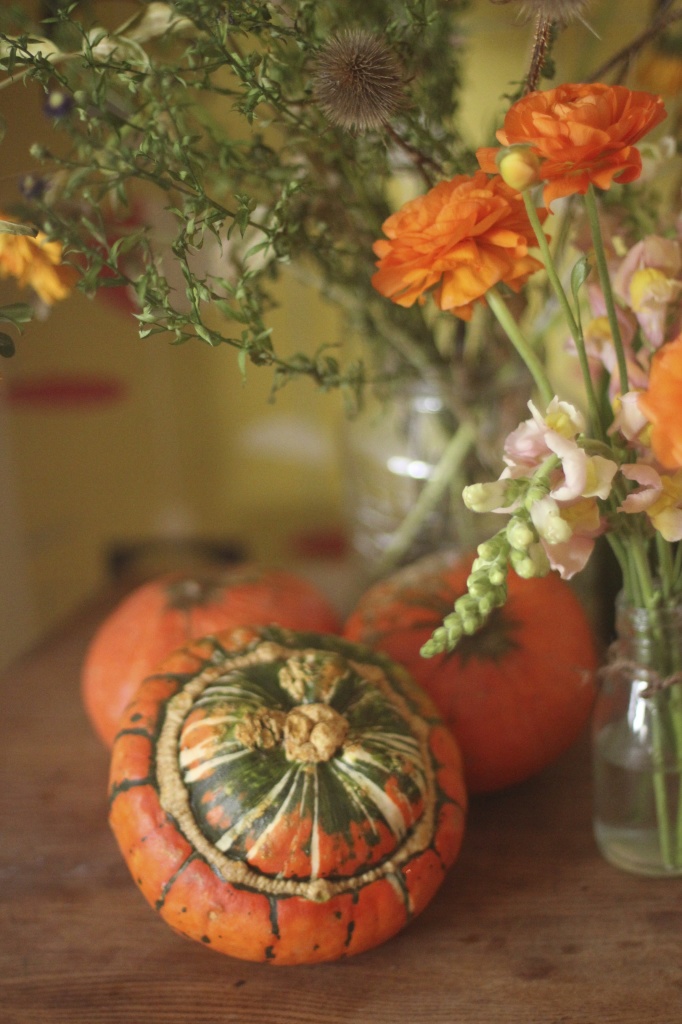 Because the flesh of these festive gourds is so darned sweet, they make a brilliant ingredient for baking, especially when paired with warm spices – as witnessed by that fall staple of the pumpkin pie in North America. I wanted to have my own go at baking with the sweet puree of a winter squash, which my local organic shop has in at the moment in all kinds of beautiful shapes and sizes.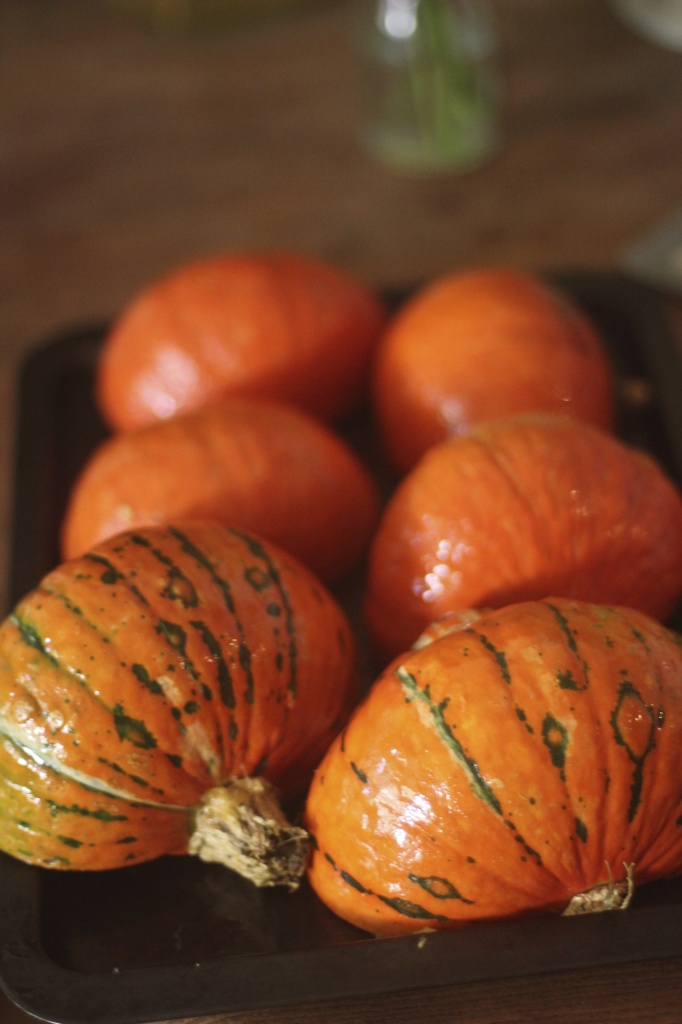 To make a base puree that I use for everything from soup and stews to baking, I use a Turban, Delicata or Kuri squash, cut them in half, remove the seeds (for roasting) rub them with a little olive oil and roast them, skin on in a 180 °C oven for about 40 minutes, until the flesh is really soft and yielding, and comes easily away from the skin. Then I just pop them in my blender and blitz to a creamy paste.
I wanted to try out my new silicone bundt moulds and some of the flours I had left over from a recent styling shoot, so by total accident these little sponges turned out to be gluten free – but they were very light, fluffy, and though I'm loathe to use the term: moist, just the thing for a perk-you-up with a hot cup of tea. The icing contains some of the sweet puree of the squash mixed with a dash of brandy, to warm your cockles as the weather draws in, and to make sure they're not too virtuous. I hope you enjoy.
For the cakes:
30g walnuts
100g buckwheat
2 tbspn semolina flour
25g almond flour
Pinch of salt
1 tsp baking powder
1 tsp baking soda
2 tsp warm spice (ground cinnamon, nutmeg, ginger)
2 eggs
100ml buttermilk
250g squash puree
80g coconut oil
1/2 cup maple syrup
For the icing:
200g icing sugar
50g puree
1/2 zested orange
Juice of half an orange
Tbsp brandy or rum
Preheat the oven to 180 °C. Place your bundt molds on a flat baking tray. If you don't have bundt molds you could use muffin tins to make little sponges, in which instance you should grease the mold (unless they're silicone too). Grind the walnuts up into a coarse powder in a mini-chopper.
Sift the flours into a large bowl and add the almond and walnut flours, salt, spices and baking powder. Melt the coconut oil over a low heat and leave to cool slightly. In a separate bowl, lightly beat the eggs and mix with the buttermilk, squash puree, coconut oil and maple syrup until well combined. Put the dry ingredients into the bowl of your stand mixer, fitted with the paddle attachment and start to beat on a medium spead. Add in the wet ingredients and beat until you have a runny batter.
Pour the batter into the molds, being sure not to overfill, place in the oven and bake for 16 minutes, until puffed and golden. Remove from the oven and allow to cool in the molds for a few minutes before popping them out of their molds and cooling on a wire rack.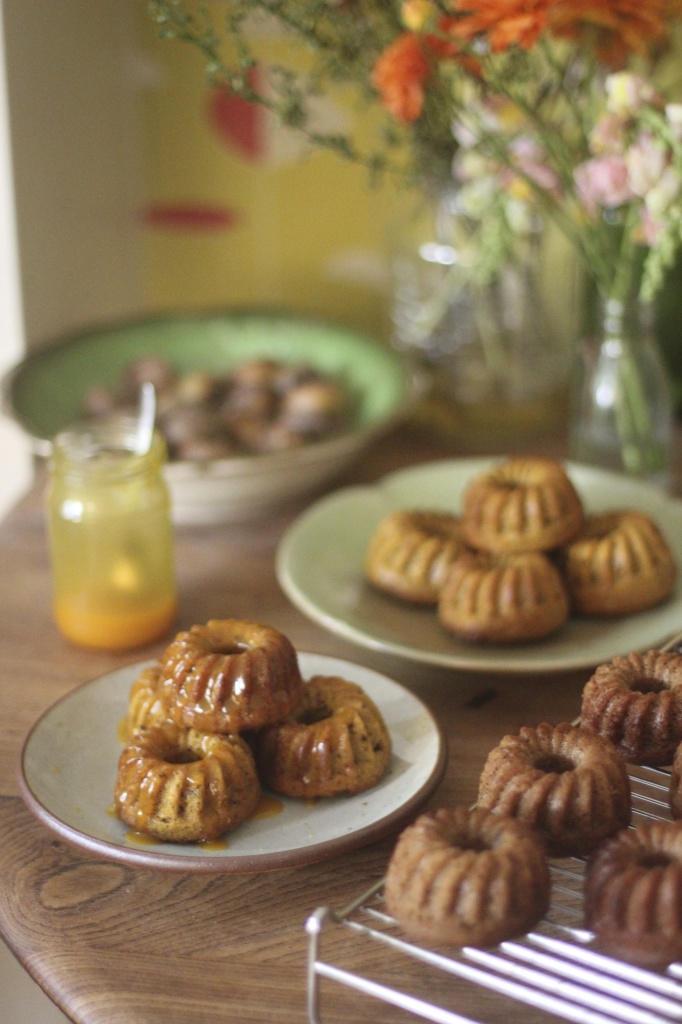 To make the icing, beat the icing sugar with the orange juice until you have a smooth, runny icing, then add the puree, zest and alcohol. Drizzle the runny icing all over the cake and devour!