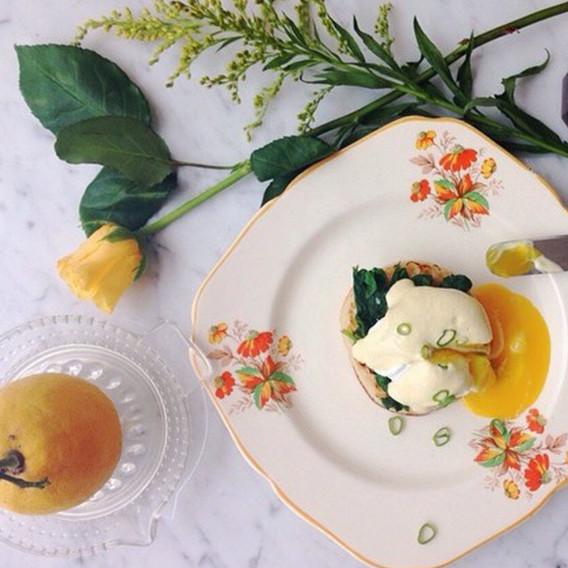 If you're a reader of this blog, or a follower of my Instagram, you'll know that I'm a huge fan of cooking and eating meat. In fact, the new book A Lot On Her Plate (less than a month away, yikes!) has got a fair few meaty recipes of its own – most of which are made with cheaper cuts.
But I'm also a firm believer that eating less, better quality meat is kinder for our health and for our planet – and I think meat should be a treat. So when I was asked to support Meat Free Week by providing a recipe, along with a whole host of inspiring cooks like Raymond Blanc, Mark Hix, Anna Jones and Elly Curshen, I went for it.
It is now perfectly possible for food lovers to eat a delicious and largely plant-based diet and be sated and stimulated by what they cook. My favourite food writer Michael Pollan coined the mantra 'Eat food. Not too much. Mostly plants', and I'm inclined to agree with him. I love getting creative with non-meaty ingredients and adore the seasonality that cooking with plant-based foods encourages. Not to mention the fact they're ruddy good for us, and  kinder to our planet!
This is a special breakfast that's perfect for a weekend brunch with your loved ones, but is so satisfying and tasty you won't feel the need to bust out the bacon and sausages. Featuring a perky 'new hollandaise', made with creamy tahini and natural yoghurt which go brilliantly with the richness of the eggs, it's indulgent and luxurious, yet beautifully light. It serves 2.
You will need:
2 free range organic eggs
1 tbsp white wine vinegar
2 crumpets
1 tbsp unsalted butter
200g spinach leaves, washed
FOR THE NEW HOLLANDAISE:
4 tbsp full fat natural yoghurt
1 tbsp tahini
Pinch of sea salt
2 tsps lemon juice
1 tbsp extra virgin olive oil
TO GARNISH:
The green top of one spring onion, finely sliced, or a tsp of finely chopped chives
What to do
First make your new hollandaise. Simply combine the ingredients, beating with a fork until smooth and slightly runny. You want it about the consistency of whipping cream.
In a non-stick frying pan, wilt your spinach over a medium heat with a little bit of butter. Pop a lid over the pan to keep it warm.
Bring a saucepan of water to the boil. You want the water to be gently boiling, with little bubbles popping on the surface, not a rolling boil, so adjust the heat accordingly. Add in the white wine vinegar and stir the water vigorously with a whisk. Crack an egg into the water and poach for 2-3 minutes, until you can see that all of the white has set. Remove it with a slotted spoon to a plate covered with kitchen roll. Repeat with the second egg.
Pop your crumpets in the toaster to toast them. Butter them and top with the wilted spinach. Top with the poached egg and spoon over a generous helping of the new hollandaise. Garnish with the spring onion or chives and enjoy.