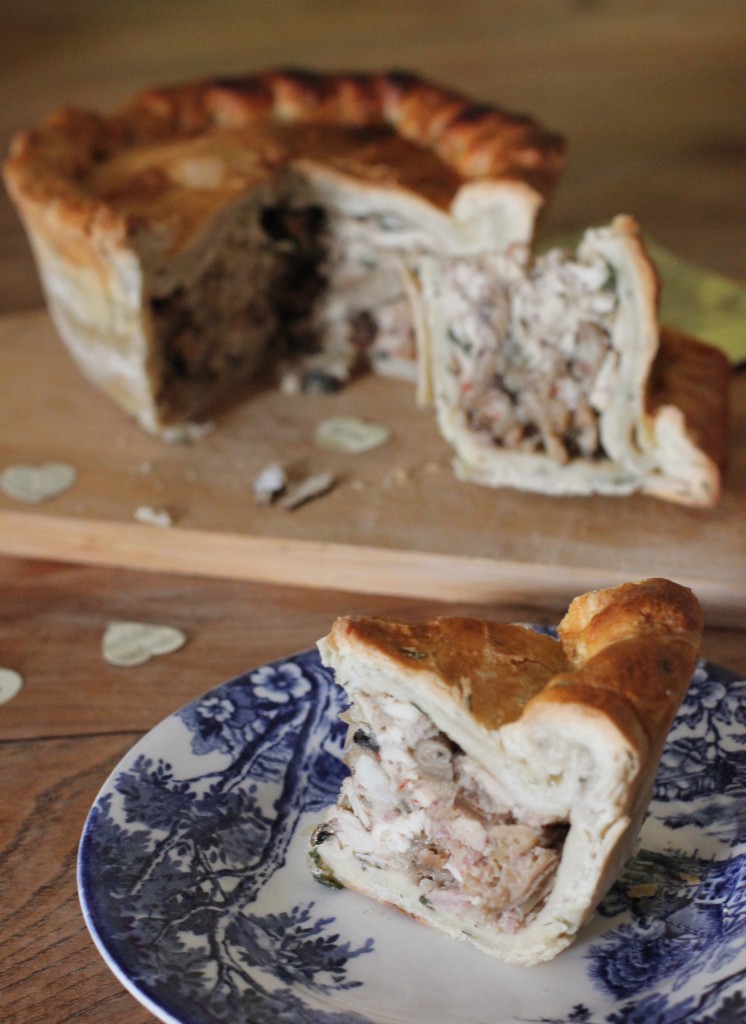 Chocolates and flowers are all very well, but I think if you really adore someone, making them something hearty and full of love is the way to go. And who doesn't love a pie? Which is what my boyfriend will be getting this Valentine's Day (well he did go and take me to Venice for my 30th, so I thought I should make a leetle bit of an effort!).
A raised, hot water crust pie takes some time to make, especially if you're filling it with something other than sausage meat, but it's worth it in the end for a nice chunk of flavour-packed pie, succulent with jelly. And it's really not as scary as it sounds, you just need to make sure you put aside an afternoon when you'll be pottering in the kitchen to give the dough time to cool and rest, and you time to poach the chicken, make the filling, bake the pies and them wait for them to cool before you make and add the jelly. But it's a satisfying process, and a pie like this should last you a while, especially if you just dip into it – it's perfect as a snack to have with drinks, or as a little starter before a main meal.
I decided to fill mine with chicken, pork belly and mushrooms, because I wanted something a bit lighter than solid pork, and had some fab dried porcini I brought back from Venice. You could easily substitute chicken for game like guinea fowl or pheasant when during game season. I used the stock from poaching the chicken and the rehydration stock from the dried mushrooms to make the jelly – giving it a sort of woodland character. I also put some dried tarragon through the pastry to give it a little lift, and because obviously tarragon is great with chicken and mushrooms. I also used pork belly rather than sausage meat as I couldn't get hold of any decent fresh pork mince. I've made this pastry twice now, and I found using my Kitchen Aid stand mixer a massive help the second time because it incorporates the hot fat and water more smoothly than my rather lame mixing action, but it can obviously also be done by hand in a big bowl. Let me know how you get on with this recipe if you try it out.
Woodland (chicken, pork and mushroom) pies
Makes two medium pies or one big one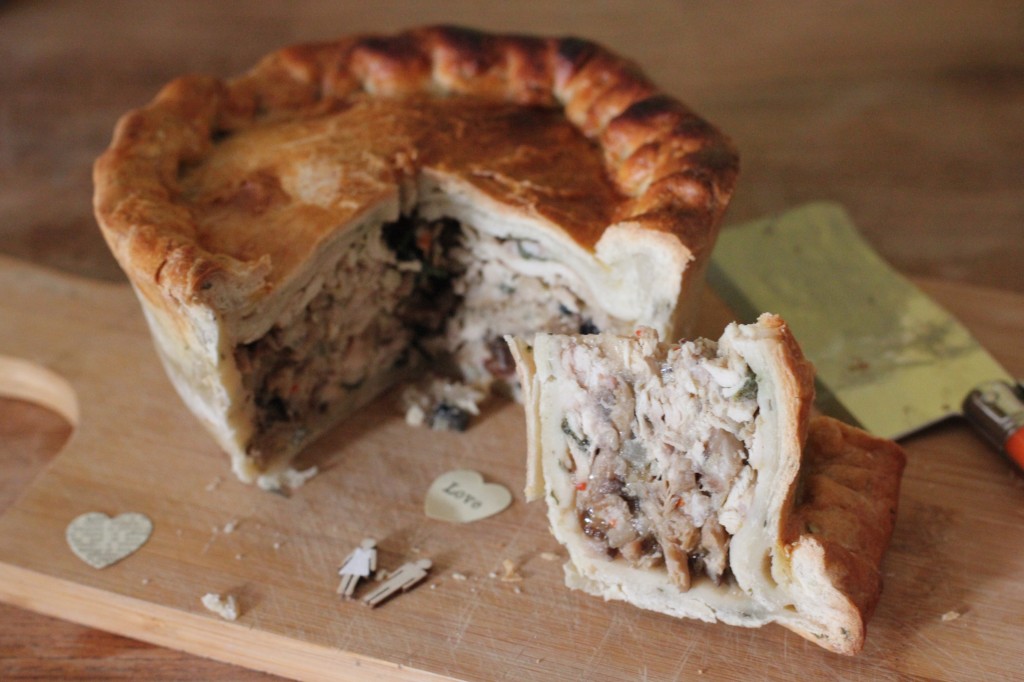 It goes without saying that you should use the best quality meat you can find and afford. Corn-fed chickens have more flavour and make for a better stock. I prefer to use pork belly and mince it myself than using pork mince. Marscapone adds a bit more fat to the mix and lemon zest keeps it fresh.
For the filling
1 medium chicken (you will only use 300g of this, but keep the rest for salad, sandwiches etc)
300g pork belly, skin and bone removed
1 tbspn olive oil
5 g butter
2 star anise
1 bay leaf
5 black peppercorns
1 leek, halved and washed
2 cloves
2 cloves garlic, minced
1 onion, finely chopped
Large pinch of dried red chilli flakes
zest of one lemon
30g dried mushrooms, keeping their rehydration stock for the jelly
2 rashers of smoked bacon, chopped into lardons
Small bunch of sage leaves, torn up finely
1 tbspn marscapone
Very good grating of nutmeg
1 tsp fish sauce
pinch sea salt
good grinding of black pepper
For the pastry
100g lard
75g unsalted butter
2 tsp dried tarragon
1.5 tsp salt
1 tsp sugar
1 egg, beaten
475g flour
160ml boiling water
1 egg, beaten (for the egg wash)
For the jelly
200ml chicken stock
100ml mushroom stock
50ml dry white wine
3 leaves of gelatin.
Fill a pot big enough to poach an entire chicken full of water, add the anise, black peppercorns, cloves, leek and bay leaf and bring to the boil. When it's boiling, add the chicken and gently poach for 1 hour, skimming off any scum that comes to the surface as you go. When an hour has passed, pierce with a skewer to check the juices run clear, and leave to cool. Pass the stock through a sieve and reserve – you will need this for the jelly. When it's cool enough to handle, shred 300g of breast and thigh meat into a bowl and reserve.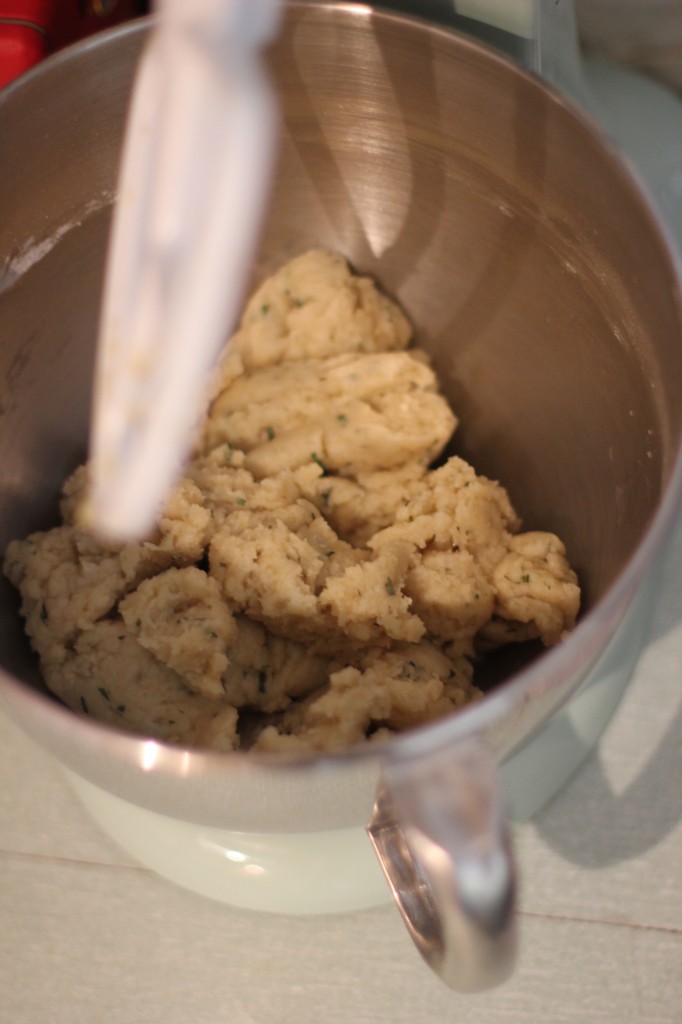 Then make the pastry. Place your flour and tarragon in a large bowl and make a well in the middle. Add the beaten egg and stir in until it's incorporated. You could do this in a stand mixer for ease.

Now melt the lard and butter in a saucepan with the salt and sugar. When it's almost all melted, add the boiling water and bring to the boil, stirring with a wooden spoon. Once it's boiled, remove quickly from the heat and leave it for about half a minute.
Now stir it into the flour and egg mix, stirring continuously with a wooden spoon to form a smooth, sticky dough. If you're using a stand mixer, put it on the lowest mix setting with the paddle beater and let it mix until a soft, smooth dough forms – being careful to not over work. Cover with a tea towel and rest for one hour.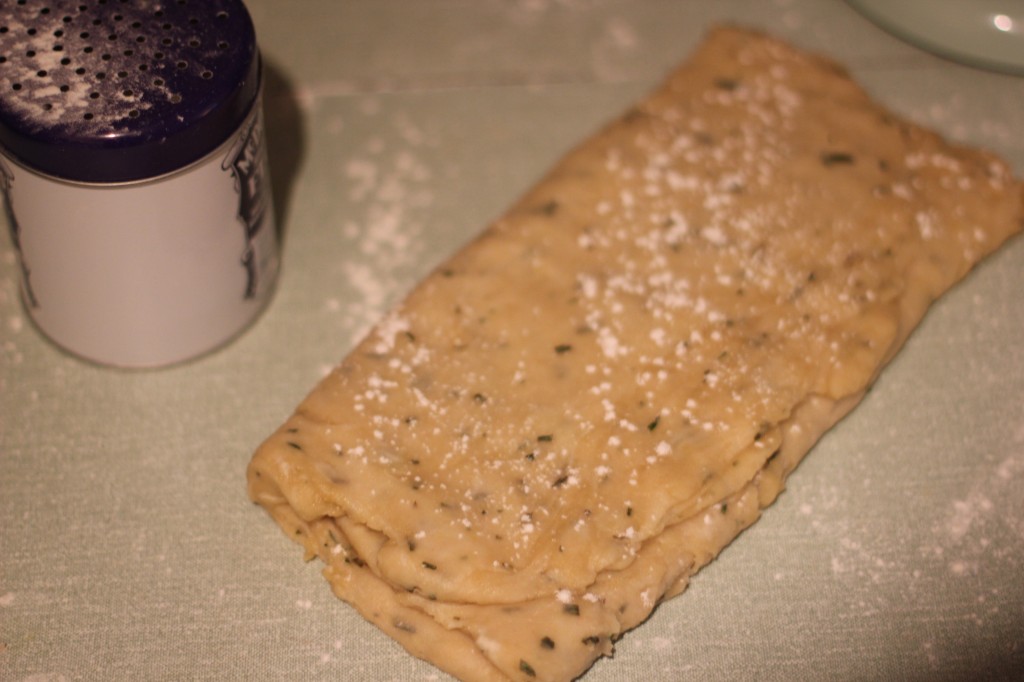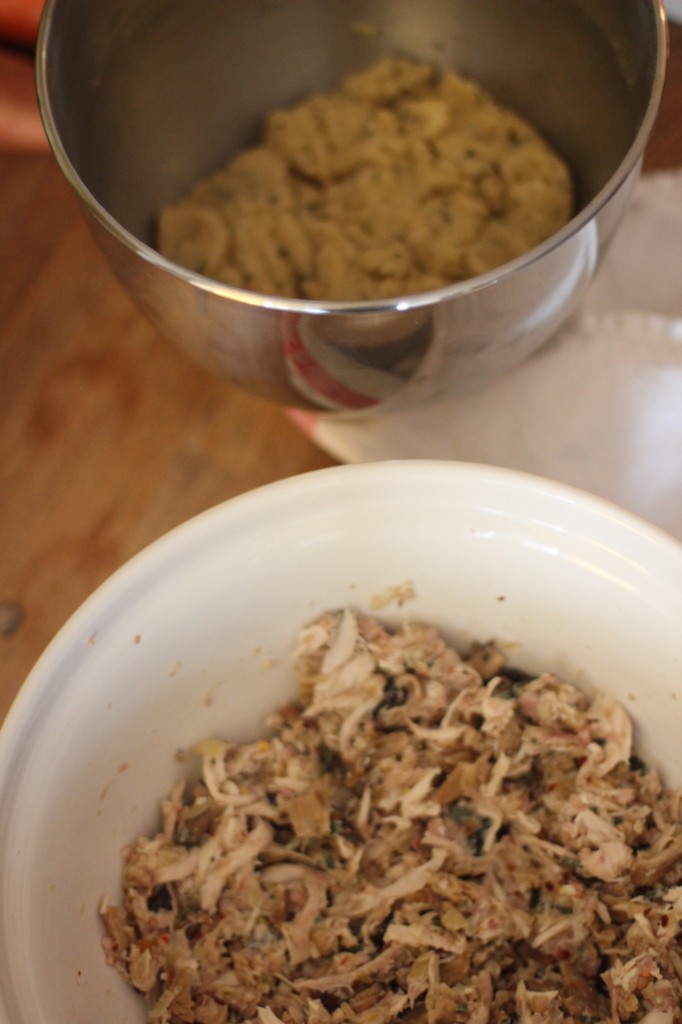 After the pastry has cooled and rested for an hour, tip it out onto a floured surface and flatten it out with your hands, shaping it into a rough rectangle. Fold the dough into thirds by bringing one end into the middle and pushing down with your fingers. Repeat with the opposite end, folding it on top of the other. Press down again with your fingertips. Flatten it out again into a rough rectangle and place on a floured plate or tray, covering with foil or grease-proof paper and refrigerating for a minimum of 30 minutes. 

While the pastry is resting you can get on with the filling. First rehydrate the dried mushrooms in 100ml of boiling water. Put 5g of butter and olive oil in a frying pan and gently sauté the onions with 6 shredded sage leaves. After three minutes, add the chopped bacon and cook until the bacon is lightly cooked – about five minutes.
Drain the mushrooms, reserving the stock, squeeze out the moisture from them and chop them up. You want them to be about the same bulkiness as the shredded chicken. Add the mushroom stock to 200ml of chicken stock and put in a separate pan.
Put the pork belly chunks in a food processor and whizz until you have a chunky mince, adding in the onion and bacon mixture for a blitz. Put this in bowl with chicken, lemon zest, garlic, sage, marscapone, fish sauce, nutmeg, chopped mushrooms and mix together well with your hands, rubbing it all together to get the flavours incorporated. Put this in the fridge to infuse while the pastry rests.
Preheat the oven to 180. Grease and flour (tapping out the excess flour) two enamel pudding bowls or high-sided pie moulds.
Take the pastry out of the fridge and transfer it to a floured surface. Cut it in half and roll out each half as follows. Sweep it in a circular motion across the surface to coat it in flour. It should feel much stiffer and firmer to the touch now it's cooled. Roll it out lightly, and then fold it into thirds, as before. Rotate it by a quarter turn and roll it out to about 4mm thickness, being sure to rotate it by a quarter turn every two or so rolls so it doesn't stick.
Once it's your desired diameter and thickness, drape it over a smaller cup or bowl that will fit inside your pie mould, reserving the rest of the dough for the lid (you may need to cut off the excess, press together the scraps and re-roll for this). Put the pie mould over it, and then flip the right side up. Remove the inner bowl and press the pastry into the bottom of the mould and against the sides. Chop of the excess off that's draping over the rim and use this for your lid. 

Divide the filling between the pastry bowls. Put the lid on and squeeze the edges together with the side crusts, being sure it's well sealed. Crimp the edges with your fingers and put a hole in the middle with a skewer – it needs to be big enough to fit a piping bag nozzle for the jelly.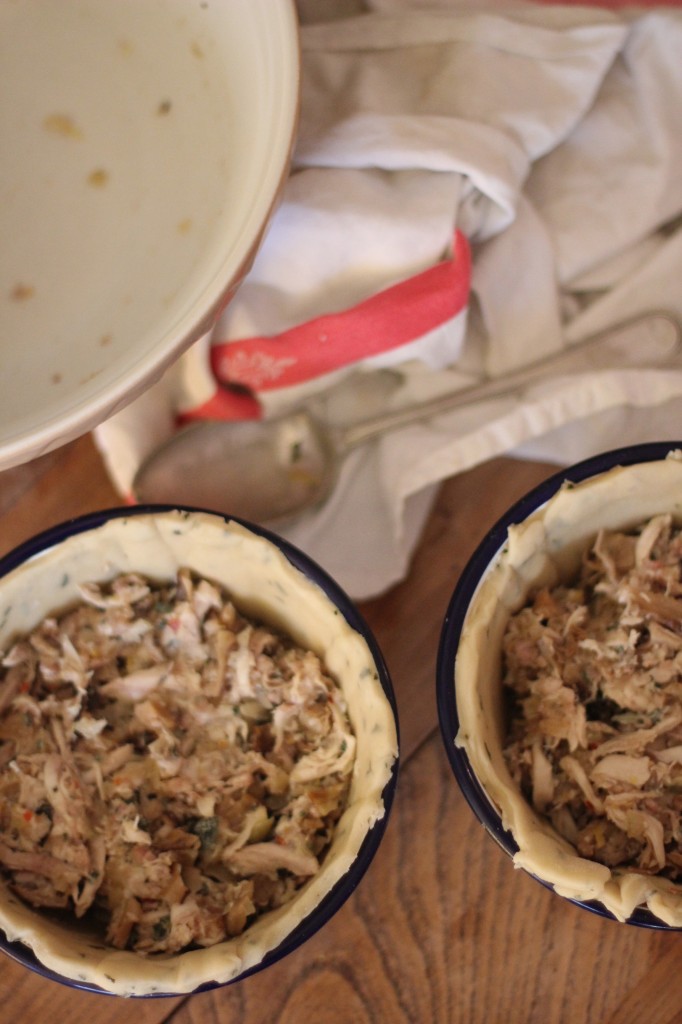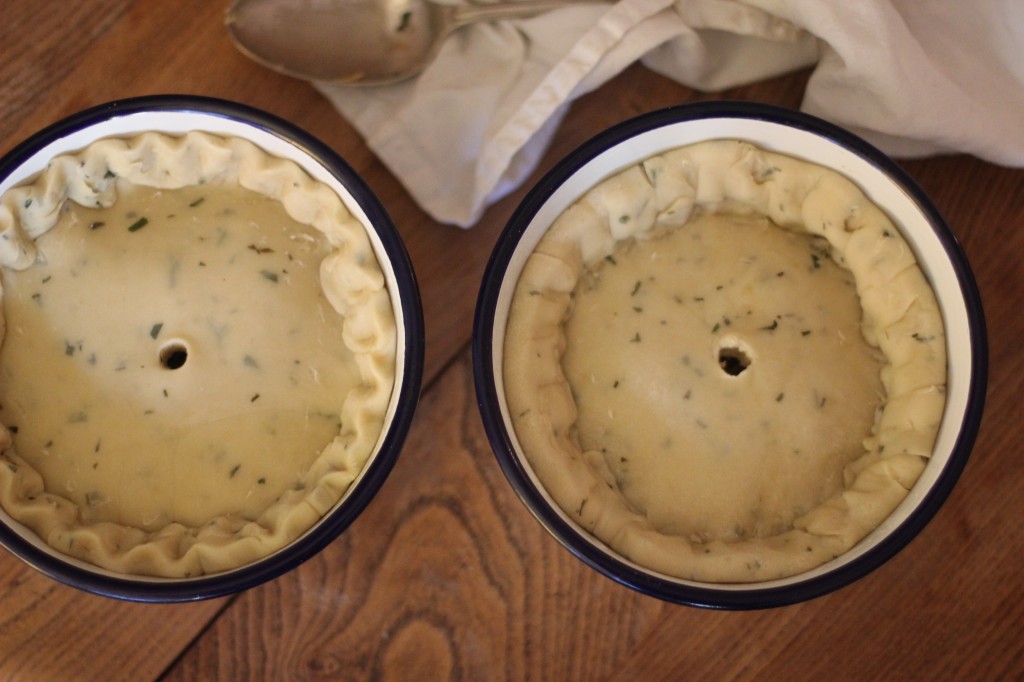 Egg wash the pies and bake them for 40 minutes, checking that the tops aren't burning as you go. If they start to blacken or burn, cover them with tin foil and return them to the oven. 

When they're baked, check using a meat thermometer inserted through the skewer hole that the meat is 80c or more. If you don't have a thermometer, insert a skewer – it should come out piping hot. 

Leave the pies to cool for two hours.
When they're cool, make the jelly. Put the gelatin in some cold water for a few minutes until it's squidgy, then squeeze out the water. Heat the stocks and wine up to a boil and remove from heat. Stir in the gelatin until it's dissolved.
When it's cool enough to handle, but not so cool that it's setting, put the jelly into a piping bag and carefully pipe into the hole in your pie. Fill it with jelly until it's coming out the hole. Wipe any that leaks onto the surface of the pie with kitchen roll.
Cool in the fridge for about 8 hours. Cut up and serve with a nicely dressed green salad.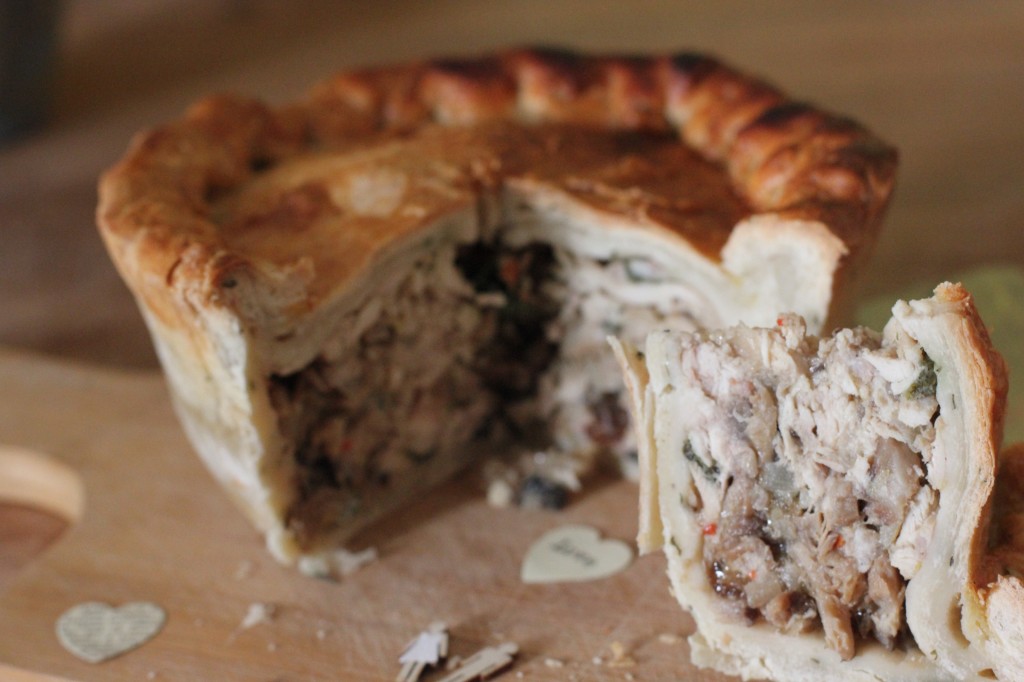 x