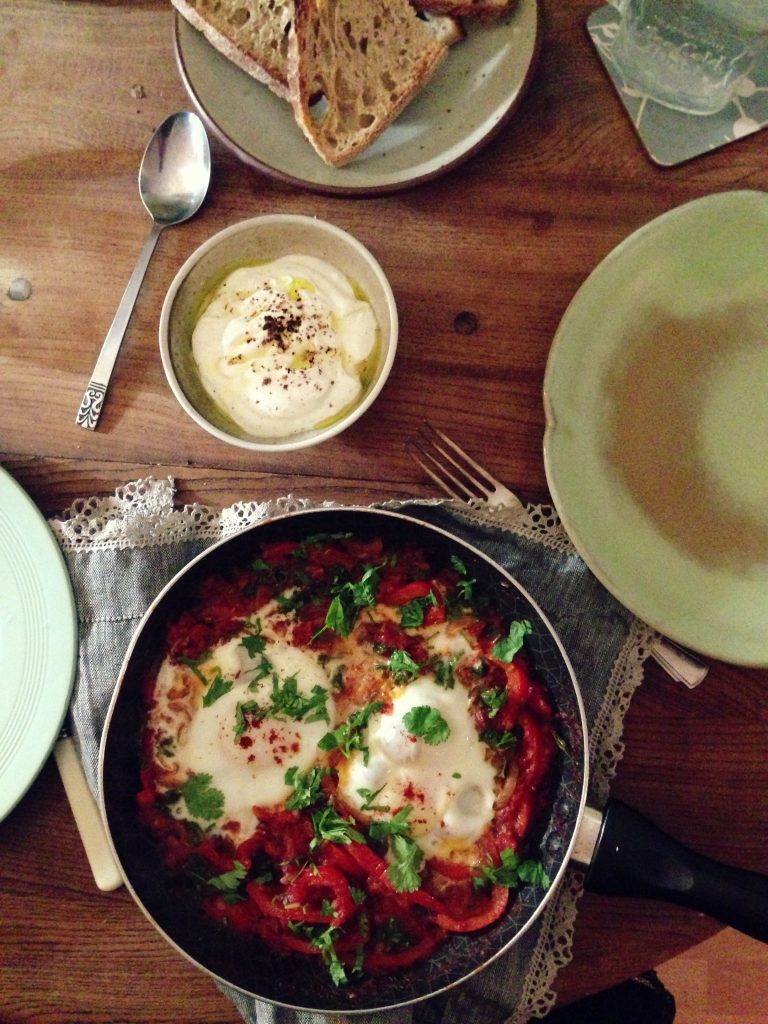 One of the biggest things I love about the weekend is having the chance to cook a proper breakfast or brunch for me and my boyfriend. This is one of my go-to weekend brunch dishes. It's such a lovely, satisfying way to start the weekend, especially if you've been guilty of overindulging on the Friday night and are in need of something filling and restorative to sort out those fluctuating blood sugar levels. It's dead simple too, and works brilliantly as a brunch dish for when you have friends over – just up the quantities to feed however many you need. If you are doing it for friends, you can make-ahead the tomato and pepper base, and yoghurt, and simply finish it with the eggs when your pals arrive.
It might not be strictly authentic, but I've thrown some kale into the mix too, as it helps to bulk-out the sauce and we all know I don't need much of an excuse to add kale to things. I love to use the smoky, mellow Urfa chilli flakes which are grown in Turkey, but you could replace with normal red chilli flakes if you can't find them. Don't fret if you don't have any preserved lemons or sumac powder to add to the yoghurt, a straight forward garlic yoghurt flavoured with lemon juice will do as a good substitute.
olive oil
1 white onion, finely sliced
2 cloves garlic, crushed
1 red or green pepper, sliced
1 tin of cherry or chopped tomatoes
1/2 tsp smoked paprika
1 tsp urfa chilli flakes
a handful of kale leaves, stems and stalks removed and chopped
2 eggs
small bunch of fresh coriander, stems finely chopped, leaves kept whole

For the sumac yoghurt:
2 slices of preserved lemon, pith and flesh removed and finely chopped
6 tbsp natural yoghurt – I like the full fat greek stuff
1 heaped tsp sumac powder
pinch of salt
Olive oil
Add a splash of olive oil to a skillet or frying pan over a medium heat and sauté the onion and garlic with a pinch of salt for a few minutes, until aromatic and softened, but not browning. Add in the sliced pepper and coriander stems and cook for a further 2 minutes, then pour in the tin of tomatoes, a splash more olive oil, chilli and smoked paprika and cook down for 10 minutes, until thickened and sweet. 

While the tomato base is cooking, make your infused yoghurt. Simply stir the garlic, salt, sumac and preserved lemon through the yoghurt and drizzle over the olive oil.
Now, turn the heat down to low and create a two indents in the tomato base with the back of a spoon. Crack in two eggs, and cover with a lid or large plate and cook for a few minutes until the eggs are set, but still have soft yolks – three to four minutes.
Serve with the yoghurt and some toasted sourdough, scattered with the fresh coriander leaves.