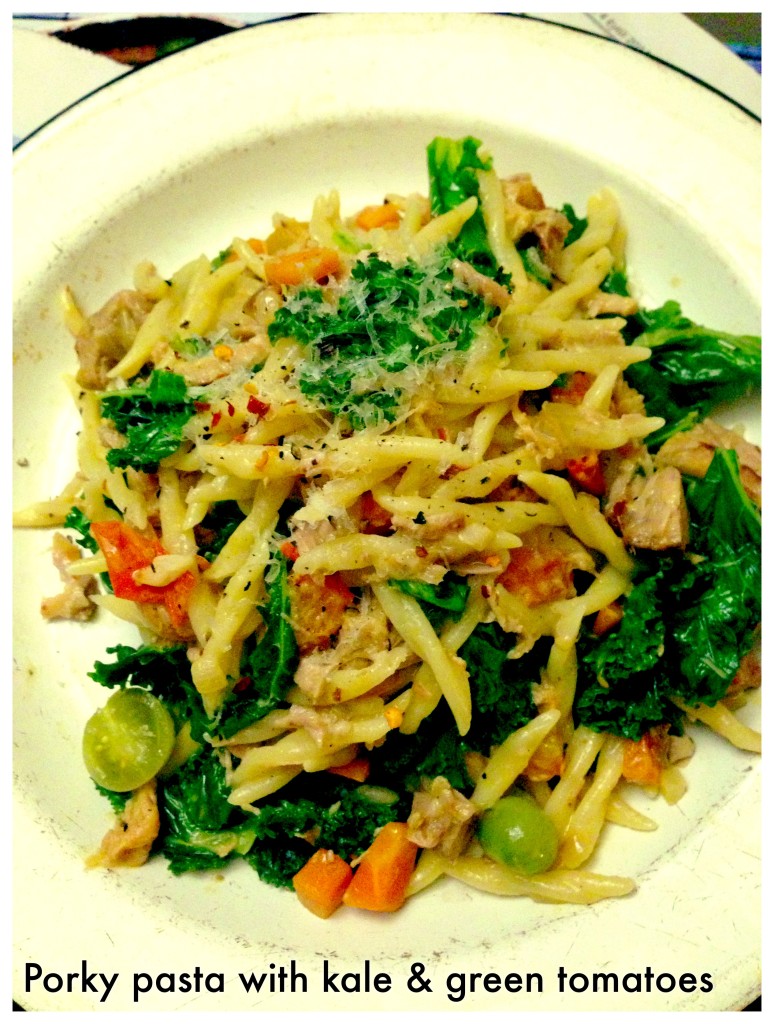 I made my makeshift porchetta (pork belly infused with herbs and spices, wrapped around the loin and slow roasted) for friends the other night, and we had sufficient leftovers to warrant making a whole other meal out of it. That said, the porchetta on its own wasn't quite enough for two, so I turned to my favourite pasta shape trofie: short little twists from Liguria, usually served with pesto Genovese – to bulk it out.
My mum sent me an email this weekend alerting me to her recipe for steak sauce involving green tomatoes – which I, like most people who grow their own, have a glut of right now. While you can ripen them up on your windowsill, when fried into the sofrito they provide a nice perky astringency, so I threw them into the mix along with some kale and preserved lemon. The result was a rather lovely pasta dish: rich and satisfying, yet fresh and fragrant: somehow perfect for late summer, when the nights are starting to get darker quicker, but there's still some warmth in the air. I would really recommend cooking up if you ever find yourself with leftover roast pork, or even better, porchetta to hand. I think it would also work pretty well with rabbit and even chicken as the sauce is creamy enough to liven up lean meats. If you're a veggie you could omit the meat altogether, it's still a nice sauce on its own.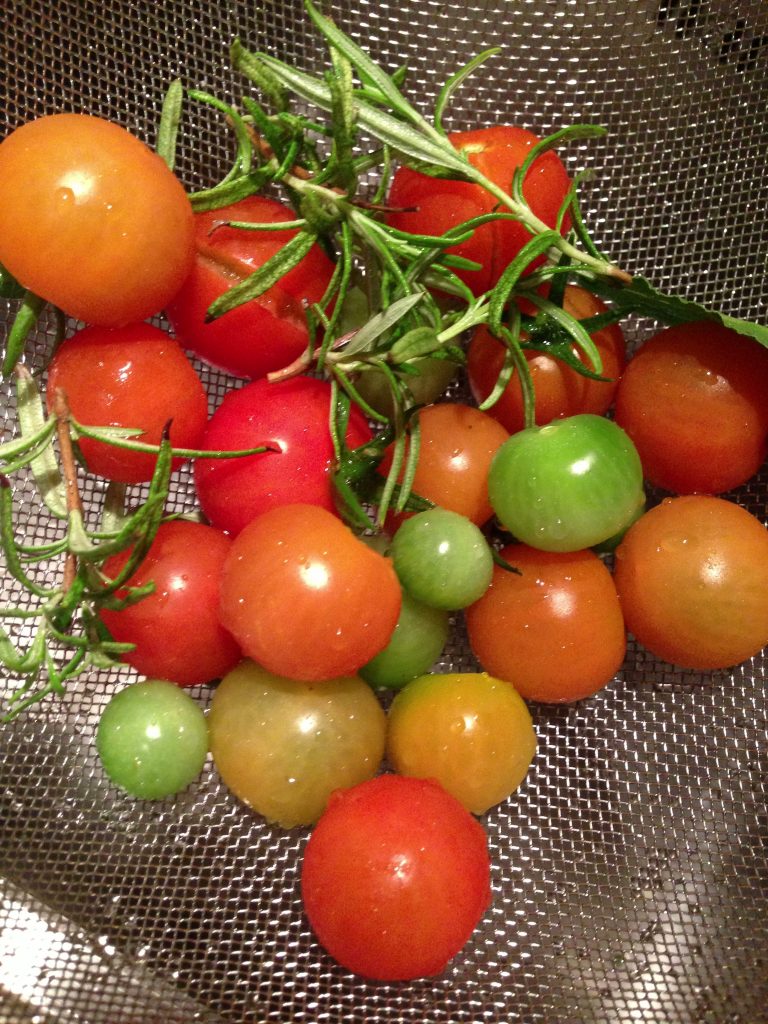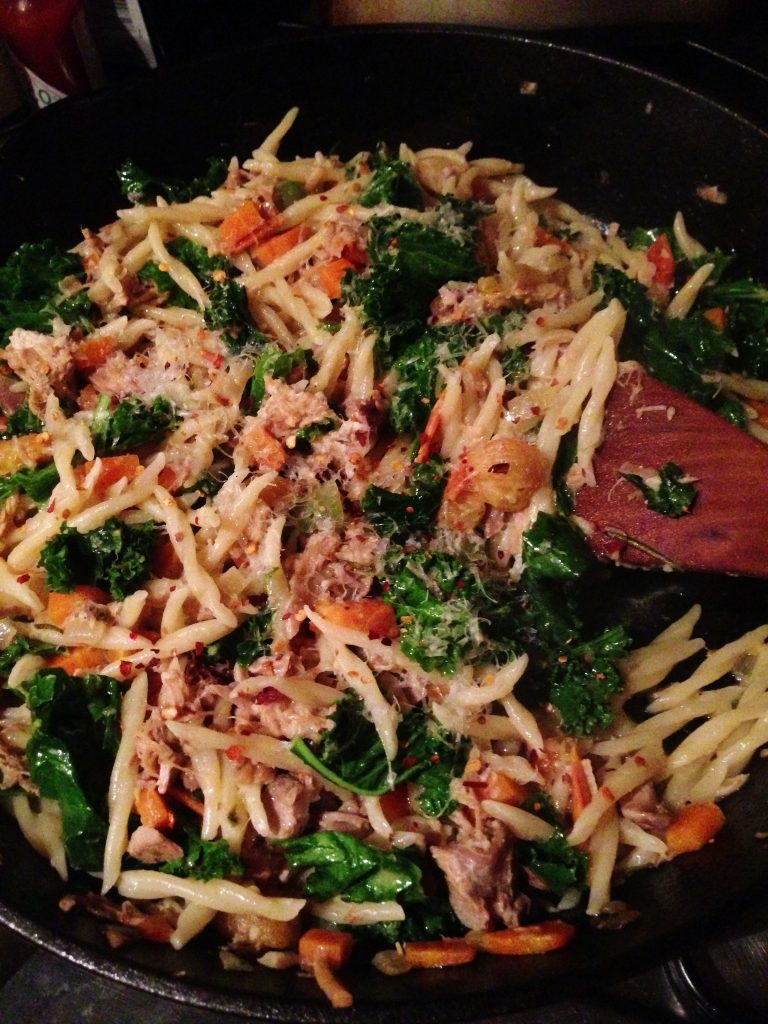 Ingredients 

Extra virgin olive oil 
1 white onion, finely chopped
1 carrot, peeled and finely chopped 
1 bay leaf
2 sprigs rosemary, leaves removed
2 cloves of garlic, peeled and minced
2 slices of preserved lemon, flesh and pith removed and finely chopped
handful of green and red cherry tomatoes, larger ones halved
splash of white wine – the fruitier the better
2 tbsps double cream
red chilli flakes
150-200g leftover roast pork or porchetta, roughly chopped
2 large leaves curly or black kale, thick stems removed, washed and roughly chopped 
salt and freshly ground black pepper 
parmesan
Heat a tablespoon of olive oil in a heavy-bottomed frying pan or cast iron skillet over a medium heat. Add in the rosemary, bay, onion, and carrot and toss to coat. Season with salt and pepper and cook for about five minutes, until the veg are soft and fragrant, then add the garlic and preserved lemon and cook for a further minute. Add in the tomatoes and cook until they've softened – a further five minutes, then add the white wine to deglaze the pan, before adding the cream and a generous pinch of chilli flakes. Cook for three more minutes and then turn off the heat.
Now cook your pasta in plenty of boiling, salted water until al dente: 6-7 minutes. Drain, reserving the cooking water. 

Return the sauce skillet to the heat and add in two tablespoons of the cooking water, stirring, followed by the pork and kale. Cook, stirring to thoroughly incorporate all the ingredients, until the kale is tender and wilted and the pork is heated through. Stir in the drained trofie pasta, season to taste and grate over some fresh parmesan. Divide between plates and serve with extra parmesan.