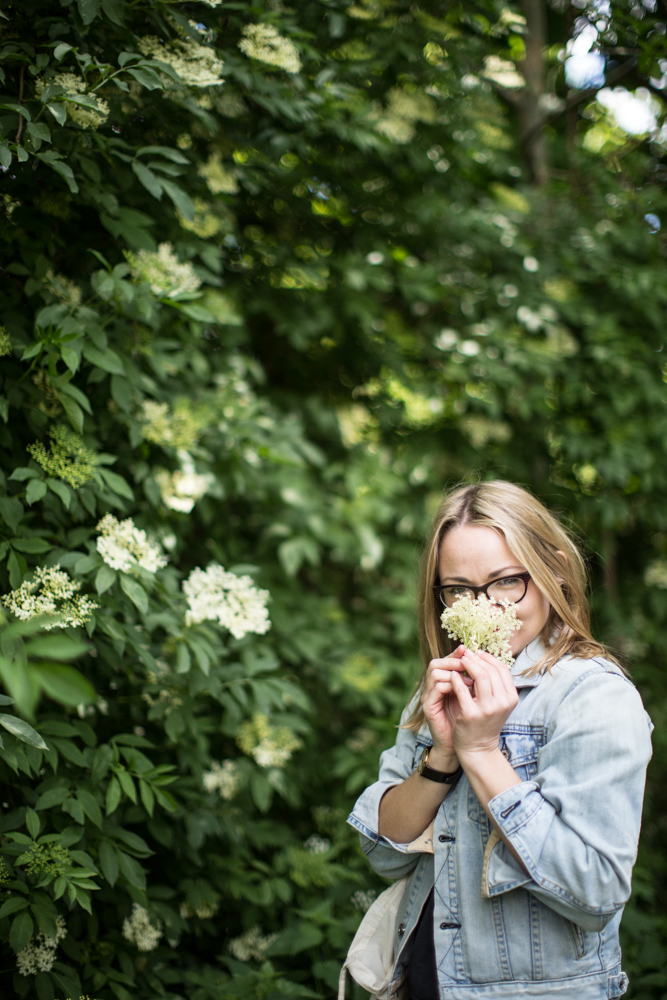 I really love the start of spring, when rhubarb comes into season and the trees are fragrant and floral with little white elderflowers. I've never lived anywhere where elderflower season has been so apparent, but I'm near the River Lea and Hackney marshes, and suddenly my morning runs and bike rides have become heady with the gorgeous scent of these pretty, fragrant and short-lived white flowers, which seem to be growing from every tree and hedgerow. I've been collecting it by the bag-load, covering myself in pollen and making cordial (some of which is now fermenting into wine) and more besides. Elderflower is such a versatile ingredient, wonderfully pretty for garnishing desserts, great as fritters dipped in a light batter and eaten crispy and hot, or made into cordial and used in cocktails or baking. The season will be over soon, the flowers will start to turn brown – so hurry, get out there and get picking!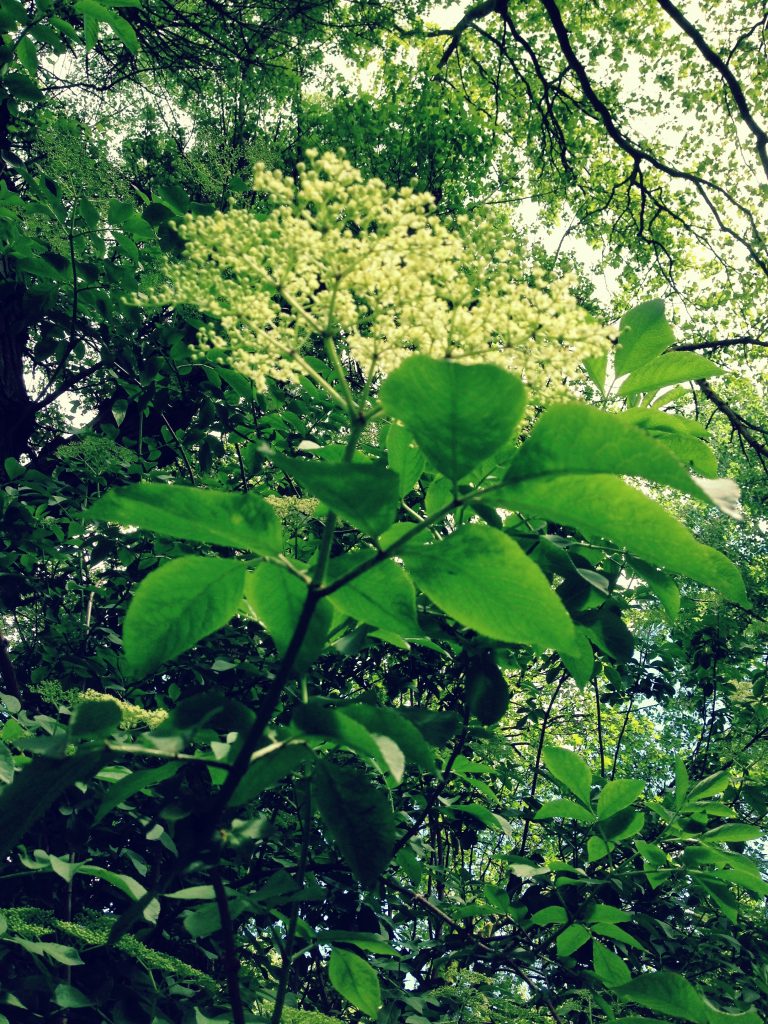 Here's my very simple cordial recipe – it uses less sugar than normal and I've put the citric acid as optional because I've made it with and without, both successfully. Whatever you do, don't be tempted to wash the elderflower before you make it as that will wash away all the aromatic pollen which gives it its special scent and flavour.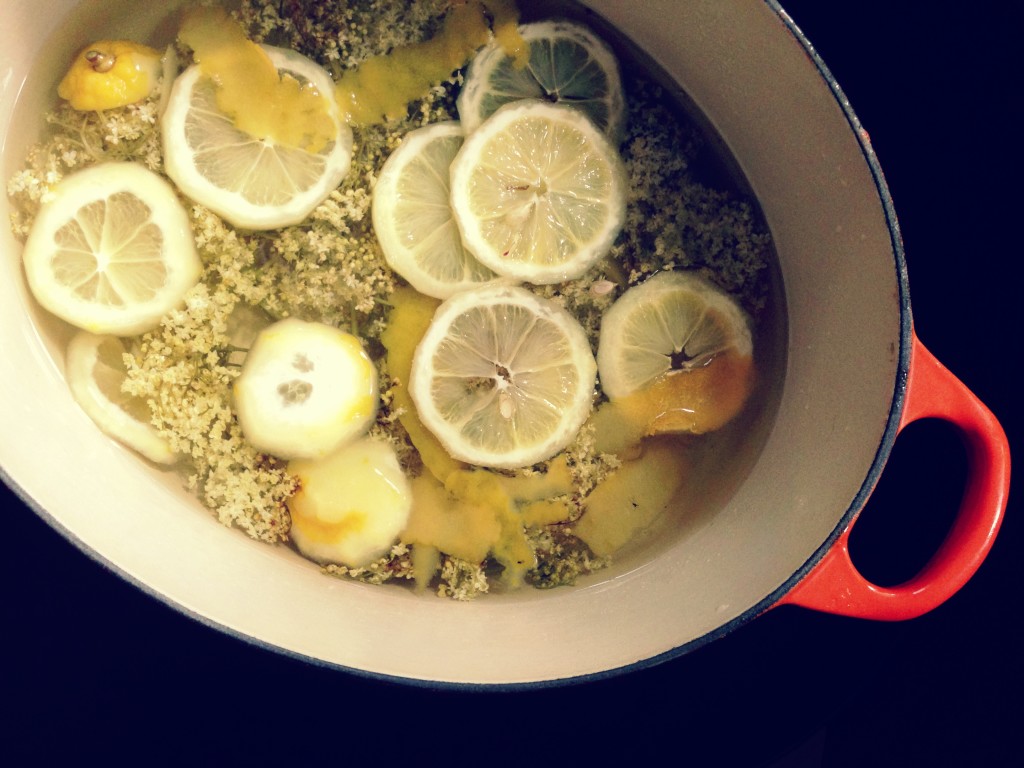 20 heads of elderflower
2 lemons, zested and finely sliced
 into rounds
500g caster sugar
1/2 tsp citric acid
 (optional)
Put your sugar into a large saucepan or casserole, cover with about a litre and a half of water and bring up until it's not quite boiling, but the sugar has dissolved. Remove from the heat and cool slightly, then add the lemon, zest and elderflower, and citric acid if you're using. Stir, and steep for 24 hours.
Line a colander or sieve with a clean tea towel and place over a large bowl. Carefully pour the elderflower mixture into it in stages if you need to, and allow it to drip through, filtering. Remove to a jug and fill sterilised bottles and jars with your cordial. It should keep for up to 6 weeks in the fridge.
Rhubarb and elderflower upside down cake
Serves 6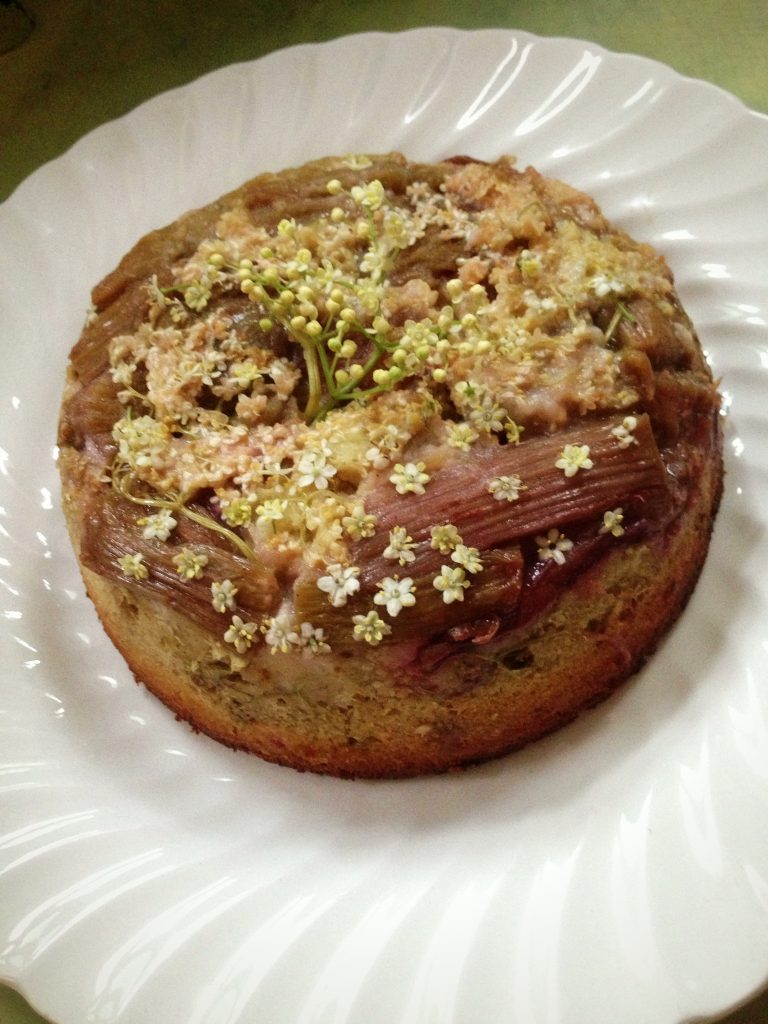 This recipe combines elderfower with fruity, tart rhubarb in a light, gooey-bottomed, self-saucing sponge cake. This is best enjoyed with a large dollop of cool creme fraiche.
40g unsalted butter, plus extra for greasing
300g trimmed rhubarb, cut into 3cm pieces
2 tablespoons elderflower cordial
80g caster sugar
4 heads of elderflower, tough stems removed, plus another head for garnish
40g plain flour
1/2 tsp baking powder
100g natural yoghurt
2 medium eggs, separated
Preheat your oven to 180C/350F/gas mark 4. Lightly grease a pudding dish or cake tin. Place the rhubarb in a saucepan with the elderflower cordial and a tablespoon of the sugar over a low heat. Simmer gently for 5–10 minutes until it's softened and part-cooked but still holds its shape. It will release its juice during this time.
Put a sieve over a bowl and strain the rhubarb, reserving its juices. Set aside to cool.
Once cool, arrange half of your rhubarb on the bottom of your cake tin/pudding basin, as neatly as you can, along with some of the elderflowers. This will be the top of the cake and look very pretty once you take it out of the tin.
Beat together the butter and the remaining sugar. Add the egg yolks one at a time, beating after each addition. Slowly add in the flour and baking powder, mixing well, followed by the yoghurt, the rhubarb juices, and the remaining rhubarb and elderflowers, mixing well after each addition. Whisk the egg whites to soft peaks and lightly fold into the batter.
Spoon the batter on top of the rhubarb in your baking tin and bake for about 30 minutes, or until the top is firm and golden. Leave to cool for and settle for 5 minutes on a wire rack, then use a palate knife to loosen it from the tin. Serve immediately with loads of creme fraiche.