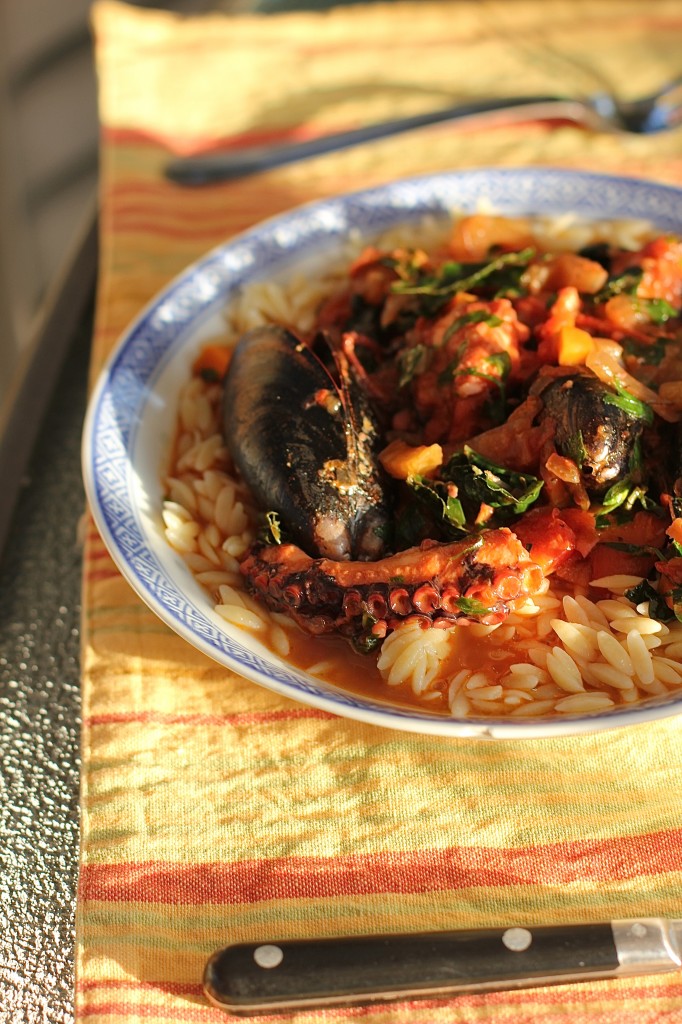 I have always been fascinated by octopus. I remember eating it on family holidays to Spain as a child, usually pickled or coated in oil and at the end of a cocktail stick, pleasingly chewy. I delighted in the texture of the tentacles – their beautiful gruesomeness, tinged with purple. I loved the way they felt against my tongue, the grooves of texture, their pleasing tangibility – they always reminded me of the suckers on those funny little furry toys I'd stick to every available window.
Whenever I'm at a fishmonger I'm drawn to the octopus – lying resplendent on the ice, dangling tentacles glistening like fishy chandeliers; but it's never something I've attempted to cook. I suppose I've always been too scared to take such a magnificent, mystical creature and do the unthinkable to it: render it rubbery and inedible. But a gorgeous dish of slow-braised octopus eaten a few months ago at Rochelle Canteen has stuck in my mind as one of the most delicious things I've eaten this year, and something that I could at least try to recreate. It was deep, rich, velvety and heady – the octopus soft and tender and melding wonderfully with the olive oil, fennel, tomato and aromatic braising jus.
I'd also always assumed that cooking octopus would be super pricey, but when I was out shopping on 'the Drive' the other day I came face-to-face with a frozen whole octopus, priced very well at $7.99 (that's under a fiver in British pounds!) so I thought I'd give it a go. I threw some mussels into the mix at the last minute because I was feeding three and was worried the octopus wouldn't go so far – I was actually wrong as there was in fact leftovers – and the resulting dish was a bit of a hit. I will be making it again, and really the fact that the octopus was frozen didn't seem to affect the flavour or texture at all. That'll be the wonder of slow, careful braising!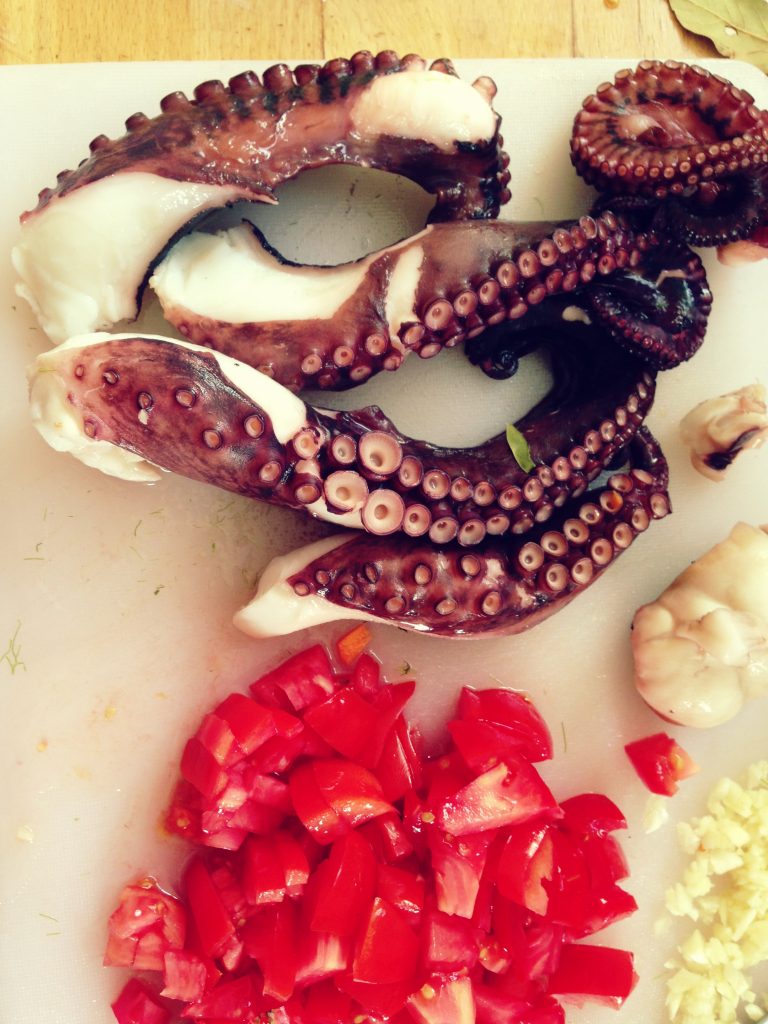 Serves 2-4
1 octopus – fresh or frozen, about a kg
400g mussels, cleaned and de-bearded
half a small bulb of fennel, finely sliced
three large ripe tomatoes, chopped or, if not in season, a tin of chopped tomatoes
1 tbs tomato puree
half an onion, finely chopped
One large carrot, diced
2 sticks of celery, chopped
4 tbsp olive oil
two cloves of garlic, minced
1 glass of white wine (preferably a good chardonnay for its aromatic richness)
2 bay leaves
Pinch of freshly ground black pepper
Pinch of salt
Pinch of dry thyme or a few fresh thyme leaves
Bunch of cavolo nero
Handful of chopped parsley
Prepping the octopus
First, if you're using a whole fresh octopus you need to tenderise it, by either freezing it a few days before you cook it, or whacking it with a mallet for 10 minutes until it foams. If you're using frozen octopus defrost gently on a plate in the fridge for about 24 hours, you don't need to worry about tenderising it as the process of freezing does that.
Then you must remove the head, innards, ink, eyes and beak.  But don't be alarmed! This is not as hard or as horrible as it sounds. You just cut below the eyes, separating the head from the tentacles. You'll see there's a hole where the tentacles meet, and inside that is the 'beak'. It's easy to remove – just push it out with your finger or thumb. Now take the head, cut the eyes off the bottom and discard. Rinse it inside and out, getting rid of the insides, and also rinse the rest of the octopus under cold water. Separate the tentacles too.
NB if you're using a frozen octopus you won't have to do this as the innards will have been taken out before it's frozen. It's still worth cleaning it in cold water though.
Method
Put the tentacles and sack into a heavy-bottomed pan with a lid, cover with about 130ml of water and cook for 20 minutes on a low heat. This serves to partially cook the octopus, but also to extract its flavourful juices, which you can use later.
When that's done, reserve the cooking liquor and chop the tentacles up into chunks of about 3-4cm or whichever size you prefer. I like to keep nice meaty chunks.
Heat three tablespoons of olive oil in a heavy-bottomed saucepan, add the onions, fennel, carrots, celery and sautée until the onion and fennel is turning translucent and soft – about five minutes. Then add the garlic, bay and thyme and cook for another one to two minutes. Now add the octopus and sautée for a further few minutes, stirring, before adding the tomato, tomato puree, wine, octopus juice and black pepper.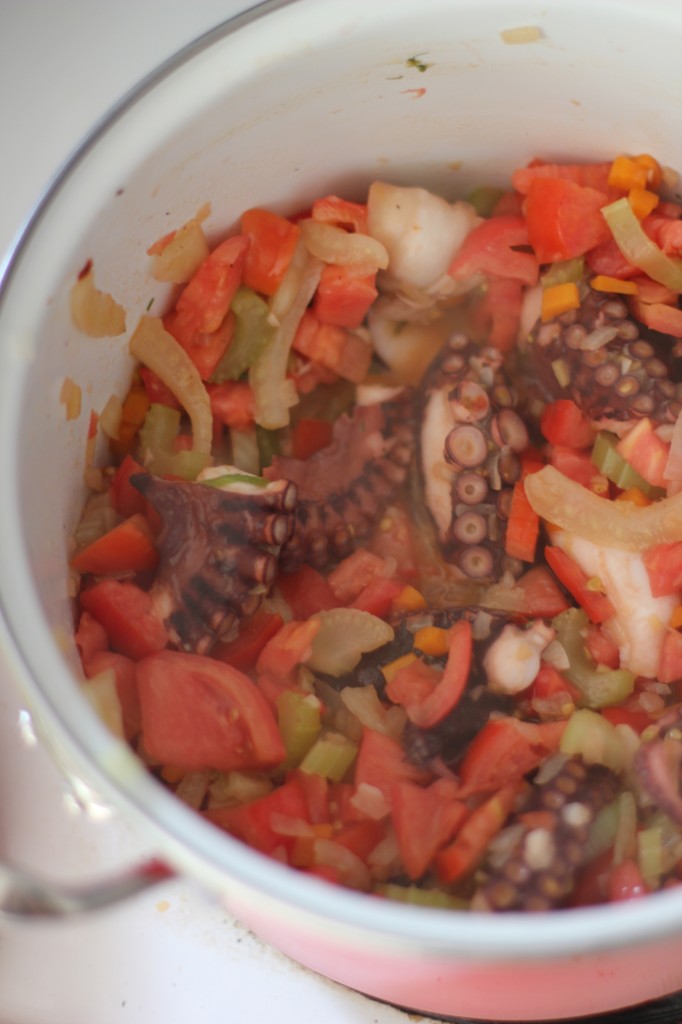 Bring to the boil and then lower to a gentle simmer and cook for about 40 minutes. It might be a little less, you just need to keep testing the octopus until it's tender but still meaty and not in the least bit mulchy.
About eight minutes before it's ready, cook some orzo in boiling salted water until al dente and dress with a little extra virgin olive oil.
When it's nearly there, de-stem your cavolo nero and chiffonade the leaves. Throw in the mussels and kale, cover with a lid and cook for about three-to-four minutes, until the mussels have opened and exuded all their tasty juice into the braise. Then taste for seasoning and add salt if needed. Stir through the parsley and a dash of extra virgin olive oil, and serve in big ladlefuls on top of piles of orzo, making sure to dish out some of the octopus.
Enjoy!