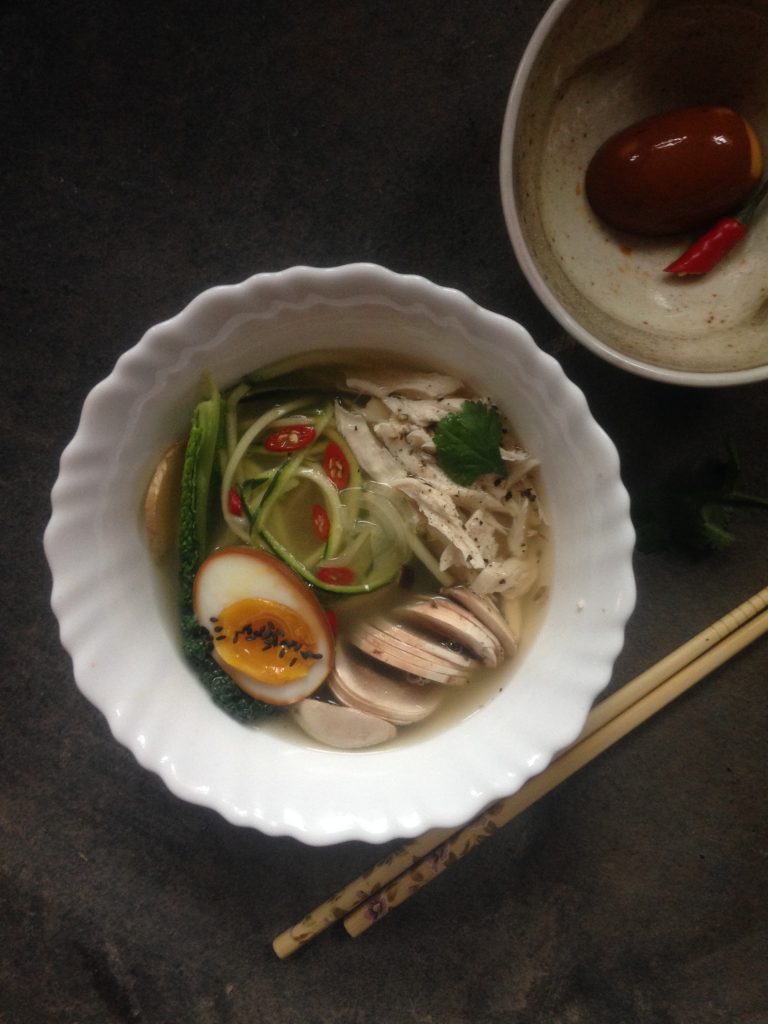 After the calorific onslaught of Christmas (I like gravy on my gravy), I always try to make a few healthy, lighter choices when I can in January. To kick-start this I'll try and cook up a batch of really good chicken stock that I can dip into for fast, warming and nutritious low-cal soups as-and-when. The other day I was craving a chicken noodle soup, but was holed up in the house with no noodles, so I turned to the next best thing, courgetti (I use this julienne peeler which is really cheap) – and made a lovely soup with some poached chicken breast and soy-marinated dippy egg. It's actually sort of cross between a pho and a ramen, but the dippy egg is so integral to ramen I thought I'd go with the 'ramen' tag. It got a lot of likes on instagram when I posted the pic, so I thought I'd share the method with you here.
For the dippy egg:
1 egg
150ml soy sauce or tamari
For the courgetti
1 small courgette, peeled into noodles
juice of 1/2 a lime
For the soup
1 cup of chicken stock
1 tsp fish sauce
1 tsp honey
thumb of fresh ginger, peeled
1 banana shallot, peeled and finely sliced
2 chestnut mushrooms, finely sliced
50g poached chicken meat, shredded
a couple of small, soft leaves of cavolo nero
black pepper
To garnish
1 birdseye chilli, finely chopped
1/2 lime, for squeezing
tbsp coriander, leaves picked
black sesame seeds
First, make your dippy egg by bringing a saucepan of water to the boil. Add the egg carefully, bring it back to the boil, then immediately reduce to a simmer and set the timer for 6 minutes. When 6 mins are up, remove the egg to a colander or sieve and pour cold water from the tap on it for 3 minutes, until cool. Once cooled, tap the egg all over on a hard surface to crack the shell, and peel carefully. Rinse under the tap to get rid of any tiny fragments of shell, then place in a jar or cup of the soy sauce. You might need to weigh it down with something so the egg is submerged – I used a lime. Leave this to soak for 40 minutes to an hour. While it's soaking, toss the courgetti noodles in the lime juice and leave to sit.
Remove the egg from the soy marinate – it should be a light brown colour all over. Slice in half with a very sharp knife, being careful not to spill that lovely runny yolk.
Now to the soup. Pour your stock into a saucepan with the ginger, shallot, fish sauce, honey and 2 tbsp tap water. Turn on the heat and slowly bring it up to a gentle boil. Turn it down and simmer while you get the other ingredients ready. Put the lime-soaked courgetti noodles, sliced mushroom, cavolo nero, dippy egg and chicken into a deep soup bowl and grind over some black pepper. Pour over the hot chicken broth and garnish with some of the birdseye chilli (a couple of slices should suffice, depending on your tolerance), some lime, black sesame seeds and fresh coriander. Inhale and enjoy!