While Jackie Stallone has said that the secret to her – err – longevity is eating a bag of spinach a day, I've got to admit I'm more of a kale girl.
Don't worry, I'm not going to bang on about all the reasons I love kale – you can read that here in this food trends piece I did recently for the Independent.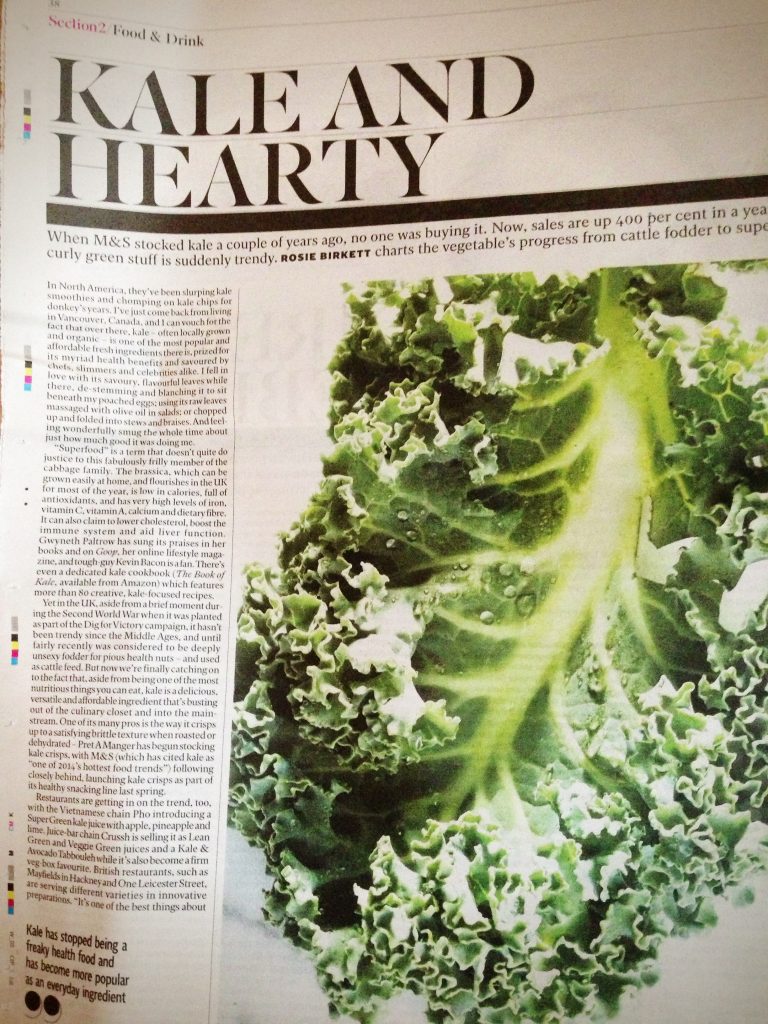 But I will say this – as you might have guessed from my Instagram and Twitter feeds, I eat a lot of our green (and sometimes red) curly leaved friend. Me and Elly Pear (who started the – initially tongue-in-cheek – #100wayswithkale tag on instagram) are forever swapping ideas, and I just never seem get bored of it.
I always had it growing up, as a nice robust green often as a side to a slow braise or beef stew, but it was my time in Vancouver that really converted me to this hearty, wholesome green. It was EVERYWHERE, and in a city where ingredients were very expensive, it was one of the most affordable and available ingredients. I really like it with my poached egg in the morning, or, in summer, blitzed up into a smoothie with banana, ginger and coconut water. It's so fricking good for you!
A bag of kale goes a long way too, and doesn't wither in the fridge like spinach or broccoli. I know I sound a bit like shrimp-obsessed Bubba in Forrest Gump, but you can steam it, roast it into wonderfully crisp chips, saute it in a little bit of olive oil, use it to bulk-out and health-up various soups, stews and salads, and even make it into a tasty pesto to slather on spaghetti.
It's fair to say there's going to be the odd kale recipe in my forthcoming cookbook 'Fresh: 80 new recipes from market to table', which, very excitingly, is being published by the amazing Hardie Grant next spring, but for now, here's my recipe for kale and almond pesto for you to be getting on with. It's delicious, super-simple to whizz up, economical, and will completely negate any guilt you might feel (you shouldn't) about eating a big old bowl of pasta…
Kale and almond pesto
Makes a small jar of pesto for smothering on toasted sourdough, gallettes, fish, steak or for stirring into spaghetti
60g/three big handfuls of washed curly kale, stems removed and discarded
Large handful basil
Large handful parsley
three spring onions, roughly chopped
four cloves of garlic
40g sliced/flaked almonds
25g of grated parmesan – the best you can find
Large pinch of red chilli flakes
4 tbspn extra virgin olive oil, plus some for drizzling
Good grind of black pepper
Large pinch of sea salt
1 tbspn lemon juice
75g spaghetti
Put a pan of salted water on to boil. Add the spring onions and garlic once it boils and cook for three minutes, until they're soft. Add the kale and cook for about 40 seconds, until it's bright green and floppy – could be less. Don't overcook it as it will lose that lovely bright green colour.
Lift out the kale with a slotted spoon and put it onto a plate. Lift our the garlic and spring onion and blitz them in a food processor with the almonds. Add the parsley, basil and chilli flakes and blitz again. Squeeze the excess water out of the kale and add that to the food processor too, blitzing, followed by the lemon juice and zest, Parmesan and 4 tbspn of the olive oil. Season with black pepper and salt to taste, and stir. Store your pesto in a clean jar and drizzle with olive oil to seal in the freshness.
You can cook your pasta in the same water. When the spaghetti is al dente – do not overcook- it will take five or six minutes, drain, reserving a splash of the pasta water. Stir in generous tablespoons of the pesto and cooking water and top with freshly ground black pepper.