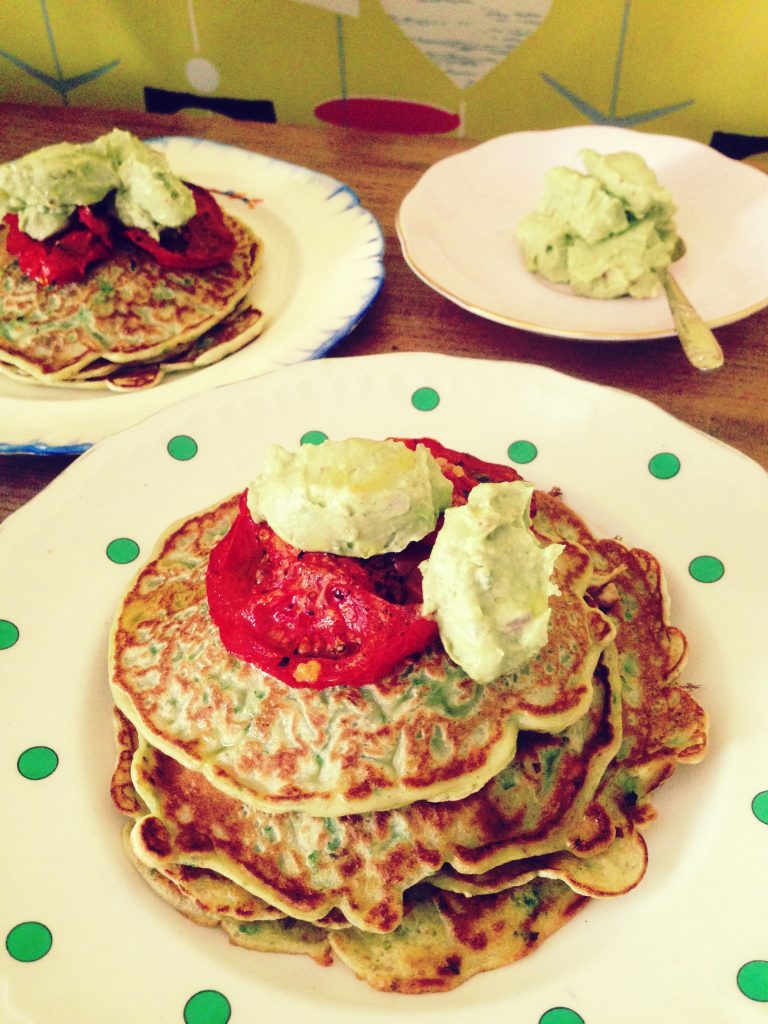 It was Pancake Day yesterday. This post was supposed to go up then. But you, know, life happened (and I may just have forgotten to update WordPress in ages, rendering it unusable). But boy, did I get busy with the pancake pan. I did this smoked haddock pancake with frazzled leeks and lemony creme fraiche recipe for Fish On Friday – an amazing new fish website, and I also made these little beauties for breakfast – mostly because I wanted to feel better about eating pancakes for breakfast, lunch and dinner (dinner was the talented Uyen Luu's Banh Xeo – thanks Uyen!)
Here's my recipe – yes, sorry, another kale one, but it's tasty, I promise! – for an alternative, and wonderfully healthy Pancake Day dish. The pancakes themselves are stuffed full of goodness in the form of very finely chopped kale, with the slow-roasted tomatoes lending a richness and acidity. The creamy, perky avocado butter is made with tahini and is dangerously addictive. Make too much and then smear it on hot toasted sourdough. Or just eat it with your fingers like I do!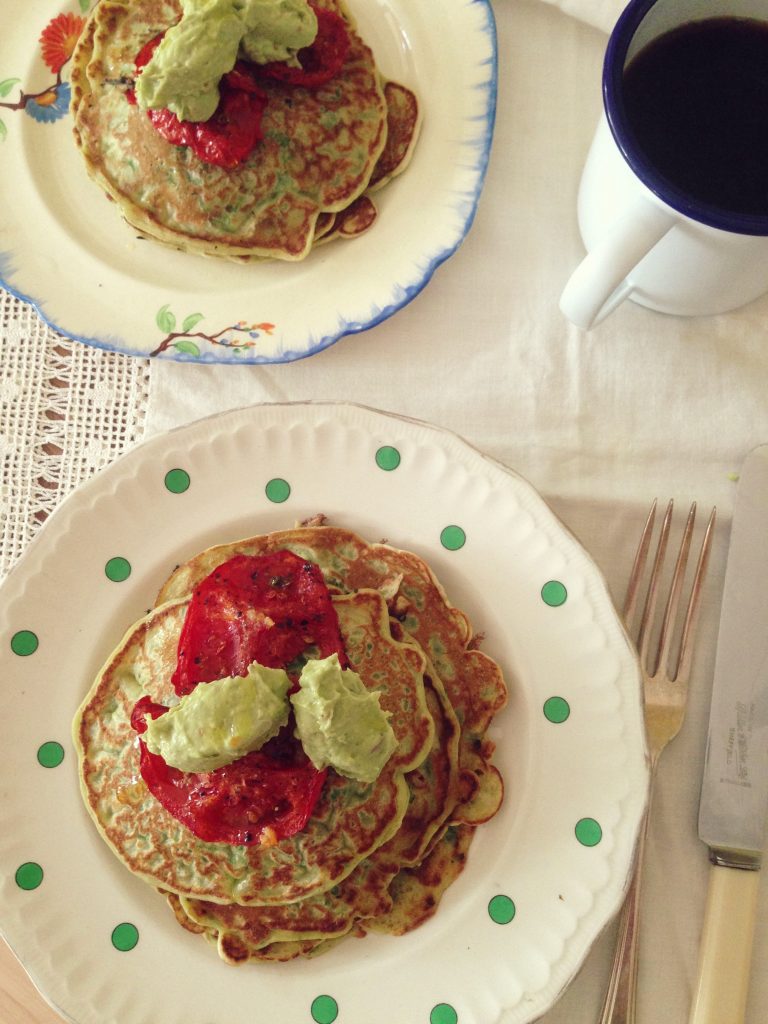 Kale pancakes with avocado butter and roasted tomato 
Makes two big stacks of pancakes
For the avocado butter
Half a very ripe avocado
1 Tbspn tahini
Pinch of red chilli flakes
Tbspn lemon juice or more to taste
Half a shallot, peeled
Pinch of salt and a good grind of freshly milled black pepper
For the kale pancakes
85g plain flour
15g rye flour
Half tsp baking powder
Tsp garlic powder
Tsp cumin powder
Lime zest
Tsp Maldon sea salt and a good grind of freshly milled black pepper
100ml milk
1 beaten egg
1 tbspn olive oil
Two big leaves of kale, destemmed and blitzed in a food processor until VERY finely chopped
Handful of coriander leaves, blitzed until very finely chopped
15ml cold water
Rapeseed oil, for frying
For the slow roasted tomato
1 large tomato, sliced into rounds
Olive oil
Maldon sea salt and pepper
A sprig of thyme
Preheat your oven to 160. On a greased baking tray or enamel plate, place your tomato. Drizzle with olive oil, season with salt and pepper and scatter over the thyme leaves. Roast in the oven for 20-25 minutes, until it's softened and slightly shriveled.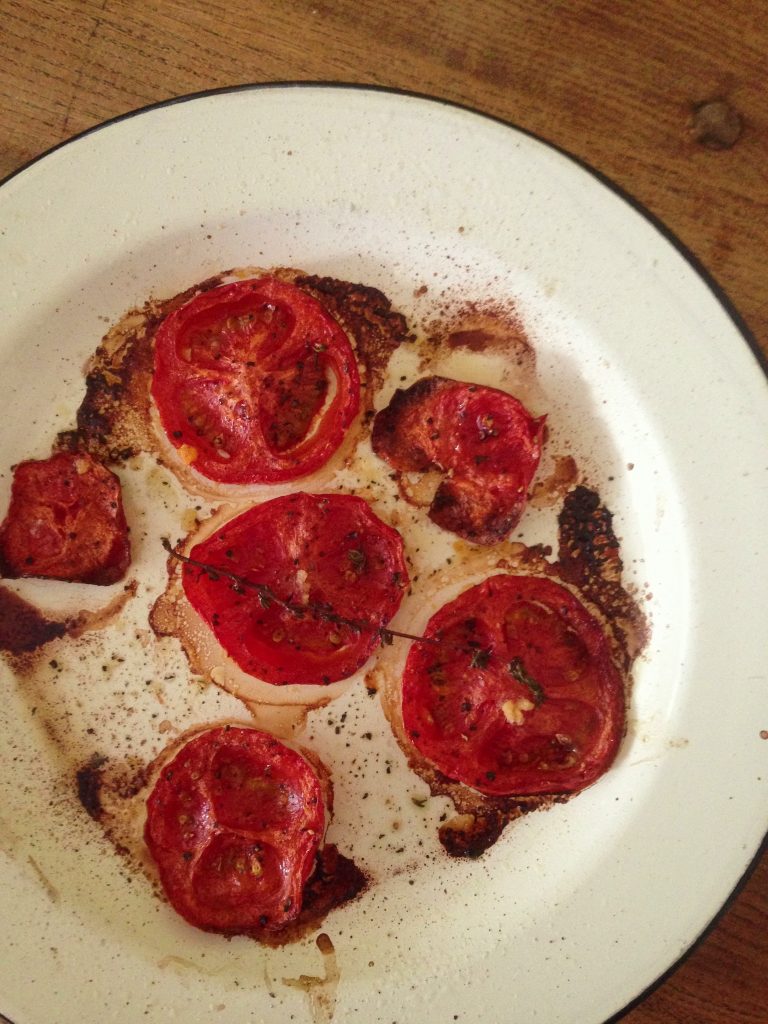 While they're roasting, you can make your pancake batter. Put your flour, baking powder, the lime zest, spices and salt and pepper into a mixing bowl. Combine the beaten egg, olive oil, chopped kale and coriander in another bowl or jug. Pour the liquid ingredients into the flour mixture and whisk with a fork or balloon whisk, until you have a batter, adding the water to loosen it – you want it about the consistency of double cream. Leave to rest while you make the avocado butter.
Blitz your shallot in a food processor until finely chopped. Scoop the flesh of your avocado into the food processor and add the tahini, lemon juice, chilli flakes and salt and pepper. Blitz until you have a smooth paste – it should be the consistency of whipped butter. Scrape out of the food processor and into a bowl.
Now it's time to make the pancakes. Dig out your best non-stick pan (I love the ceramic coated ones) and a silicone brush. Pour about a tablespoon of rapeseed oil onto a small plate and brush your pan with the oil. Heat the pan up over a high heat and then spoon about half a ladleful of the pancake mixture into your pan. Swizzle to evenly distribute the mixture – you're aiming for small, thick pancakes rather than traditional thin, large ones. Cook for two-to-three minutes and then shake the pan. If the pancake comes away from the bottom easily, flip it over and cook on the other side for another two minutes, until golden. Remove to a plate and keep warm in the oven – which should be turned off but still warm from cooking the tomatoes. Repeat the process with the rest of the mixture, divide the pancakes between two plates and serve topped with the tomatoes and avocado butter.