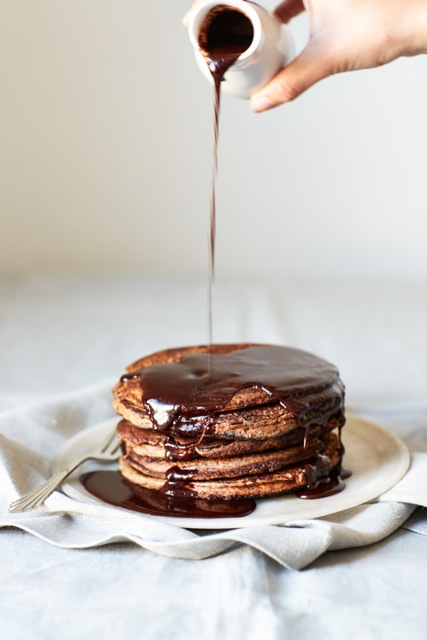 If you're a follower of this blog, my Twitter or Instagram, you may have noticed that the old Cathcart/Birkett dream team was recently reunited for a shoot for the Guardian's Cook supplement, which comes out each weekend as part of the Saturday Guardian, sharing some wonderful recipe ideas and relevant, original food content. You can read a couple of pieces I've written for the supplement here. Being a massive fan of Cook, which has been taken up a notch by hot-shot editor Mina Holland, (author of the wonderful Edible Atlas), and always includes gorgeous photography and styling, I was super excited to work on four of its 10 Best spreads, which included cover shots.
The 10 Best feature takes one ingredient and shares recipes that are brilliant because you've probably not made them before. Our ingredients were pepper, plums, sweet potato and 'sauces', and the recipes included things like dairy free, gluten free sweet potato donuts and one of my faves, walnut romesco sauce, from amazing cooks including Michel Roux Jr, Anna Jones and Anissa Helou.
During the shoot we were spoiled rotten with the food – I particularly loved Michel Roux Jr's plum tarts, which while being fairly demanding (I needed to make a proper creme pat and stock syrup to poach the plums in) are worth every effort once you sink your teeth into them. They also look beautiful because the plums sort of melt into the creme pat, their skins scorching and shrinking, their flesh turning to sweet, unctuous pulp. Hurry up and make them while plums are still here! 

Hemsley and Hemsley's beef Lok Lak was also delicious, and will certainly be gracing my table again, not least because it's fabulously quick and satisfying.
You can find all these delicious recipes here:
I love working with Helen because her pictures are always beautiful, natural and evocative, and she always makes food I cook look its best. It's amazing to see these pictures in print on the cover of a supplement I've been reading (and writing for) since it started. Here are some of the pics – I hope you like them. With thanks to Linda Berlin for her ace prop styling and Jenny Brown for her brilliant assistance during the shoot, check out her excellent blog Bake here.