/ /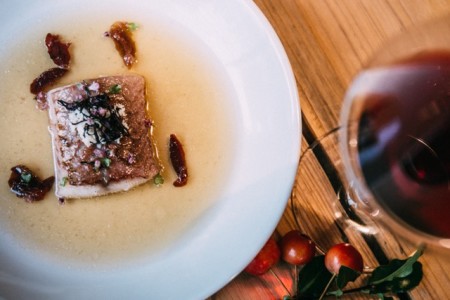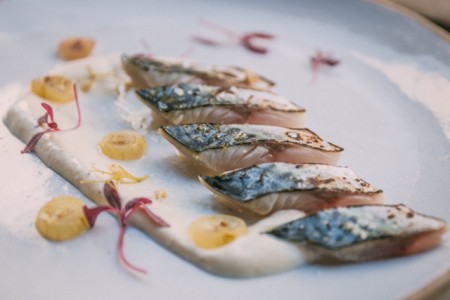 As those of you who follow me on Instagram will have gathered, I came back from an epic trip to Japan at the end October and went straight into a week long residency at Carousel in Marylebone: a restaurant that – rather miraculously – welcomes new guest chefs from all over the world to cook there every couple of weeks. Some seriously amazing chefs have cooked there, from the UK's own Olia Hercules and Romy Gill (who's just about to cook her second residency there in January – go!) to Erik Anderson from the States and Bjorn Van Der Horst  – so I was incredibly honoured to return to the kitchen there.
I cooked at Carousel last April when A Lot On Her Plate came out, cooking a menu from the book – including the crowd-pleasing salted butterscotch popcorn cheesecake, and it was fantastic to return to the kitchen with Ollie Templeton and the exceptional team there. These guys essentially open a restaurant every Tuesday (they sure like a challenge) and they are absolute pros at doing it – each one of them so good at what they do, both in the kitchen and front of house. They also smash out one of the most interesting, affordable and unique lunch menus in London too.
For this residency I wanted to cook some completely new dishes, stuff that hadn't even appeared in a cookbook or on the blog. Wild food has become and increasingly important part of the way I cook (see this recipe from last year for meadosweet and cherry ice cream), since moving to our house in East London which is right on the edge of the marshes and Lea Valley nature reserve where there is so much growing.
All over the summer I'd been collecting and preserving wild ingredients like plums, gooseberries, meadowsweet, elderflower and elderberries, collected by me or my forager friend John on the marshes. I knew I was stockpiling for something – in the back of my mind I hoped it would be a supper club of some sort similar to last year's Spring Hill pop up, where I got to share these special, one-off local ingredients with my guests, and that's exactly what I got to do with this menu: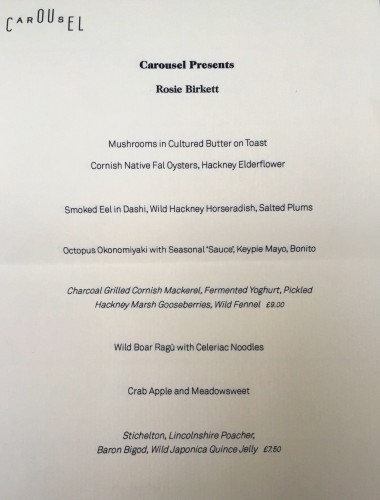 I wanted the wild theme to weave throughout the menu, so for the opening snack I decided on pimped-up wild mushrooms on grilled sourdough (itself fermented with wild yeasts), finished in some beautiful melted butter from Grant Harrington who cultures his Jersey Cow butter with good bacteria, making it interestingly acidic and extra rich and buttery, as well as probiotic. To top it off I added some crispy baked chicken skin and fresh tarragon.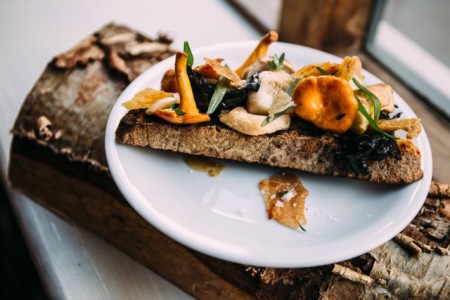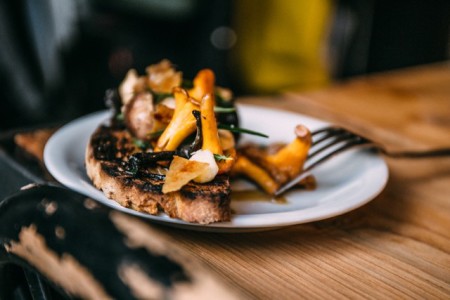 To go with this was what I consider to be the ultimate British oyster – a Fal oyster – an entirely wild flat native oyster fished under sail in an ancient wooden fishing boat by Ranger in Falmouth. You can read more about them here in this piece I wrote for the Guardian, but they have the most intense and delicious mineral, seashore, briny flavour, so I served them simply on the half shell with a few drops of elderflower vinegar I made in the summer with local elderflower.
Having just got back from an incredibly inspiring trip to Japan, during which I was completely blown away by the obsessive Japanese approach to ingredients and seeming simplicity. I had the privilege to learn how to make dashi – the light stock of kelp and bonito flakes that forms the backbone to Japanese cuisine – from a kaiseki master himself at the Suiran Hotel in Kyoto, and I was, perhaps somewhat naively, intent on putting some Japanese ideas on the menu. My first course then was a nod to my actual home and my spiritual food home – smoked eel in dashi, using the method I was taught in Japan (a very quick method using a shedload of bonito), seasoned with ponzu and bone broth made from the bones left over from filleting the wonderful smoked eel (a nod to East End food traditions).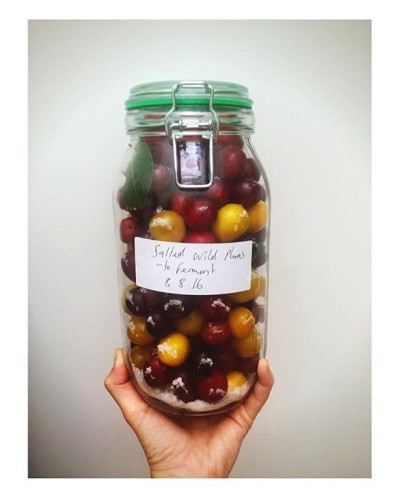 The final element to the dish was somewhat serendipitous, because even before I went to Japan I was making some experiments based around Japanese ideas. The small, sour, incredibly flavourful wild plums I collected with John got salt fermented for weeks, then dehydrated and made into Japanese style umeboshi. After the process of fermenting and drying, these little plums had the most interesting and aromatic almondy smell – and a deeply savoury, yet exceptionally fruity, sour flavour which worked wonderfully with the salty smoked eel and light, yuzu-spiked broth. Freshly grated wild Hackney horseradish was grated over the top and then the most beautiful purple shiso flowers and finely shredded shiso leaves garnished the plate.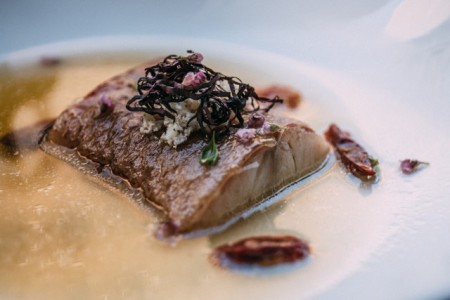 The gooseberries John took me to pick on Hackney Marshes earlier in the summer I had lacto-fermented, also pickling some of them with gin, juniper and bay. I made a funky, fruity fermented gooseberry ketchup out of the fermented gooseberries that formed the backbone to my dish of day boat mackerel, cured and lightly pickled in the gooseberry pickling juice and then flamed so still almost-raw, but crispy on top and served with a natural yoghurt stirred with the fermented gooseberry ketchup. This was garnished with the sliced pickled gooseberries.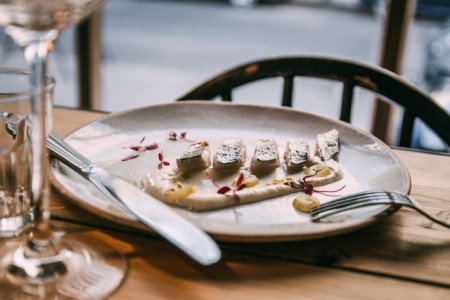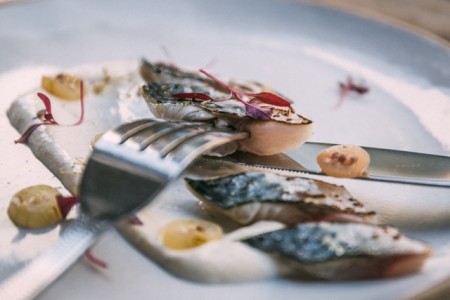 Having discovered okonomiyaki (try saying that after one too many highballs) in Japan – a sort of pancake-meets-omelette made with a dashi-based batter and always served slathered in Japanese kewpie mayo, which has a very special, extra creamy flavour and then topped with a fruity, vinegar-based 'sauce', a ubiquitous condiment in Japan, as well as dried bonito flakes which dance on the hot pancake until it cools.  I made a version with braised octopus and made it seasonal by making the 'sauce' with wild apples and blackberries from the marshes. It was a bit of a bugger to make for 50 people simultaneously, each one needing to be fried off individually, but it was one of the dishes that people seemed to love the most.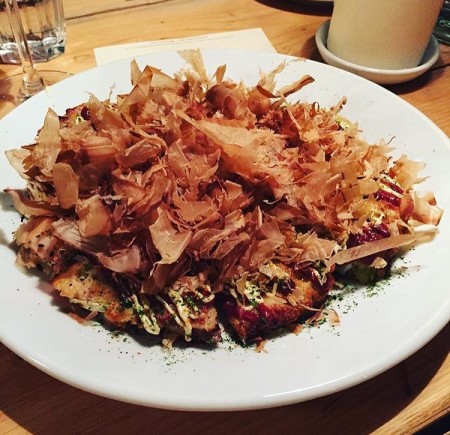 The main course was inspired by some of the wonderful wild boar ragus we ate while on holiday in Tuscany in September. I used fantastic wild boar from HG Walter cooked for hours into a melting ragu with a dash of cream and pinch of saffron. It's incredibly rich but I served it with celeriac parpadelle – thick, flat celeriac noodles instead of pasta.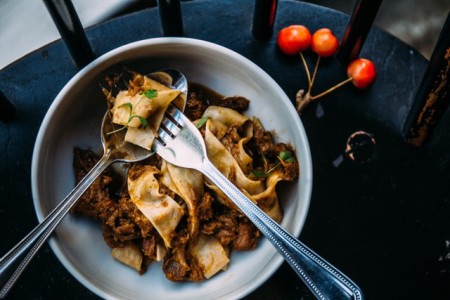 Dessert was simple and indulgent – freshly fried doughnuts filled with crab apple jelly served with meadowsweet custard – a favourite of mine. I also made some wild japonica quince and medlar jellies which we served as part of a British cheese board of Neils Yard cheeses for anyone who still had room. This has got to be my favourite menu to date. The wild food element meant that I was quite constrained and therefore had to be really creative, and some of the menu was actually fairly challenging, but my feedback on the nights was that people really loved the dishes they were most unsure about and which seemed most unfamiliar – the eel in dashi and okonomiyaki were clear favourites. I'm really hoping to go back to Carousel in Spring, perhaps with some more wild-inspired dishes, so watch this space for future info.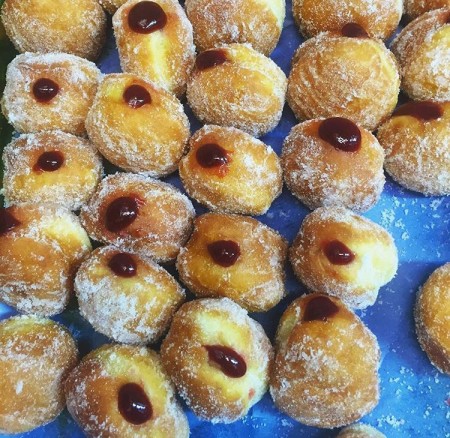 Special thanks to John the Poacher for helping me to gather these special ingredients, to Carousel and the team and to Ranger for the Fal oysters, which came up fresh from Cornwall every other day. Also to all of you who came to the dinners and came to say hi at the pass. I love nothing more than meeting you guys and hearing about which dishes you enjoy the most! Big thanks to the talented Hannah Edwards for these beautiful pics of my dishes too.